How Papadopoulos ties the Trump Campaign to Russia
George Papadopoulos attended a meeting with Donald Trump on March 31, 2016, where he spoke up about having connections that could connect Trump with Russian President Vladimir Putin, according to The Hill.
On Jan. 27, 2017, he was interviewed by the FBI about his contacts with Russia and then later pleaded guilty to lying in that interview.
When news came out on Friday that a federal grand jury gave approval on the first charges in special counsel Robert Mueller's investigation, many people quickly thought that it was the end of Trump.
That following Monday, on Oct. 30, Paul Manafort and Rick Gates were indicted by the FBI on 12 counts including conspiracy against the United States and giving false statements according to CNN.
Both plead not guilty.
Among that huge news day for politics and especially the Trump administration, Papadopoulos' name came up as someone who plead guilty for lying to the FBI.
He was arrested in July and plead guilty in October, but has appeared to be cooperating with the FBI in the time since his arrest.
So who is George Papadopoulos, and what did he have to do with the Trump campaign?
Before working on the Trump campaign, Papadopoulos was a 30-year-old energy lawyer. According to Papadopoulos' Linkedin page, he studied at DePaul University from 2005-2009 where he got his Bachelor of Arts in political science and government with a focus on international political economy. He then studied at University College London where he got a Master of Science in security studies.
His Linkedin lists eight jobs that he has held, including advisor for U.S. Presidential Candidate Ben Carson, advisor for Donald J Trump for President and oil, gas and policy consultant. He is also listed as a member of the International Presidential Business Advisory Council (Cyprus).
Ben Carson said Papadopoulos was "a distinguished individual" which he posted on his Linkedin.
Donald Trump also had something to say about Papadopoulos, but more on that later.
Papadopoulos is a pretty distinguished guy as Ben Carson put it, so it is no wonder that he was part of the Trump campaign.
But was he a real part of the campaign or was he just a "young, low level volunteer named George, who has already proven to be a liar" as Trump said about him on Twitter? Trump also said that few people knew him.
According to a timeline that CNN created, this is how Papadopoulos tried to make the campaign contact Russia.
In early March, after Carson dropped out of the presidential race which Papadopoulos was part of, he joined the Trump campaign as an advisor.
Thus began Papadopoulos' campaign to make Russia and the Trump campaign meet.
Once Papadopoulos learned that a focus for the Trump campaign was improving relations with Russia, he worked to get in contact with Russian officials.
On March 14, he went to meet a figure known as "The Professor" in Italy. They mainly talked about Papadopoulos' role with the campaign while "The Professor" also claimed to have connections with Russian government officials.
Papadopoulos met with him because he thought that it would increase his importance in the campaign.
Trump had an interview with the Washington Post where he mentions Papadopoulos as part of his foreign policy team on March 21.
"George is an oil and gas consultant; excellent guy," Trump said which Papadopoulos put on his Linkedin page as a recommendation.

A few days later, on March 24, Papadopoulos met with "The Professor" again in London. "The Professor" brought along a Russian female which Papadopoulos described as Putin's niece, which was a false claim.
Papadopoulos then emailed a campaign supervisor that the whole point of the lunch was to "to arrange a meeting between us and the Russian leadership to discuss U.S./Russia ties under President Trump."
The campaign supervisor said he would work it through the campaign but no commitments should be made and added "great work."
On March 31, Trump shared a picture of a national security meeting that Papadopoulos was attending. At that meeting Papadopoulos shared that he had connections that could set up a meeting with Putin.
This picture is huge, because it shows Papadopoulos at the meeting that Trump was attending and counteracts the White House statement that he was "extremely limited" and only in a "volunteer" position.
In April, Papadopoulos continued his email exchanges with "The Professor" as well as the Russian female.
On April 11, Papadopoulos emailed "The Professor" about setting up a foreign policy trip to Russia which "The Professor" replied "that is already agreed."
The next day the female Russian emailed Papadopoulos saying "we are all very excited by the possibility of a good relationship with Mr. Trump."

A few days later on April 18, "The Professor" emailed about setting up a meeting between a "Russian Ministry of Foreign Affairs Connection" (MFA) and Papadopoulos.
On April 22, Papadopoulos emails the MFA about meeting in London or Moscow and the MFA thanks Papadopoulos for an "extensive talk."
Papadopoulos then emailed a "Senior Policy Advisor" on the Trump campaign: "The Russian government has an open invitation by Putin for Mr. Trump to meet with him when he is ready. The advantage of being in London is that these governments tend to speak a bit more openly in 'neutral' cities." The email was sent on April 25.

The next day, Papadopoulos met with "The Professor" in London where he claims to have come from meetings in Moscow where he got "dirt" on Hillary Clinton along with thousands of her emails.
On April 27, Papadopoulos emailed a high-ranking campaign official to discuss "Russia's interest in hosting Mr. Trump."
He wrote, "Have been receiving a lot of calls over the last month about Putin wanting to host him and the team when the time is right."
He emailed a senior policy advisor that same day "have some interesting messages coming in from Moscow about a trip when the time is right."
On May 4, the MFA connection emailed Papadopoulos saying "I just talked to my colleagues from the MFA. The[y] are open for cooperation. One of the options is to make a meeting for you at the North American Desk if you are in Moscow."
A few weeks later on May 21, Papadopoulos forwarded the email from the MFA connection to three Trump campaign officials while also sending another email to a different campaign official that said, "Russia has been eager to meet Mr. Trump for quite some time and have been reaching out to me to discuss."

Almost a month passed before Papadopoulos again emailed the MFA connection about setting up a meeting between campaign officials and Russian government officials in August or September in the UK.
On Jan. 27, 2017, the first round of FBI interviews began and Papadopoulos made false statements about when he received the information. He was interviewed again on Feb. 16.
Five months later, on June 27, Papadopoulos is arrested at Dulles International Airport. On Oct. 5, Papadopoulos entered a guilty plea that remained under seal until Oct. 30 when the documents were unsealed.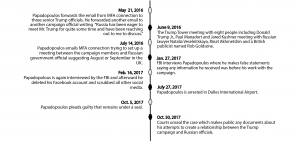 While Papadopoulos is not the only person of interest in the Russian investigation, he is the smoking gun.
"The Professor" really only expressed interest in Papadopoulos after he informed him that he was part of the Trump campaign according to the Statement of the Offense on the Lawfare blog.
Papadopoulos lied about when he met with "The Professor" making it seem like he talked with him before his work on the campaign.
When more information or charges come out from Mueller's Russian investigation, Papadopoulos will be a key factor in connecting the dots to determine whether there was collusion between the campaign and Russia.
Moss Brennan is a freshman journalism major from Durham, North Carolina. You can follow him on Twitter at @mosbren
Graphic by: Moss Brennan, Opinion Writer
Photo by: Kremilin.ru, Wikimedia Commons