Peace and Genocide Education Club
Members of the Peace and Genocide Education Club engaged in a heated conversation about the Trump administration and anti-Semitism Feb. 21 at their weekly meeting.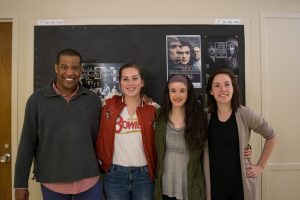 A group of students passionate for change around the world and in the local community meet every Tuesday to discuss issues that have occurred in the past week and how they want to try to fix them. Up until this semester, the Peace and Genocide Education Club was known as the Judaic Holocaust Center Fellows.
"Don't be daunted by the name," sophomore commercial photography major Abigail Wallis said. "All of us in the club are people who care about a lot of things."
The club changed its name because the members wanted to focus on spreading awareness about issues beyond the Holocaust.
"We kind of wanted to change that because we wanted to focus more on social justice issues," senior global studies major Annie McGowan, said.
The club still supports the Center for Judaic, Holocaust and Peace Studies by participating in activities with them and discussing the Holocaust.
Changing its name allows the club to plan more events beyond the Holocaust and anti-Semitism. McGowan and senior history major Kailie Price hope the name change makes the club more inclusive.
"We still are with the center, but we wanted to be a little more independent from that," McGowan said.
One of the ways the club has remained involved with the Center for Judaic, Holocaust and Peace Studies has been by partnering with them and the Temple of the High Country. The club plans panels about current events, brings in guest speakers and hosts movies that create discussion.
"We try to talk about what is currently going on and how we can help those who need it now," Wallis said.
This semester, the club hopes to raise awareness about the rise of anti-Semitism by hosting a panel in April. They also hope to educate the public on other current events, recruit new members and partner with other clubs or organizations.
"We are still a very limited club," Price said. "We have very limited involvement so we are trying to organize something."
The club's main goal this semester is to be more inclusive with the topics they cover. However, due to logistics, they will not be able to cover everything happening in the world and community.
"I would love to go with Black Lives Matter, talk about the Muslim ban and talk about Syria," McGowan said.
McGowan hopes people who are interested in learning about current and past issues come to the panels and get informed. McGowan also hopes people who are passionate and interested in social issues and want to make a difference get involved.
"There's also a certain style of professor, student and public who is interested in these events," Price said.
One of Wallis' favorite events the club has hosted was a panel on the Armenian Genocide last year. Wallis said she enjoyed it because before she came to App State, she did not know about the Armenian Genocide or that people denied its existence. At the panel, they introduced the topic, discussed the causes and effects of it, how it is impacting people and why some people are denying it today.
"It was a really good discussion," Wallis said.
Along with addressing a wider variety of conflicts, the club hopes to share information with more of the Boone community.
"I think it would be cool to even go further than that and reach our community and more of the student bases," McGowan said.
Price thinks learning how to have conversations and trying to understand people who do not share the same beliefs is important for the next four years.
"I think it's important because America is trying to develop a sense of community within outbursts of hate," Price said. "Whether or not you hate your neighbor, you need to learn to encompass new ideas no matter if you agree with them or not."
The club's importance stems from starting a dialogue and increasing awareness on how events impact people they know, McGowan said. McGowan hopes that people will take the initiative and learn more about difficult events and issues going on in the world.
"It's so easy to just say 'I don't want to deal with that. That's upsetting. That's annoying. I'm just going to look at Facebook,'" McGowan said. "It's so easy to check out and live in your own little bubble. It would probably be pretty easy to do that in Boone."
Price and McGowan's ultimate goal is for the club to spread the idea that people in the Boone community and beyond can help start conversations about tough topics.
The Peace and Genocide Education Club meets every Tuesday in Edwin Duncan Room 108J at 7:15 p.m. and is open to new members.
Story by: Celia Calhoun, A&E Reporter 
Photo by: Lindsay Vaughn, Staff Photographer