Phillips and Co. heading in right direction
There are two things that Anchorage, Alaska and Boone, North Carolina have in common: the cold and Rian Phillips.
Appalachian State men's soccer gained a valuable asset from Alaska in junior forward Rian Phillips this off season. After a rough start, only winning one of their first six matches, Phillips has helped the team improve to now (3-5-1) with two game winners in the last two matches.
The question of how Rian Phillips got to Boone, of all places, has been following him around since he arrived. It is pretty simple: it is a small word.
Phillips was named to the all-state team as a freshman and sophomore while at East Anchorage High School. While still in Alaska, he played for App State Alum Barat Killian at Cook Inlet Soccer Club.
As his talents developed, so did his experience traveling across the country.  From 2012 to 2014, Phillips played for Darlington School in Rome, Georgia under coach Chad Little. Afterwards, Phillips traveled back to the North West corner of the country and played for Oregon State from 2014 to 2016.
Looking to improve as a player and see more action on the field, Phillips was in the market and looking to transfer.
App State head coach Jason O'Keefe was fresh off the market  just landing the head coaching position at App State and heard Phillips was looking for a change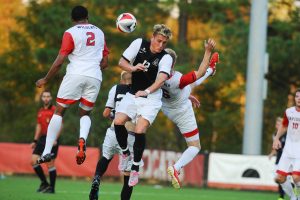 "As soon as I got the job, Chad [Little], who I know very well, called me and said 'Hey, Rian's looking to move, would you be interested?'"O'Keefe said.  "We started talking and we connected on what my vision was going to be for the program and for him."
Just like that, Phillips now wears Black and Gold for the Mountaineers as this season begins.
Heading on the road for five weeks straight, the vision started off a little rocky, losing all but one game which was postponed due to weather in Cincinnati.
However, after a win at home against USC Upstate, the Mountaineers now see the vision O'Keefe had been talking about.
"There's a lot of work to be done but nobody's shying away from that," O'Keefe said.
Phillips especially has yet to shy away from a challenge. Against Davidson, after a tie against Winthrop at home, the Mountaineers were deadlocked with the Wildcats until the 76th minute.
The two teams battled over the center third of the field for possession all night.
Off of a corner kick from teammate sophomore Daniel Avila, Phillips managed to head in the game-winner and his first ever goal at Appalachian State.
"The most important thing is a team win, but I'd definitely like to get a few more in the coming weeks," Phillips said.
Three days later, he did it again. This time against UNC Asheville.
Phillips and sophomore Ian Bennett got out on a breakaway play. After Bennett's shot was blocked but not controlled by the goalkeeper, Phillips came in and finished off the play. It marked Phillips' second career goal and game-winner in his career in just two straight matches.
Rian Phillips is now tied for first in the Sun Belt Conference for game-winners.
"That's all credit to the players we have in the midfield and obviously the coaching staff here," Phillips said.
Since becoming a Mountaineer, Phillips said he already feels like a part of the family.  He attributes that feeling of chemistry between his teammates and himself to the coaching staff and each guy pushing each other to work harder every day.
"I think we're really becoming a decent soccer playing team in the fact that we don't have to rely on physical attributes to win a game," Phillips said.  "I think in every game we will outwork the other team. Coach has put us in a position to be fit enough to do that. We will beat you with the ball on the ground and moving it past you."
That is exactly what O'Keefe's goal for the team is.
"We're trying to be great at everything we do whether it's on the field, in the classroom or in the community," O'Keefe said. "Come in, work extremely hard, have a great attitude and be a great teammate."
Phillips is right on track with how his coach wants him to play the game and he won't let up anytime soon.
"I need to work harder the next day than I did before," Phillips said.
Story By: Noah Gerringer, Sports Reporter