Plant purchases hit peak profits
Twice a year students are invited to App State's biology greenhouse plant sale, where they can peruse and purchase their selection of plants to help support the greenhouse and the biology department.
This year the sale took place from Aug. 24-26 and had lines at the door when they opened for business on the first day.
Jerry Meyer, the greenhouse's manager, said the sale was the department's most successful to date, beating out their previous record of $10,000.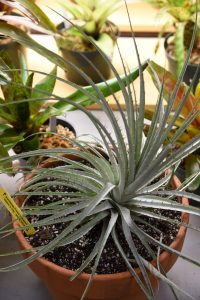 "I have an alternative method of coming up with funding, unlike a lot of facility managers. I can grow and sell plants," Meyer said.
Meyer said he and his volunteers prepare for the sale all year, taking care of the plants and making sure they stay alive for students to buy. About half of the greenhouse volunteers are biology majors, but Meyers said he still tries to teach them as much as he can about horticulture.
Monica Atkins, a sophomore anthropology major, said her time in the greenhouse provides a valuable outlet for her.
"I found this as like my de-stress. My favorite part of being at the greenhouse and volunteering every week is getting my hands dirty," Atkins said.
Kayla Silva, a senior biology major, said the plants in the greenhouse are great for sprucing up a dorm room or making an apartment more welcoming.
Meyer said he is proud that he can provide a service to the community with the greenhouse and with his focus of growing wildflowers local to the eastern United States, a crucial part of local animals' diets.
The greenhouse's next sale will take place at the end of the spring semester.
Story by: Dylan Austin, Intern News Reporter
Photo by: Halle Keighton, Photo Editor