Battling back and forth all game long, No. 24 Wake Forest delivered a devastating blow in the ninth inning to push them past the Mountaineers baseball team 5-4.
Stepping up to the plate, Demon Deacon shortstop Bruce Steel broke the game's tie with a solo shot against redshirt junior reliever Matt Brill over the left field fence. Putting Wake Forest (19-7) up 5-4, the Mountaineers were unable to answer in the bottom half.
App State (10-15, 1-5) has put runs on the scoreboard early and in the middle of games, but they have been unable to push runs across in the final frames.
"It's been a running theme that we give away some at-bats here and there, and that's not taking away anything from their starting pitching and their bullpen guys," head coach Kermit Smith said. "We just have to be a little more consistent."
Power lifted the nationally ranked Demon Deacons, tallying three more homers onto the stat sheet, now sitting at 48 for the season. In all of their 2016 campaign, they only had 59.
Knocking in over 10 runs for as many times this season, the Demon Deacons have pummeled opposing pitching. Holding Wake Forest to only five runs, Mountaineer pitching did its job to keep their team in the game.
"Our pitching has been doing a fantastic job all year," second baseman Matt Vernon said. "I always have total confidence in our pitchers, and it's always easier to play behind them."
Following a solo home run from second baseman Jake Mueller in the top half of the first, Wake Forest looked to blow the game open early. Getting back to the dugout, the Mountaineers responded with two runs, taking the lead at 2-1.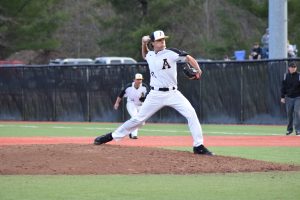 Knocking in the second run of the game, left fielder Tyler Stroup took a pitch the opposite way, scoring Vernon, who picked up an RBI double earlier in the inning.
"We were just trying to attack the fastball like coach says to do," Stroup said. "Early in the count, we are looking for a fastball and put it in play."
Tying up the game in the next inning, Demon Deacon right fielder Keegan Maronpot delivered another home run.
In the fifth inning, the Mountaineers retook the lead 3-2 on a first pitch solo home run from first baseman Conner Leonard. Wake Forest, however, responded with two runs in the top half of the sixth to recapture the lead 4-3.
Answering quickly, the Mountaineers tied the game at 4-4 with a masterful sacrifice bunt from center fielder Drake Zupcic, scoring shortstop Jason Curtis. Remaining scoreless until Steel's dagger in the ninth, App State remained in striking distance until the game's close.
After playing five games at home and going 1-4, the Mountaineers will again hit the road for a three-game series against conference foe Arkansas Little Rock starting Friday.
Story By: Tyler Hotz, Senior Sports Reporter
Photos By: Lindsay Vaughn, Staff Photographer