From pre-med to a solo performance
A crowd of a little under 30 people sat in the Boone Unitarian Universalist Fellowship Church on Saturday and watched a dog get euthanized; they laughed profusely. The dog wasn't any conventional breed, however; it was a red coat. The applicator of the lethal drug was quite irregular as well. It was a standard 0.7 mm blue ballpoint pen from an audience member.  
Savannah Bennett, a senior theater major, performed her self-directed rendering of the one-act, off-Broadway hit "Every Brilliant Thing," co- written by Duncan Macmillan and Jonny Donahoe, for the second annual BOLO Fest.
"Every Brilliant Thing" is a complex one-person play that handles the deep implications of suicide and depression while managing to remain comedic through start to finish.
Originally, the play was written for an older man to perform, so Bennett had to change both the dialogue and structure of the play to conform to our time period and her gender. The play also included lines that had been included for a British audience, which were cut to match those in Boone.
BOLO Fest is the invention of In/Visible Theatre, which is self-described as Boone's local professional arts group.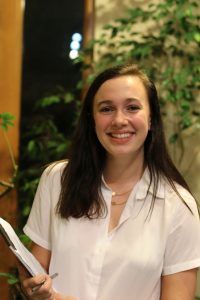 According to their website, In/Visible Theatre grounds itself in the principles of "living in the moment, deconstructing accepted conventions to recognize deeper truths, and inclusion to create a more engaged populace."
Karen Sabo of In/Visible theatre said they would rather have people pay the money they have, even if it isn't the amount for a full ticket, to come and see their performances, rather than turn away a potential spectator that could have supported the local art community.
The three-day festival was created in the form of a crawl, meaning that all the performances and venues were within walking distance of each other.
Several past BOLO performances in 2016 were chosen to compete in both the New York Fringe festival and the Hollywood Fringe festival.
Bennett first encountered the creator of In/Visible theatre, Derek Davidson, senior lecturer in the theater and dance department at Appalachian State, her freshman year of college. After acting in the musical comedy "Urinetown," which Davidson directed, Bennett has remained in collaboration with Davidson through several productions. Finally, Davidson encouraged her to take on a solo-act production, and she agreed to audition her play.
Although Bennett has been involved with theater at Appalachian State since her freshman year of college, she didn't originally go in with the intentions of pursuing acting as a career. She has always loved being involved in theatrical performances, but her parents initially advised her away from pursuing her dream in hopes that she would follow a more stable career path.
With the support of her parents, she has now officially switched from her original pre-med track into pursuing her dream. The switch will cause her to delay her graduation by at least one semester. Once Bennett graduates from Appalachian State, she plans on going to grad-school for acting in New York City. There, she hopes to be around a much more mature and focused peer group that, through networking, will assist in launching her professional career in acting.  
The venue chosen at Boone Unitarian Universalist Fellowship Church created an unconventional area to perform. Within a fully-illuminated, modestly-sized room, hosting a relatively high vaulted ceiling, Bennett stood in front of a row of green church chairs with Bibles affixed to their backs. From there, she acted. Although the acting space was unique, she said she thoroughly enjoyed it.
"I really liked the venue, it allowed me to run around the audience much easier," Bennett said. The room also encompassed a staircase that led up to a lofted room, which she said tied in agreeably with the script as she found herself performing on the stairs periodically.
Wearing a professional white blouse with black dress pants, she held a ruled notepad, which she used to call out numbers to the audience. Yellow sticky notes were handed out to the audience at the beginning of the performance, and Bennett asked the audience to yell out what was written on the sticky note if their number was called.
Bennett's performance immersed her audience into an interactive collaborative with the audience, merging the role of spectator and performer. Bringing audience members up to perform certain roles at random, the audience found themselves as much of the performance at times as the actor herself.
Through playfully interacting with members of the audience, she not only could, in a moment of improv, carry out the lines of the play, she could also retort actions of the chosen audience member into light hearted comedy.
One member of the audience, Zach Briggs, a junior sustainable technology major, found himself called onto stage by Bennett so he could propose to her.
"I had no idea I was going to be in it. I was nervous that I was going to mess up," Briggs said.
While interactivity with some audience members caused, at times, pauses or minor glitches among the performance, it also contributed to an overwhelmingly positive reaction. Laughter arose through the audience throughout Bennett's interactions, which contributed to a full standing ovation at the end of her performance.
Story and Photos By: Shaun Howell, A&E Reporter