The Mountaineers football team has been hampered offensively throughout the season with nagging injuries. Key players such as wide receivers Shaedon Meadors and Darrynton Evans, and running backs Terrence Upshaw and Jalin Moore Jr. fit the script perfectly. Therefore, the next man up mentality has emerged.
One of the next men up was redshirt freshman wide receiver Jalen Virgil, whose name is one among many other inexperienced players that has been called upon to produce.
Virgil exploded onto the scene rather early by making the most of his opportunities this season. In only the second game of his collegiate career for the Mountaineers, Virgil reeled off a traffic weaving play back across the open field for a 56-yard touchdown against Savannah State. That sole play revealed every single facet of his skill set to the coaching staff. It is now just a matter of effectively employing Virgil with the ball and allowing him to go to work.
"It comes down to just catching the ball and making a move," Virgil said. "Coach (Justin) Watts always tells me not to go out of bounds so I was looking to get some extra yards. I saw how everyone reacted to the move that I made and then used my speed to get to the open field. My natural ability took me rest of the way."
Football was not the only sport that Virgil pursued in his high school career. He also ran track at Mountainview High School in Lawrenceville, Georgia. Virgil competed in the 100-meter dash and won the Gwinnett County title as a junior with a time of 10.42 seconds. He finished second in the Georgia class 6A state championship. Virgil's impressive track speed is currently in a transitional phase to the football field. In fact, he can run the 40-yard dash in 4.27 seconds. The fastest 40-yard dash in last year's NFL Combine was 4.22.
"He's got all the talent in the world," wide receiver coach Justin Watts said. "Everyday we see something new in his effort to master the craft of football. He is the fastest person on the field at all times. It is rare to see a track guy that is as strong with the ball as him."
In regards to football, Virgil was rated as a two-star prospect and a first-team all-region honoree coming out of high school. He was recruited throughout the Conference USA and the Sun Belt. Coastal Carolina, Georgia Southern, Middle Tennessee and Old Dominion all sought to win over his fancy. In the end, Virgil found a home in the High Country with the Mountaineers.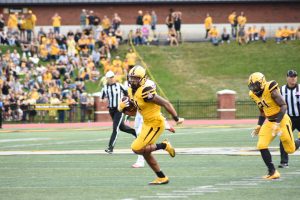 "I was also recruited by an SEC school for track so it was a hard decision," Virgil said. "I came up here and fell in love with everything, especially the family atmosphere. I just felt like I was at home and in a good situation."
Virgil has already participated in a play that will forever live in Appalachian State football history. Only five minutes into the Coastal Carolina game, he took a simple touch pass 83 yards to the house. Virgil's touchdown reception marked senior quarterback Taylor Lamb as the school's all-time career passing touchdown leader. Virgil finished the game with a career day of his own with five receptions for 186 yards and two touchdowns. He even reenacted his infamous traffic weaving play from the Savannah State game against the Chanticleers of Coastal Carolina.
"I am lucky to have him this year. He is a strong, physical guy with raw talent," Lamb said. "Virg (Virgil) is an upbeat guy with a positive mindset. He has progressed tremendously as a route runner and will only get better with time. My job is just to get him the ball no matter where he is at on the field and let him do the rest. It was cool that he was the one that caught the record breaking pass because it was such a big play for us. I'm not sure if he knew it at the time, but I know he knew the route and that nobody was going to catch him."
"I actually did know that I caught it," Virgil said. "People were talking about it all week how close he (Lamb) was to the record. I felt pretty honored to catch that ball out of all the other guys he has thrown a touchdown pass to."
The coaching staff made the decision to redshirt Virgil last year. Redshirting can and is quite often described as a blessing in disguise. No matter how ready a player may believe they might be, a whole year is given to them so that they can acclimate to the collegiate level. Instead of being thrown to the wolves, Virgil has made the most of the extra year under his belt.
"I think [redshirting] was very helpful," Virgil said. "I was able to learn the system, get bigger, stronger and faster."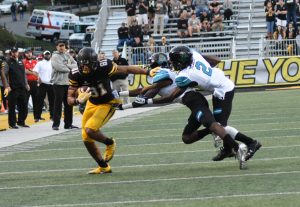 Success is known as a never-ending struggle. Constant success has the ability to lull someone into being complacent, however it can also motivate someone to be the best version of themself. Successful Hall of Fame players, no matter the sport, perfected their craft far beyond where natural ability could take them.
"Catching the ball is not natural to him," Watts said. "He needs to improve on his ball skills. He has gotten better working on it, but it is something that he is going to have to continue to work on each and every day at practice. We are happy to have him for the next three years that he is going to be here. He's productive in the classroom and on the field with big plays."
Virgil has caught at least one pass in all but two games thus far. The redshirt freshman has 16 total receptions for 332 yards and three touchdowns on the year. The Mountaineer offense is loaded with young playmakers at every position. In order to keep the opposing defenses off balance, Lamb must continue to spread the wealth by getting everybody involved in the offensive production. Many learning curves still exist for this team that the coaching staff as well as the players themselves must solve in the pursuit for back-to-back conference titles.
"I don't think that I have reached my fullest potential yet," Virgil said. "I am still getting used to the speed and how everything operates at the collegiate level. I want to make sure that every time the ball hits my hands that it does not leave them. I just want to be known as a guy that came up here that gave his all during every given opportunity."
Story by: Shane Harvell, Sports Reporter
Photos by: Lindsay Vaughn, Senior Staff Photographer