Professors get pied to support deaf kids
The American Sign Language Club raised money for the a North Carolina School for the Deaf in Morganton on Friday, by having students pay to pie a professor. A student could pay $3 to throw a pie at a professor once, or they could pay $5 to throw a pie at them twice.
"This event is important because the proceeds go to a good cause," Savanna Lupton, secretary for ASL, said, "and who wouldn't want to pie a professor in the face?"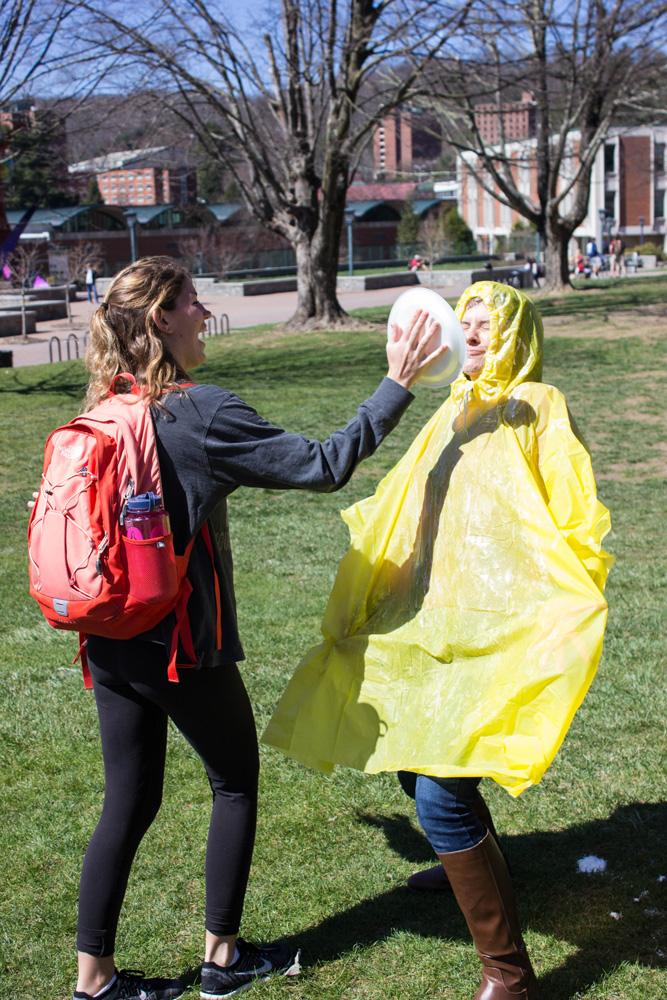 In total, five professors volunteered to participate in the event. These included Alicia Toomey, Lisa Runner, Jennifer Dalton, Louise Keegan and Melissa Bright. Aside from Runner, all of these professors work in the Communication Sciences and Disorders department. Students were able to nominate professors to get pied, but only these five agreed.
Dalton said that she invited all of her students to the event and would give extra credit to those who paid to throw a pie her. At one point, six of her students got in a line to throw pies at her.
"My favorite thing is the look of total discomfort of students right before they do it," Dalton said.
Savanna Lupton, secretary for ASL, said that she took two ASL classes and loved learning about sign language and deaf culture, leading her to join the ASL Club. This event started last fall as a fun way to raise money, and they have been planning the spring event since the first week of the semester.
"I did the one last fall and I decided to do it because it is a perk of the job, something that is really fun," Dalton said. "If I can use who I am here to help raise some cash for a population that my profession serves then let me have that chance."
Dalton said that the state cut funding to the deaf schools in North Carolina, which caused a lot of schools to close. One that has remained open is the North Carolina School for the Deaf.
"We try to do what we can to support them so the money we raise today is going to go to them, they are likely to use it to buy materials for the classroom," Dalton said.
Story by Halie Hamilton, News Reporter