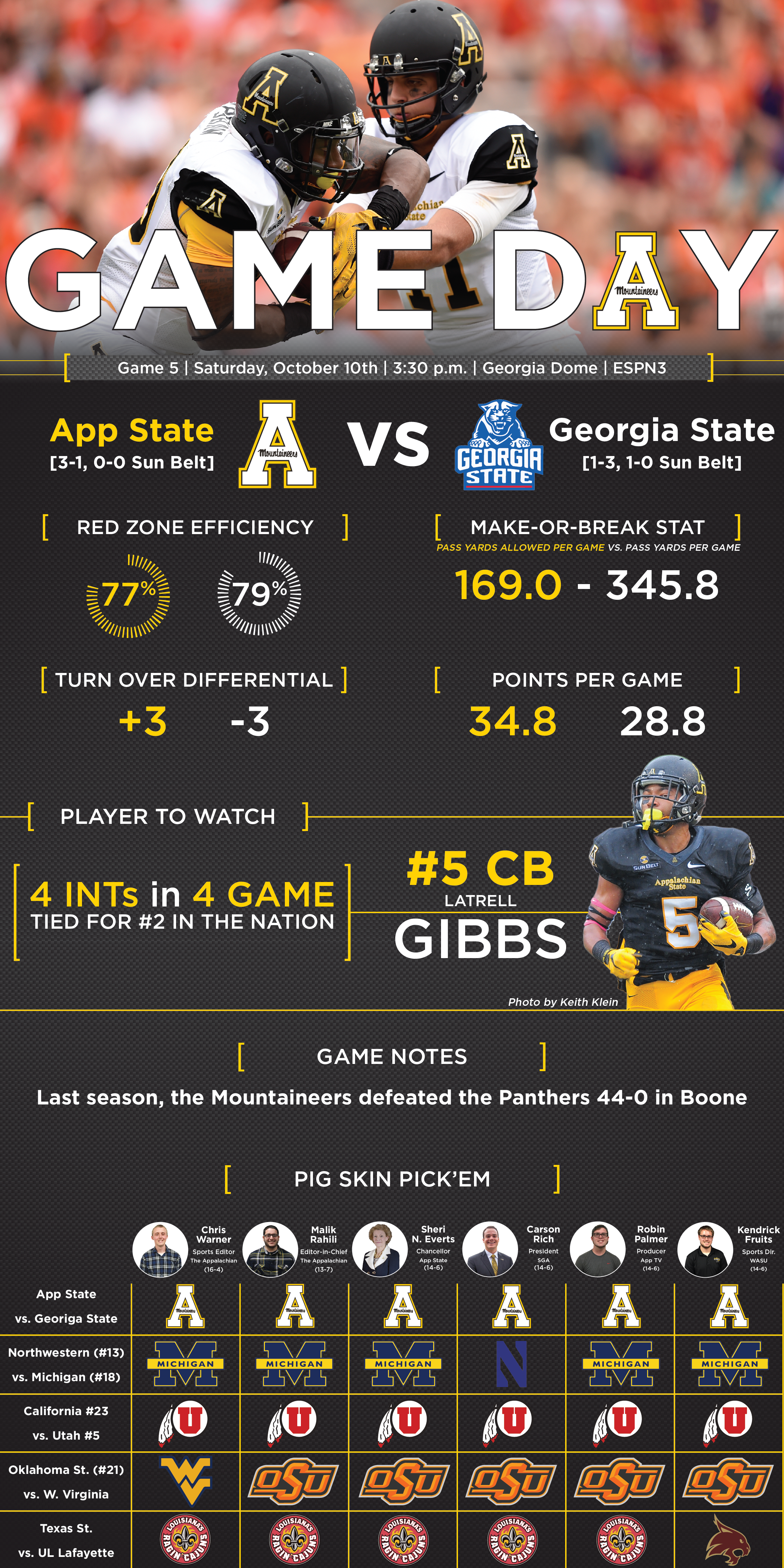 Unarming Arbuckle:
Georgia State's offense is predicated on its ability to air out the ball.
Quarterback Nick Arbuckle has averaged 345.8 yards per game through the air, while the team's leading rusher, Kyler Neal, has only totaled 171 rush yards on the season.
Receivers Penny Hart and Robert Davis both have more than 20 receptions on the year. And while standout cornerback Latrell Gibbs will be charged with locking down Hart, the Mountaineers must get better production out of cornerback Mondo Williams, likely covering Davis, to be successful.
The team will need to rely on their trio of safeties A.J. Howard, Doug Middleton, and Alex Gray to aid Williams and shut down the rest of the Panthers' passing game.
Sack-Attack:
Neutralizing the passing game is best accomplished by rushing the passer, something App State has prided themselves on in 2015.
Defensive end Ronald Blair and the gang have accumulated 10 sacks on the season and will have an excellent opportunity to pad that total on Saturday, as the Panthers have allowed 11 sacks on the year already against opponents such as UNC Charlotte, New Mexico State, Oregon, and Liberty, none of which pride themselves on their defense.
Arbuckle has dropped back an average of almost 38 times per game, which means Blair, linebacker Devan Stringer, and company will have plenty of opportunities to introduce themselves.
Stick with what works:
Offensively the Mountaineers should continue to run the rock.
The offensive line has consistently imposed their will in the trenches, helping the team average over 280 rush yards per game.
Last season, the Mountaineers ran up and down the field on the Panthers, totaling 469 yards and six touchdowns. Running back Marcus Cox rushed for 250 yards and three touchdowns, gashing the Panthers for almost nine yards per carry, while running back Ricky Fergerson followed suit with 123 yards and a touchdown.
Georgia State's run defense was as porous then as they are now, allowing over 200 yards per game in 2015.
If App State wins this game, it'll be a result of their success on the ground.
Story by: Chris Warner, Sports Editor