Rapid reaction: App State 44, Troy 41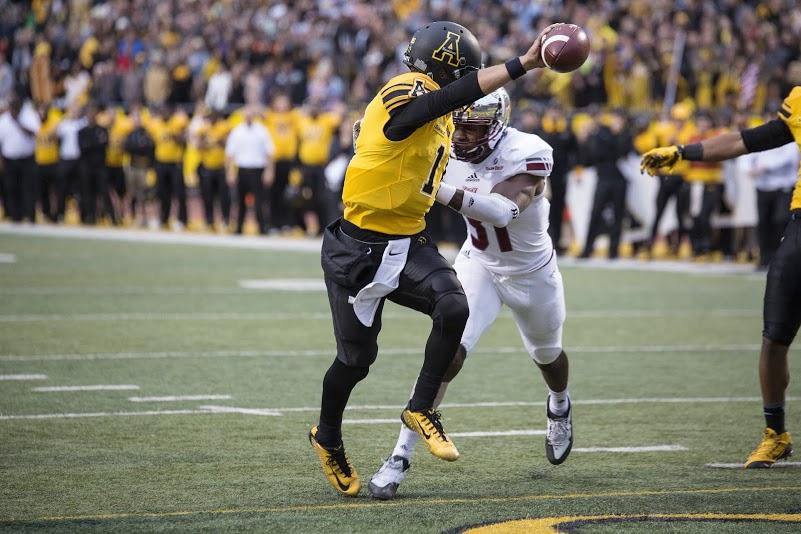 In the closest game of their season thus far, App State improved to 3-2 all-time against Troy in their first home victory over the Trojans, thanks to a 24-yard field goal from kicker Zach Matics.
With the win, App State improves to 7-1 on the year (4-0 Sun Belt), while Troy fall to 2-6 (1-3 Sun Belt).
The Good:
Defensive end Ronald Blair opened the game with a 30-yard pick-six only 55 seconds into the game, notching App State's 4th defensive TD of the year, and the first interception of Blair's career.
Running back Marcus Cox went over the 100-yard mark in rushing once again, finishing with __ on __ carries. Including this game, Cox has rushed for at least 100 yards __ times this season.
Wide receiver Simms McElfresh continued his hot streak. After leading all Mountaineers with six catches for 66 yards and a touchdown against Georgia Southern, McElfresh found his way on the stat sheet once again, scoring a touchdown with today five seconds left in the first quarter. McElfresh finished the game with two catches for 7 yards.
Like Blair, defensive back Tae Hayes also got his first career interception.
App State continued to reward tight ends in the red zone, as Barrett Burns scored a 2-yard touchdown in the fourth quarter, his fourth of the year. Like McElfresh, Burns also scored a touchdown against Georgia Southern.
Taylor Lamb scored two 1-yard rushing touchdowns, the only Mountaineer rushing touchdowns of the game.
Matics hit two field goals in overtime, including the game winner, which put the team on top 44-41.
The Bad:
App State's defense struggled against the no-huddle tempo of Troy's offense, uncharacteristically surrendering 450 total yards. The style of play may give teams like Arkansas State a blueprint on how to move the ball against one of the NCAA's top defense this season.
Troy opened up second half with an onside kick, trick pass, and a quick score, and App State was never able to find separation until the final field goal.
The offensive line, missing guard Beau Nunn, surrendered three sacks in the game. Before today's game, App State had only allowed three sacks all season.
Blair was injured, but managed to walk off the field, prior to Troy's field goal attempt in the second overtime.
Halloween trickery:
Down 17-10 to begin the half, Troy dialed up back-to-back trick plays to open the second half.
Troy opened the half by successfully executing an onside kick, and followed with a double-pass from quarterback Brandon Silvers to wide receiver K.D. Edenfield, who then connected with wide receiver Jarvis Bentley for a 45-yard reception.
Depsite a resilient effort by the App State defense within five yards of the goal line, Silver would score his first of __ rush touchdowns on third down, tying the game 17-17 in only a minute and twenty four seconds into the second half.
The two would stay gridlocked for the rest of the game, basically, as the largest deficit for Troy was a mere seven points the entire half.
In the third overtime, Troy would attempt trickery yet again, but would not be as lucky, failing to convert on a fake field goal on fourth and two, setting the Mountaineers up for the game-winning field goal.
A tired defense:
Despite opening with a 30-yard interception return touchdown from Ronald Blair on Troy's first drive, the defense struggled against the no-huddle approach from the Trojans.
Troy quarterback Brandon Silvers threw for 265 yards and a touchdown, along with two interceptions. While the stat line doesn't look that impressive, Silvers engineered 75-yard, 81-yard, 46-yard, and 75-yard scoring drives in regulation, all of which took place in less than five minutes.
In the end, the Mountaineers would hold in pivotal moments, but it was obvious from the start that App State wasn't well-suited to take on such an up-tempo offensive attack.
Carries by committee:
App State did a great job running the rock all game long, as usual, rushing for a total of 248 yards.
And while standout running back Marcus Cox did what we've come to expect from him, rushing for over 100 yards yet again, running back Terrence Upshaw was no slouch, either, rushing for 57 yards on 10 carries.
Quarterback Taylor Lamb also helped out, with 28 yards and two rush touchdowns on 15 carries. Even wide receiver Simms McElfresh had a 9-yard carry in the second and an 11-yard carry in the fourth. Running back Jalin Moore also had one carry for 3 yards.
Upshaw entered halftime leading all backs with 58 yards, but Cox would rebound in the second half to top the final stat sheet with 140 yards on 30 carries.
Cox was also the hero, as he converted on a fourth-and-one with the game on the line. Lamb followed with a 1-yard rush TD to tie the game at 38 in overtime. Cox then looked unstoppable in the third overtime period, helping the team get in position for the game-winning Matics field goal.
What's next?
The Mountaineers square off against fellow conference leader Arkansas State on Thursday at Kidd Brewer Stadium in a game that will likely decide the fate of the Sun Belt. Kickoff is set for 7:30 p.m.
Story by: Chris Warner, Sports Editor 
Photo by: Chris Deverell, Staff Photographer