In the Mountaineers (3-2, 1-0 Sun Belt) first Sun Belt game of the season against Georgia State (0-4, 0-1 Sun Belt) on Saturday, App hung on after a scoreless first half between both teams to beat the Panthers for the third time in three meetings. App moves to 1-0 in the Sun Belt and Georgia State falls to 0-1 and is still winless on the season.
Coming off a game where they allowed 37 points to Akron and only two weeks removed from allowing 45 to Miami, the Mountaineers held the Panthers to three points and have outscored them 98-6 in the three meetings.
The Good:
Junior linebacker Eric Boggs hauled in his first interception of the season on the Panthers opening drive and returned it seven yards. It was his fourth career pick and the first of four Mountaineer interceptions on the day.
Beautiful 61 degree weather made for a great day of football compared to last time Georgia State played in Boone, during a snowstorm known as "The Blizzard Game."
After the interception, the Mountaineers would force Georgia State to punt the ball away on their next six drives.
True freshman Clifton Duck had another solid game with an early tackle and pass breakup. He finished with five tackles on the day.  
Quarterback Taylor Lamb had a long 12-yard rush in the first quarter. He finished with 20 rushing yards.
The Mountaineers defense only allowed 133 total first half yards.
It was the first time App State has shutout a team in the first half since their game against UL Lafayette last season.
After 25 years, Yosef Club founder Gerald Adams was honored at halftime as he is set to retire.
After Lamb was roughed up at the start of the second half, junior backup quarterback J.P. Caruso came in for one play and rushed for eight-yards.
Sophomore running back Jalin Moore opened up scoring with a third quarter 45-yard touchdown run. Moore finished the game with 159 yards on 28 attempts and a long of 45-yards.
App finished the game with 218 total rushing yards. Freshman Darrynton Evans once again had a solid outing rushing for 33 yards on nine attempts.
Georgia State missed a 51-yard field goal in the third quarter. It was the second time of the game they did not punt away the ball.
Senior safety Alex Gray caught his first interception of the season on the Panthers next drive.
Freshman kicker Michael Rubino hit a 42-yard field goal to make it a 10-0 game.
Redshirt freshman Mock Adams caught his first career reception in the fourth quarter on a 14-yard pass from Lamb.
Senior tight end Barrett Burns hauled in two 21-yard receptions.
Junior wide receiver Shaedon Meadors caught his first touchdown of the season with a 12-yard pass from Lamb to make the game 17-3 with three minutes remaining.
Junior cornerback Mondo Williams caught an interception for the second straight game and third of the season and Brandon Pinckney caught the game-ending interception as time expired.
The Bad:
App had to punt away the ball their first three drives, and two were three and outs.
They were unable to get any offense going until the end of the first quarter, only cumulating 11 total yards of offense on their first three drives.
No passing yards in the first quarter. Lamb was 2-4 with zero yards and App didn't get their first passing yardages until a 21-yard reception from senior tight end Barrett Burns in the second quarter.
Lamb had one interception with 9:30 remaining in second quarter by Panthers Michael Shaw at the 50-yard line.
The Mountaineers did not score a point in the first half. It was the first time they have been shut out in the first half since they played Clemson last season.
A nine-yard sack on Lamb after a 60-yard drive pushed App out of reasonable field goal range.
Rubino was not even close on the 52-yard field goal attempt. He also missed a 44-yard field goal putting his field goal.
At the beginning of the half Lamb was kicked in his groin causing him to miss a snap.
Punt, punt and punting it away:
Defense controlled the game, especially in the first half, which led to 13 combined punts between the teams.
Both punters played remarkably well. App State senior punter Bentlee Critcher finished the day averaging 42.7 yards on six punts for 256 yards. Critcher hit two of his first three punts inside the 10-yard line and hit four inside the 20-yard line.
His long was 52-yards.
Georgia State's punter Brandon Wright punted seven times for an average of 46.6 yards gaining 326 yards. Wright hit two insides the 20-yard line and had three punts longer than 50-yards.
Discipline a problem once again:
App State once again struggled with penalties compiling nine for a loss of 101 yards. Luckily for the Mountaineers, the Panthers also struggled with penalties compiling seven for a loss of 70-yards.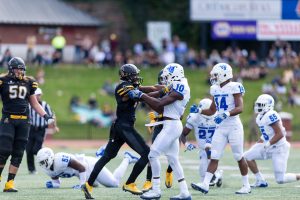 Missed opportunities:
In such a low scoring game, both teams had opportunities to put points on the boards with field goals but could not convert. App's Rubino missed his first two attempts before hitting his first field goal longer than 40-yards and Georgia States Rogier Ten Lohuis missed a 51-yard field goal, but hit a 43-yard later in the game.
Rubino is now 1/4 on field goals longer than 40-yards and 3/3 on field goals shorter than 40.
What's Next?
The Mountaineers will get a much needed bye week this coming week in preparation for a Wednesday night game on October 12 at UL Lafayette. It will be the Mountaineers second Sun Belt game of the season.
Story By: Jason Huber, Sports Editor
Photos By: Dallas Linger, Photo Editor