Rapid Reaction: App State 31, Georgia Southern 13
After Georgia Southern's quarterback Kevin Ellison rushed for 12 yards and flipped into the end zone, capping off an 82-yard first drive, it was all Appalachian State from thereon out.
The Good:
Appalachian State fired on all cylinders with plenty good to take away from this game against a rival that was expected to put up more of a fight.
The offense did a very good job at running the ball, rushing for 231 yards. Marcus Cox lead all Mountaineers with 96 yards. Taylor Lamb completed 14 of 20 passes, completing two touchdowns and throwing for 202 yards.
The Bad:
There wasn't much to knock on the Mountaineers for after both teams respected first drives.
Appalachian state finished six for 12 on third down conversions, although they went in to the fourth quarter four of nine.
Clock management could have been better towards the end of the first half as Zach Matics was forced to kick a 52-yard field goal.  Their timeouts could have been taken with more time of the clock with a possible chance of making the kick easier for Matics.
The Mountaineers only allowed 13 first downs, but there were times when the defensed eased up when they could have kept pounding. Towards the end of the game they allowed allowed an easy Georgia Southern touchdown, which head coach Scott Satterfield said was a result of "bad tackling."
Defensive Catalyst: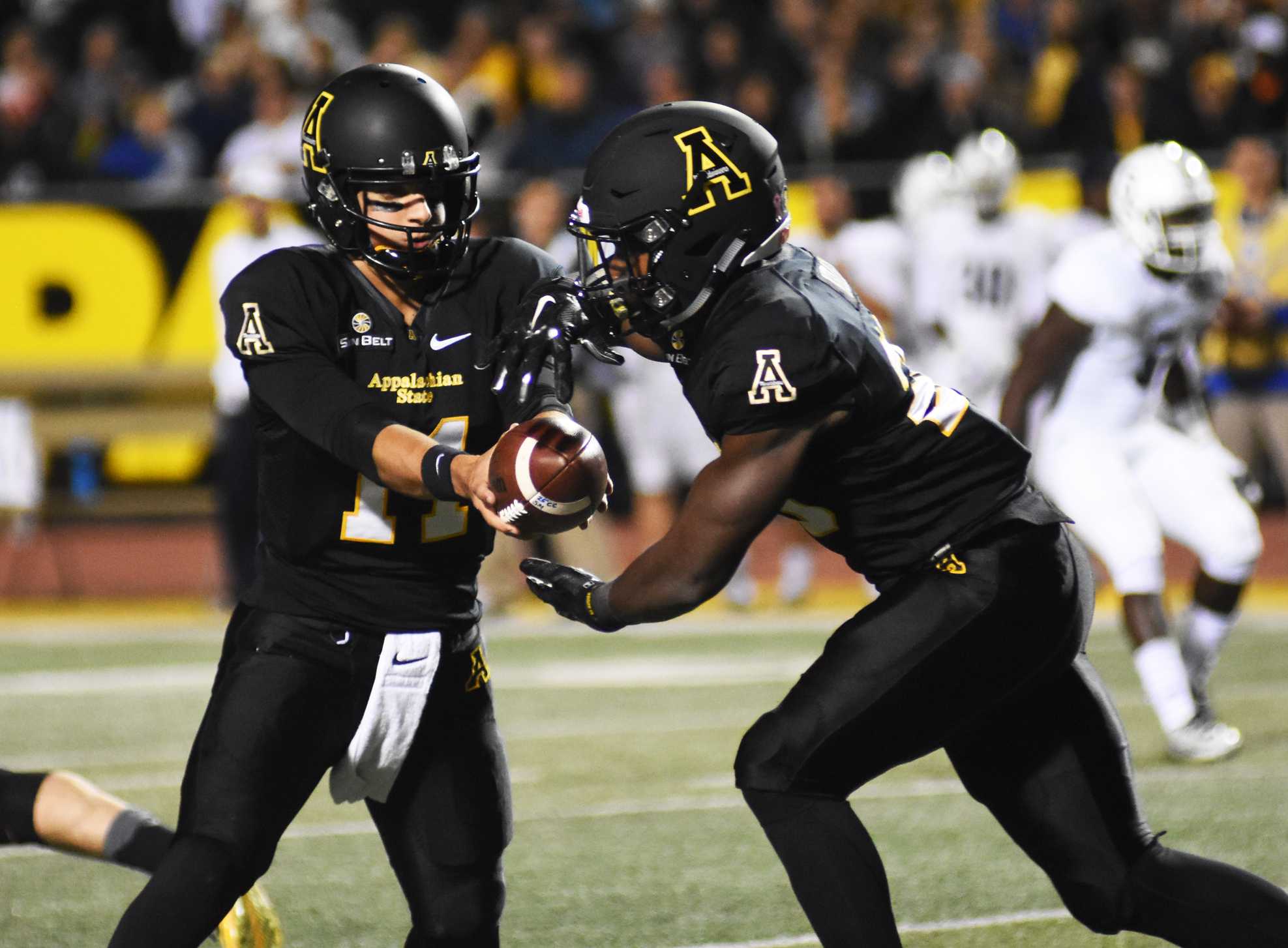 Without a doubt, this defense progresses each and every game.  They managed to make adjustments after Georgia Southern's first drive, essentially shutting down and eliminating their run game.  Even though the defense wasn't sack-heavy, they managed to be in the backfield a lot, recording 10 tackles for a loss.Quarterback Taylor Lamb hands the ball off during Thursday's game against Georgia Southern. The Mountaineers defeated the Eagles 31-13, handing them their first conference loss since joining the Sun Belt.
Junior Alex Gray recorded his first interception of his career, which was the second of the night for the Mountaineers. The defense was also solid on third downs only allowing four of 12 attempts.
12th Man:
I've heard Boone called the "Seattle of the east" for the weather, but tonight, the crowd was worthy of the nickname.  Kidd Brewer Stadium hosted a raucous 24,121 attendees who caused shaky communication for the Eagles' offense several times, influencing penalties and even forcing a timeout.
In a game of this magnitude, there was a palpable energy throughout the stands and especially the student section from  the kickoff.
"We really fed off of that crowd tonight, it was outstanding," Satterfield said.
Comfortable QB:
We knew that Lamb put the Clemson loss behind him after that game and has continued to impress since.  This was the third game in a row Lamb threw for 200-plus yards and the fourth time this season.  It was also the fourth time this season he completed over 70 percent of his passes with his current percentage at 61.4
"You've got four or three guys out there you can depend on every play," he said.  "It's a good feeling to have."
What's next:
The Mountaineers (6-1, 3-0 Sun Belt) face the Troy Trojans (1-5, 0-2 Sun Belt) on Halloween at Kidd Brewer Stadium in what could likely be another stepping stone towards securing a Sun Belt title. Kickoff is set for 3:30 p.m.
Story by: Matt Krombach, Intern Sports Reporter
Photo by: Malik Rahili, Editor-in-Chief