Receiving their opportunity
App State football is no stranger to having talented freshmen. John Settle, one of the Mountaineers' retired numbers, No. 44, burst on to the scene in 1983 for 613 receiving yards and four touchdowns. Former Mountaineer defensive back Doug Middleton appeared in all 12 games as a freshman, nabbing two interceptions, one for a touchdown and earning a spot on the Southern Conference's all-freshman team.
Perhaps most famously, legendary App State quarterback Armanti Edwards came out of nowhere in 2006, completing nearly 61 percent of his 274 pass attempts for 2,251 yards and 15 touchdowns, while also rushing for over 1,100 yards and another 15 touchdowns.
Just last season, defensive back Clifton Duck was named Sun Belt Freshman of the Year and to the USA Today Freshman All-American Team after starting all 13 games and grabbing five interceptions.
More freshman phenoms have made their way to Boone this season. Wide receiver Thomas Hennigan came to App State by way of Northwest Guilford High School in Greensboro, North Carolina. Scout.com and 247Sports rated him a three-star prospect after amassing more than 3,000 receiving yards on 221 receptions and 50 total touchdowns in his career. He was a 2016 Shrine Bowl captain.
"My final four was the Naval Academy, Harvard, Virginia and App State, but App kind of had everything," Hennigan said. "It was close to my home and I felt like I could get on the field early here and that's what's happened. But it definitely wasn't given to me, I had to work for it and earn it in camp."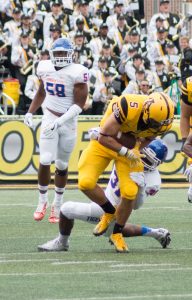 Along with fellow freshman receiver Malik Williams, Hennigan got his first start at receiver for the Mountaineers in his very first game in uniform against the Georgia Bulldogs. With veterans Shaedon Meadors and Darrynton Evans out with injuries, both were called upon to be the "next man up."
"The environment was definitely something that I have never been used to, you can't really prepare for that type of place with that many people watching," Hennigan said. "But after I went back for that first punt return and caught it I realized it was just football from there."
Hennigan caught four passes for 28 yards against Georgia. So far this season, Hennigan has 12 catches for 102 yards and a touchdown. He is also the Mountaineers' leading receiver through the season's first three games.
Williams has also been making a name for himself.  Another three-star recruit, from Chester, South Carolina, he had over 4,000 rushing yards and 2,350 passing yards during his high school career, breaking a single-season record with 42 rushing touchdowns. He was rated as the No. 1 athlete in the state of South Carolina.
Williams made his first collegiate start against the Bulldogs, where he caught three passes for 24 yards and rushed once for a gain of two. He had a huge game against the Savannah State Tigers, rushing 10 times for 58 yards and bringing in two receptions for 21 yards. He is the Mountaineers' second-leading receiver behind Hennigan.
"For their first college football game, that's a pretty intimidating environment. But they went out there, and particularly I think Thomas [Hennigan] played really well outside," head coach Scott Satterfield said. "They looked like they belonged and I think that's the key, and those guys will continue to get better and better."
Freshman offensive lineman Noah Hannon also got his start as a freshman in Athens, appearing at the center position. The three-star recruit from Greer, South Carolina allowed only two sacks and had 288 pancakes in his high school career.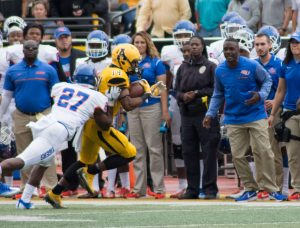 "Probably the most impressive guy was Noah Hannon at center," Satterfield said. "All the snaps were right where they needed to be. He got over-matched at times, he's not as strong as some of those guys, but I thought he was very solid."
With Meadors and Evans remaining on the sideline until further notice, and Hannon receiving three consecutive starts at center, it is clear that all three will be key elements in the Mountaineer offense in the weeks and years to come.
"They're ball players, all three of them," senior quarterback Taylor Lamb said. "We don't really care how old or how young you are. We're going to make do with what we have, and those guys are very good and they're going to be good here for a very long time."
Story By: Brooks Maynard, Senior Sports Reporter
Photos By: Lindsay Vaughn, Senior Staff Photographer