Three solar-powered picnic tables were installed on the first floor patio of Appalachian State University's Kenneth E. Peacock Hall in January.
The tables were a collaboration between the Appalachian State Renewable Energy Initiative, the Office of Sustainability and the Walker College of Business, Jim Dees, an REI staff adviser and Office of Sustainability Data and Assessment specialist, said.
The Office of Sustainability invited the REI to collaborate and research solar companies shortly after the spring 2017 semester, Dees said. The organizations worked together to fund the tables, purchased from EnerFusion, Inc., and the Walker College of Business donated space and advertising.
Office of Sustainability graduate assistant and REI vice chair Sierra Milosh said she hoped the project would increase visibility of renewable energy projects on campus.
Although their other renewable energy initiatives, like the solar thermal systems on Summit Hall and the Plemmons Student Union which help heat the buildings' water, are saving money and energy at App State, projects like this one encourage students to directly interact with the technology.
"I think being able to touch the technology brings it from more of a concept to something that people want to be directly involved with," Milosh said.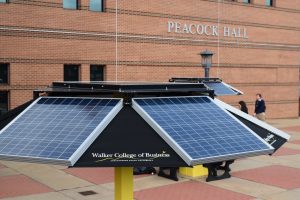 By pressing buttons on the umbrellas' bases, students can turn on LED lights installed in the umbrella or charge their phones, computers and other devices via power outlets and USB ports.
According to the REI, the organization receives $5 of every student's tuition each semester. The REI board, which this semester is composed of nine student board members and seven faculty and staff advisers, uses this budget to plan and implement renewable energy projects on campus.
Paul Matney, senior business management major and student chair of the REI, said he believes the project will encourage further collaborations with academic departments at App State.
"It's actually looking like we're going to be putting more of these up now," Matney said. "After they went up at the College of Business, multiple other academic departments have asked to put them in their courtyards or wherever, so it looks like we're going to be putting them up all over campus eventually."
Matney said installing projects like these across campus will help represent the university's dedication to sustainability.
"I think it really just backs up the environmental mission of the university to have this on campus and have it visible and have it be something that people see everyday," Matney said. "I think it's important that this gets into the norm of people's days and habits and lives."
The picnic tables' official ribbon-cutting ceremony is scheduled to take place in April, as part of the university's Earth Month celebration.
Story and Photos by: Ashley Goodman, A&E Editor
Featured Photo Caption: Students recharge at the solar picnic tables outside Peacock Hall.