With the hiring of head coach Kermit Smith, the Appalachian State baseball team is hoping for a new culture. But one thing that the Mountaineers hope to remain the same is senior Brian Bauk's energy, which he has brought to practice and games for the last three years.
A career .231 hitter, Bauk has 78 career hits, 32 career RBIs and 16 stolen bases to solidify himself as an MLB prospect. Now in his last year, Bauk hopes to use this as motivation to not let anything slip away.
"Last year waking up at six in the morning, you hated it, but looking back at it, I took it for granted," Bauk said. "Even practicing in the snow on some days, I am going to wake up and miss this. I just want to go out there and have one more good year."
The Mountaineers are hoping Bauk finishes off his career with another strong season. As of now he will be hitting in the cleanup spot and primarily playing right field, though nothing is officially finalized, Smith said.
Last year, Bauk took on roles that he wasn't used to. The Mountaineers used him as a relief pitcher, something Bauk wasn't comfortable with.
"Brian is extremely competitive. If we ask him to do anything, he is going to do it because he wants to win," assistant coach Justin Aspegren said. "This year we are keeping him at right field so we expect a more productive Bauk."
Bauk has the mentality to win at all costs, which caused his relationship with Smith to start off a little bumpy.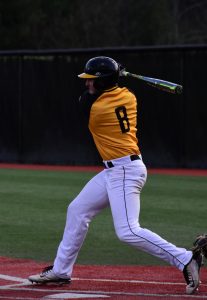 "Me and Brian have a interesting relationship, but right out of the gates I could tell he was passionate about what he wanted," Smith said. "Once we strengthened our relationship, we enjoyed being around each other."
When Smith arrived at App State, he leaned on Bauk to help provide and take on the leadership role to show Smith the ropes.
"We are trying to learn from each other and it is kind of a daily education," Smith said. "I had to make sure he knew my expectations and what he wanted me to bring to this organization, and I think we are still learning."
Bauk is enjoying the fact that he gets a fresh start under Smith, and from the first practice in 28 degrees and snow, it is apparent that Bauk is re-energized.
Not only are the Mountaineers getting a more confident Bauk, they are also getting a healthy one.
"Brian kind of got caught by the injury bug last fall – they were lingering injuries that you could play through, but you knew that Brian wasn't 100 percent," Aspegren said. "I think all the coaches would agree with me that it's just nice to see Brian healthy out there."
Teammates rally around Bauk, and he is the glue of this team just by listening to the coaches talk about him.
"Brian has done it all for us," Aspegren said. "He has hit in the middle of the order and he has led-off a couple times. He has also pitched in the ninth inning and if the game is close, you want Brian on your team. He will battle until his last strike."
Two things Bauk is teaching the younger guys are to seize the moment and not take anything for granted.
"I just keep telling the younger guys to have fun," Bauk said. "You get to do what you love at the collegiate level, so don't complain about early practice because time is going to fly by and you are going to miss it."
The Mountaineers will travel to Wilmington Feb. 17 to take on VMI, where they begin their season with a long road trip. Bauk hopes to finish his senior season off strong.
Michael Pigg, Sports Reporter