REVIEW: 'I Don't Like Shit…' furthers Earl's artistic growth
Los Angeles-based rapper Earl Sweatshirt's sophomore album, "I Don't Like Shit, I Don't Go Outside: An Album by Earl Sweatshirt" was digitally released March 23 after an album pre-order unexpectedly appeared on iTunes March 16.
The 21-year-old, whose real name is Thebe Kgositsile, originally gained fame as the youngest member of the rap group Odd Future, and his fame was further increased by his disappearance to an alternative school in Samoa shortly after the release of his critically-acclaimed project titled "Earl" when he was 16 years old.
The project's lyrics had huge shock value, largely because of his inclusion of the topics of rape, violence and drugs, which made his music polarizing and eye-opening, especially coming from an artist so young. After returning to the United States in 2012, Earl proceeded to release his debut studio album titled, "Doris" in 2013 to positive critical and commercial reception.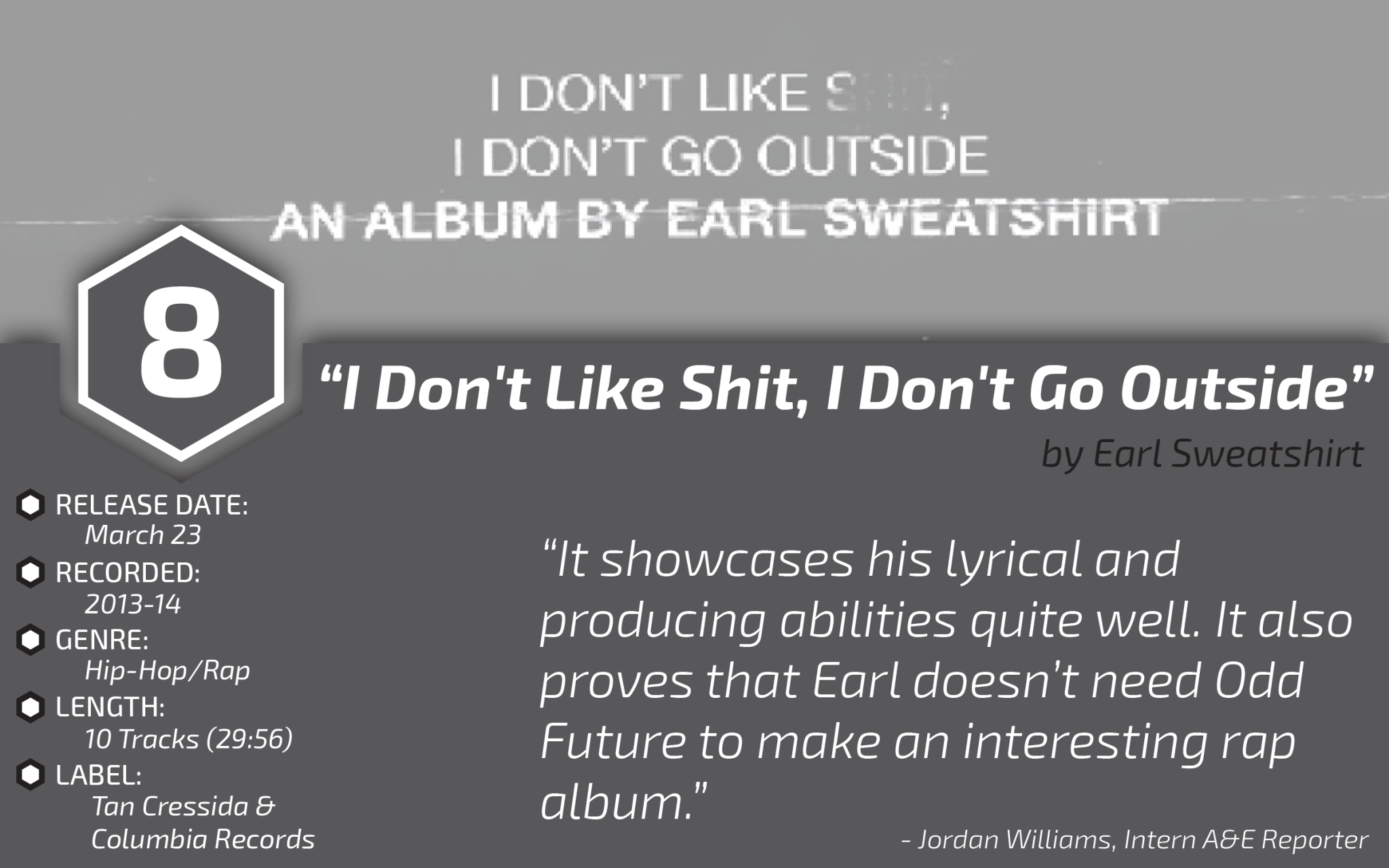 While Earl may have received some of his fame from being a member of Odd Future, "I Don't Like Shit…" shows him stepping away from the collective; only one Odd Future member – producer Left Brain – is featured on the album. Using the alias "randomblackdude," Earl also handles nearly the entire album's production, minus the Left Brain-produced "Off Top."
The lyrics on "I Don't Like Shit…" are completed different from his early days of Odd Future and instead of the shocking rape and death-related rhymes, he goes for a more reflective tone, touching on depression, addiction and relationships.
The album has only 10 tracks and he keeps most of the songs short; the longest track is only 4 minutes and 11 seconds. He also sticks to his slower, sparse filled beats and mumbled but intriguing flow,  unique and very different from most of what comes out of Odd Future. All of the features on the album are also young rappers who the average hip-hop fan may not know that well.
The first track, "Huey," has Earl showcasing his impressive lyrical display. Accompanied with a self-produced grimy, organ-driven beat, he raps with his usual slowed down tone, but this time it feels as if he's in an entirely different mindset.
"Mantra," a glistening track fueled with dark, early 1990s-style synths and robotic drum fills, has Earl rapping aggressive rhymes about his intense rise to popularity. "Now you surrounded with a gaggle of 100 fucking thousand kids/Who you can't get mad at, when they want a pound and a pic/'Cause they the reason that the traffic on the browser quick/And they the reason that the paper in your trousers thick."
"Grief," the first single, has one of the darkest beats on the album. Comparable to the Halo video game soundtrack, dark synths and sparse cymbals and bass drive the beat. Earl gets more personal on the track, with lyrics discussing his drug use and anxiety surrounding fame.
"AM//Radio," features an entertaining verse from 19-year-old rapper Wiki, a member of the rap group RATKING. "Back when I catch Cor', I always had Sports/Dippin' on cops in my track shorts." he raps charismatically over jazzy instrumentals. Earl also comes in with equally entertaining verse, "She Mario, I'm tryna' keep the whining to a minimum/Piggies come, bet I'm splittin' quicker than I finish rum."
"DNA" has Earl channeling his inner Eminem, with a few different flow changes and some complex wordplay, "I'm here and I'm there/And I'm up and I'm down/And I'm low and I'm peakin'/It's cold in the deep end."
The track also features a verse from 21-year-old skateboarder-turned-rapper, Na'kel, whose raspy voice and entertaining wordplay makes the track even more interesting.
The final track on the album, "Wool," features excellent verses from both Earl and Long Beach, California native Vince Staples, a frequent collaborator of Earl's. Fueled by another jazzy trap-inspired beat, both Earl and Staples throw out interesting wordplay -driven bars that let the world know that just because they are young, it doesn't mean that they can't rap with the big leagues.
Overall, while "I Don't Like Shit…" isn't really bursting with club bangers and socially consciousness, it showcases his lyrical and producing abilities quite well. It also proves that Earl doesn't need Odd Future to make an interesting rap album.
Score: 8/10
STORY: Jordan Williams, Intern A&E Reporter