Senior running back Marcus Cox is coming off of his finest year for the Mountaineers. Last season, in an effort that earned him a second-team all-Sun Belt nod, Cox rushed for a career-high 1,423 yards and an average of 118.6 yards per game, 13th highest in the nation. In App State's Camellia Bowl victory over Ohio, Cox rushed for 162 yards and a touchdown to cap off the season in style.
Now in his final year with the Mountaineers, Cox is focused on finishing on his own terms.
"I love these guys to death and I just feel like we have some unfinished business so I definitely wanted to come back and help the team win this first Sun Belt championship," Cox said.
Finishing with a record of 7-1 in conference, falling only to Arkansas State, who would go on to win the title last season, Cox and the Mountaineers look to finish the job this season.
"You have to approach every game the same, you can't have [any] let up or get too high for a game. That's how you beat yourself [and] have too many mistakes," Cox said.
Cox is also standing on the doorstep of App State football history in his own way. At the beginning of this season, he stood just 716 yards away from the school record for most rushing yards in a career, which is 4,804 yards, set by former Mountaineer Kevin Richardson. With the addition of App State's game versus Tennessee, where he rushed for 115 yards, he is just over 600 yards away from passing the prestigious mark.
Always humble, Cox said he will continue to keep a team-first mentality.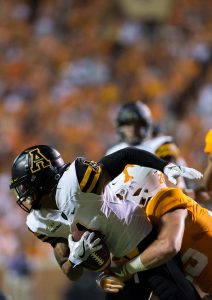 "It definitely plays into thought but at the same time you can't let it [take you over]," Cox said. "You have to worry about what's best for the team. Yes I think about it, yes I'd like to get those records but at the same time I'd rather have a Sun Belt championship and a bowl win than all those records."
Cox is supported at the running back position by a talented core of underclassmen in sophomores Josh Boyd and Jalin Moore. He acknowledges the push it gives him to have such depth at the position.
"The guys behind me are a great group of guys, they're very talented," Cox said. "When you know you have guys like that behind you that are able to start, you're going to have to give it your all."
Moore said that his close relationship with Cox has helped him improve on and off the field.
"Over the summer I stayed with him and it brought us closer," Moore said. "It helped me have more time with a leader on this team. Going into the season, that bond that we have will help a lot."
To keep the dream of winning the Sun Belt championship this year alive, the Mountaineers will need to rely on Cox to bring an offensive punch.
Cox recorded nearly double the rushing yards of App State's second leading rusher last season and scored the most offensive touchdowns of any player on the roster. With the loss of senior receivers in Simms McElfresh, Malachi Jones and Bobo Beathard, App will need to find offense in other places.
Several games on the schedule peak interest for offensive production, such as Georgia State, Idaho and New Mexico State, each of which have some of the lowest-producing offenses in the conference. The Mountaineers also have the highly touted home game with Miami on the horizon, which becomes increasingly more interesting after App State's showing against Tennessee.
In his last year with the Mountaineers, Cox will focus on soaking everything up and giving back to his teammates.
"Just being able to spend one more year with these guys and teach them a little bit and help them and learn from them," Cox said. "To just compete with each other and have fun with each other. I'm definitely going to miss them next year."
Story By: Brooks Maynard, Sports Reporter
Photos By: Dallas Linger, Photo Editor