This article was updated on Sept. 21. Craig Dollar, a Food Service technician for The Pizzeria, created the dessert pizzas in Sanford Commons, not Chef Jules Bott.
The venues in Sanford Commons at Roess Dining Hall debuted menu changes this fall.
Mountaineer Grille, Habanero's Fresh Cantina, A Sub Shop and The Pizzeria had the most significant changes, Food Services communications specialist Stephanie Lee said.
Mountaineer Grille has a three for $4 deal—a hot dog, burger or chicken sandwich, plus a side, and a drink. A burrito at Habanero's is $6.50 no matter how much it weighs, so you can load it up with unlimited toppings. The new toppings at Habanero's include queso, guacamole, fresh cilantro, pickled vegetables and pico de gallo. Similarly, an 8-inch sub at A Sub Shop costs $6 with any toppings.
As for The Pizzeria, "We took more of a model that students are probably more familiar with from outside of campus," Lee said.
Students can still buy pizza by the slice, but instead of choosing from set pies, there is a basic cheese pizza for $11.25; toppings can be added to the cheese pizza for extra cost.These changes were made to create a more convenient model, Lee said.
"If you've got 11.25 and a study group coming up in 10 minutes you can swing by and grab a cheese pizza," Lee said.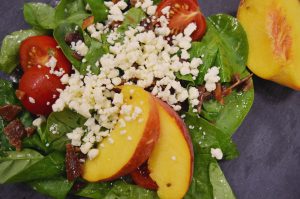 The Pizzeria also started serving dessert pizza. Craig Dollar, a Food Service technician at The Pizzeria, created a 10-inch s'mores pizza with toasted marshmallow, chocolate syrup and Cap'n Crunch cereal on top.
Salads Plus got updates, too. Assistant director of Food Services Lori Durham and her staff arranged the items in the salad bar so students can create a specific salad with the toppings in the same row.
"We set it up so that you can take the guesswork out of it," Lee said.
For example, the kale and all the toppings that would go well with it are in the same area.
"Faculty especially like the fresh options on the salad bar such as blue cheese crumbles, craisins, almonds and feta cheese," Durham said.
Other new toppings include sauteed squash and sliced almonds.
In addition to price and item changes, physical menu boards were updated.
"We went from a static wooden menu board to digital signage, so that helps with visibility, and it helps with accuracy, especially when it comes to allergen marking," Lee said. "It's brighter, it's backlit as opposed to front lit. They're also, I think, more fun."
Even with the changes, some students are dissatisfied with the dining hall.
Sophomore interior design major Casey Butt noticed something was missing when she came back this semester.
"I'm pissed they took away my sandwich bar," Butt said.
"And you can't get 12-inch subs at the sub shop anymore," Amaka Imoh, sophomore psychology major added.
Despite unhappy customers, Sanford Commons as a whole has seen a profit increase of 5 percent, Durham said. Because of the new burrito deal, Habanero's has had a 20 percent increase and Mountaineer Grille's 3 for $4 deal has yielded a 10 percent increase so far, Durham said.
Appalachian Food Services compares prices with local restaurants and chains, according to its website.
"We pride ourselves on quality, so it's all about balancing how we can bring value to our customers, whether that's through making a deal or it's through sourcing a quality product," Lee said.
Hiring chef Bott in the spring also helped Food Services offer better deals.
"He has championed making sure that our food value and our price value are advantageous to our customers. We have always priced as fairly as we possibly can," Lee said.
Along with feedback through email and social media, Food Services looks at responses to the National Association of College and University Food Services (NACUFS) Customer Satisfaction Benchmarking Survey, which is sent out each year to see what needs to be improved. The changes made at Sanford Commons are efforts to provide all customers–faculty, staff, students and visitors–the best price, value and experience possible.
"We're trying to be as flexible and customizable as possible, and that's what our customers want," Lee said.