One of the traditions that App State football head coach Scott Satterfield holds is allowing senior players to address the team after practices about some of the struggles they have gone through to get to the point that they are at.
Speaking to the players allows the younger ones to learn that it is normal to face struggles, and it helps them gain more motivation.
However, the night of August 3 after practice, it was senior tight end Bill Cecil's night to address the team. He was the fifth senior to do so this season.
After Cecil spoke, Satterfield addressed the team about what Cecil had just talked about. That is when Satterfield went on to say, "I really appreciate what Bill stands for. He's a great example of what we strive to be and not to give up because in life, he's not going to give up in the rest of his life. He is going to have a very successful future, whatever that may be, because of his attitude."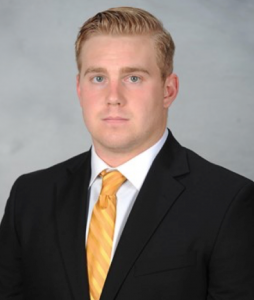 Satterfield continued, "So with all that, Bill, you're not going to have to worry about all that. Bill, you're going to be put on scholarship."
Captured on video from App State football, the Mountaineers team erupted a they gathered around Bill in a raw emotional moment.
Link to video: https://twitter.com/AppState_FB/status/893286196285235200
"It definitely was a total surprise," Cecil said. "I broke down and it was incredible and I can't put it into words."
The first person Cecil called was his girlfriend and some good friends back home in Asheville.
"My parents go to bed early," Cecil said with a laugh. "It was around 11 p.m. so I couldn't let them know right after it happened."
Cecil's parents ended up finding out from an email the next morning before he called them.
Arriving to App State as a red-shirt in 2013, Cecil contributed as a linebacker and on special teams in 2014. Converting to a tight end in 2015, Cecil saw more playing time when he caught his first collegiate touchdown pass against Idaho.
Two years later, Cecil's hard work was noticed and it paid off.
"I was to the point where I was like let me just continue to help the team and I just will do what I can, do my part and see what happens," Cecil said as he prepared for his senior season. "I knew it was one of my last opportunities and they rewarded me for it and it was awesome."
Cecil's roommates, senior defensive end Caleb Fuller and tight end Levi Duffield all arrived to App State at the same time and received scholarships over the last year and half. Cecil patiently waited for his time.
"It is rare to get a scholarship like that and you don't hear about it very much," Cecil said. "It was just really special."
Originally from Asheville where he attended and played football at T.C. Roberson High School, Cecil is known as "Wild Bill" by the team and is looked up to as a high-character guy.
"He is a perfect example of what we want App State players to be and he has done that and he is a tremendous student and everything you want and ask for a teammate to be," Satterfield said. "For a coach, it is a tremendous honor for me to reward a guy like that and as a walk on you are trying to prove yourself everyday and it validates yourself."
Entering his senior season as a Division I athlete with a scholarship, something he dreamed about in high school, Cecil hopes to continue impacting the team in anyway he can.
"I just want to keep working, get reps in camp, continue to take care of my body and stay healthy and work on my crafts and be best I can be," Cecil said. "I will see what happens and I will continue to take it one day at a time."
Story By: Jason Huber, Sports Editor