This year, the App State women's basketball team has been carried by great plays from their most experienced players. In a year in which the team has looked for leaders, the senior class has provided the spark to do just that.
The Mountaineers have had to deal with different issues ranging from serious injuries to players leaving. Some of the only consistent players to survive the stretch, staying together and stepping into even greater roles, have been senior forwards Bria Carter and Ashley Bassett-Smith and guard Joi Jones.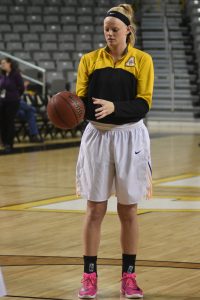 The trio has been steady, calm and has played the largest role imaginable in an effort to keep the team together. Their roles have come in three different ways, and all three have taken their roles to another level.
Carter has contributed by bringing down more boards this year than any post player on the team. With an average of 6.1 rebounds per game, she has made sure to keep the glass in check every game, defensively and offensively, giving her team a better chance to compete.
Bassett-Smith has kept the defensive side of the ball in check, blocking 1.7 shots per game and ranked fifth in the league. Her presence only has changed many opponent's shots, as she has shown her ability to defend throughout the season.
"I knew I had to be a big post presence inside, a scoring threat, rebounder and definitely just a big defensive presence for the team," Bassett-Smith said. "I definitely knew coming in my role I had to be a vocal leader."
Jones has played her best offensively, scoring 13.0 points per game, making her eleventh in the league. Her scoring has given the team a lift that they have needed, as they have lost senior Mia Marshall and sophomore Kaila Craven due to injuries.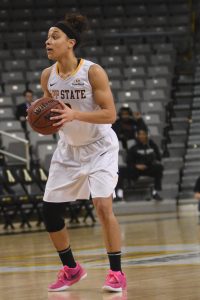 Their impact can be seen with very few statistics. App State is second in the Sun Belt in offensive rebounds with 15.3 and third in defensive rebounds with 26.0 per game. They have also rebounded a stellar 37 percent of their offensive misses for fifth in the league. Altogether, they are the second-best rebounding team in the Sun Belt, grabbing 41.4 rebounds per game. Third in blocked shots per game, App State has blocked 4.2 shots per game.
The seniors have helped keep App in more games, especially since they would be without some of the scoring that they thought would be there. Defense and rebounding have had to become staples for the team as they looked to win in unique ways, understanding that scoring might be slim.
"This year we're much more close. We've had our ups and downs but we're family and families go through that," Carter said. "At the end of the day we love each other, we support each other, we've got each other 100 percent on the court and off."
This has been a key aspect of this season for this team. The team has stuck together through to toughest experiences a group could possibly go through. Losing many options, the team has been put into a tough spot.
The Mountaineers sustained two players being suspended, Carter and Q Murray during a game on Feb. 23, and the team rallied around each other to win just two days later, with only eight active players. That has been the theme of the season.
"No matter how many times we've been knocked down, we get back up, and I think that's been a trait of theirs in terms of we've hit a lot of adversity since my time at App," head coach Angel Elderkin said. "They just continue to stick with the process and see the silver lining in everything. I think that makes it special because there were certainly moments where they could have said 'Hey, I'm going to stop.' I think their attitude toward adversity has been exceptional."
The mental strength of the team has been on full display, always coming together to fight their hardest when it seems everything is stacked against them.
"Us seniors, we've definitely matured over the years and really stepped up in the leadership roles. That was the ultimate goal, and of course to have team success," Jones said. "We have one more game left, and still a tournament, and there's no doubt in my mind that we'll be successful in the games, as well as the tournament."
The senior class has been the glue of App's team and they will continue to be as App looks to close their season with a win on Saturday, as well as gain big wins in the Sun Belt tournament next week in New Orleans.
Story By: Jay Boyd, Sports Reporter
Photos By: Chris Deverell and file photos