With seniority comes a leadership role both on and off the field for seniors on the App State softball team Cara Parker, Katie Mathewson and Vanessa Ciocatto.
Parker, Mathewson and Ciocatto are the only three seniors on the Mountaineer softball team, which is otherwise made up of freshmen and sophomores. Now that they are seniors, they said that they have had to become leaders for the young team.
"I think that the four years I've been here, I've had to sit down every year and think about what my role is and how I'm going to bring what I can to the table," Parker said. "Now I want to help the younger guys and help them realize that this is their opportunity and that this is something that not a lot of people get to do."
Parker has been a strong force on the field since her freshman year when she received all-freshman team honors from the Southern Conference. She hit her 35th career home run in the Mountaineers' game against Texas State on March 18 and is only four home runs away from tying the record for second all-time career home runs in Mountaineer history.
However, Parker's growth from her freshman year to her senior year is what sets her apart from other record holders, head coach Janice Savage said. When App State switched from playing in the Southern Conference to the Sun Belt, Parker had to change her mindset and learn how to deal with both successes and failures. Savage said this new mindset is Parker's biggest contribution to the team.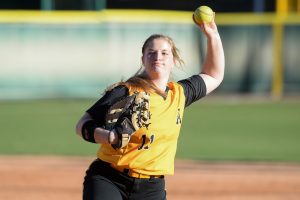 Mathewson has been playing alongside Parker since her freshman year and she said that over the four years that she has been here at App, she has gained a perspective that she hopes to share with the freshmen on the team.
"Being mentors for them is just the best," Mathewson said. "I think it honestly just comes with being a senior and its expectation, but for us to step up into that expectation and actually succeed in it, which I feel like we have, is big for our team."
As well as being a solid player on the field, Mathewson has always been very encouraging for the entire team at games and practices and in the classroom, Ciocatto said.
Ciocatto has been playing for the Mountaineers as their pitcher since her sophomore year, when she transferred from Delaware State. She was the leading pitcher for the Mountaineers last season with a ERA of 5.64 in 152.2 innings pitched, and she currently holds the lowest ERA this season of 1.62.
"I would consider myself team captain for about two years now, so going into this season as a senior, I was really looking forward to that final season as a senior captain," Ciocatto said.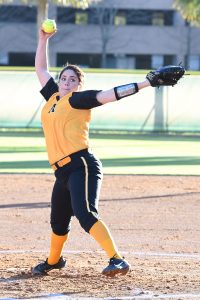 Ciocatto added that the three seniors not only lead together on the field, but they are also close as friends, which has helped them develop a chemistry that has earned the respect of the younger players on the team.
"You've got three different personalities in the three of them, so for them to come together and get on the same page that they have one common goal to be successful as a team regardless of their personal success is huge and says a lot about the culture that we have now," Savage said.
As they continue into conference play, Savage said the three seniors will have to continue to work together to lead the team to success in the Sun Belt and make a change in the softball program at App.
"The biggest thing that I've seen out of them is that they've accepted the challenge of wanting to see a change in this program and wanting to be successful in the Sun Belt," Savage said. "In the past, I've had some really good leaders, but I've not had three of them be on the same page. I give these guys a lot of credit for being able to work together and collaborate."
Conference play for the team continues on March 25, giving Parker, Mathewson and Ciocatto a chance to prove their leadership skills thus far. The Mountaineers will face off against Georgia State in Decatur, Georgia at 1 p.m.
Story By: Monica Crawford, Sports Reporter 
Courtesy Photos