Drag queens, drag kings and drag queers came out to the Parkway Ballroom on March 3 to participate in the Sexuality and Gender Alliance amateur drag show.
During the show, student performers dressed up, sang, lip synced and danced along to music for an eager crowd.
Anita Dickinson, known offstage as Ian Wyatt, said the excitement from the audience members motivated her and the other performers to put on a great show.
"The crowd is really good and they're really fun so the performers feed off of that. It just makes it into a really good show," Anita Dickinson said. "It's a joy performing for App State, they're a really good crowd."
Ivana Dickinson, known offstage as Seb Jobe, said that the amateur shows are a unique event that allow everyone involved to feel secure about stepping outside of the typical gender norms while having a great time.
"I like having a fun space to play with gender that's safe and fun for everybody involved," Ivana Dickinson said. "It's just a really unique fun experience that super-non intimidating, we are just here to have a great time."
Vincent Adultman, known offstage as Madison Seale, said he was excited to participate in his first drag show to break the rules and enjoy himself.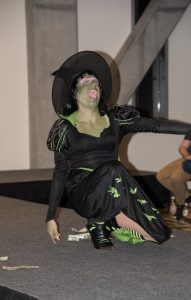 "I found it already to be pretty freeing actually just to be like sort of deliberately breaking all the rules in a way," Adultman said. "The entire thing is kind of set around just having the grandest time you can."
Dixie Diamond, known offstage as Cody Holmes, said that SAGA's amateur drag show is a fun opportunity for those in the LGBT community to feel safe and supported.
"Its really fun and I think that Boone lacks a vibrant queer community," Diamod said. "And for a lot of people, not all, this is a sanctuary for people to be who they are and to invite other people to express themselves as well."
The Sexuality and Gender Alliance is an organization whose goal is to help create an accepting atmosphere for those of all gender identities and sexual orientations.
Mother, known offstage as Paige Allen, said SAGA aims to help others become comfortable with their identities while teaching people to accept others identities.
"SAGA's main goal is inclusivity and encouraging everybody to be a member of our community," Allen said. "Our entire idea is to have everyone and let everybody be a part of it. And I think SAGA just wants people to feel happy and comfortable while accepting that there are other identities in the world."
Wyatt said that SAGA is important to App State because the organization adds to the overall community and culture of the campus.
"I think it's important to show the aspect if the gay community for App State because its like a different subculture and therefore contributes to the greater culture itself," Wyatt said.
The SAGA professional drag show will be April 22 at 8 p.m. in Legends. Queens from across North Carolina will perform. Entry is ten dollars.
Story by: Rachel Brown, News Reporter