All about the sides: a vegan Thanksgiving
The approach of Thanksgiving has many college students anticipating a nice home cooked meal. Traditionally, this means the main attraction is turkey with all the trimmings. Not for vegans.
Caleb Crowell, owner of Kindly Kitchen, describes veganism as being different experience for many people.
Crowell and his wife, who opened the restaurant last December, have been vegans for nearly 10 years.
Crowell said veganism is a conscientious awareness "of the things that you use, whether that's the food that you eat or the things that you buy."
He said some vegans fully focus on animal awareness and animal rights.
"There are others that eat a certain way because it's a healthy, low impact way to eat, so they abstain from dairy and other animal products like eggs," Crowell said. "And in lieu we eat lots and lots of vegetables."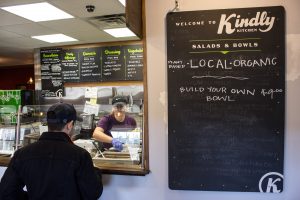 Crowell said being a vegan is a good way for people to minimize the amount of bad that they generate.
He admits that choosing to do so during such a family and food oriented holiday has proven to be a challenge.
"It has always been a struggle," Crowell said. "We go into family gatherings and we bring most of our own foods and we bring plenty enough to share."
Crowell said that one thing he doesn't do is try to make fake versions of traditional dishes, because he thinks it creates a barrier.
"If you want turkey, just eat turkey," he said.
Alyssa Yoho, a sophomore biology major, takes a different stance on faux holiday meat.
Yoho is the president of the App State Animal Welfare Club. She became a vegan last year when she began learning more about the cruelty of the meat and dairy industry, and the health benefits of taking on a vegan diet.
"I haven't tried the whole tofu turkey that I imagine people are thinking of, but I have actually been really pleased with the Tofurky products that I've had in the past," Yoho said.
This will be Yoho's first thanksgiving as a vegan.
"As a vegan, I basically just cut out the turkey, but could eat all of the sides," Yoho said. "This year, I am planning on making my own sides and dishes."
Crowell said he likes to focus on making lots of vegetables and making them taste good.
Crowell said even though vegetables can be more challenging to cook, it is well worth the effort.
"You not only have to find really top quality product, but you have to not mess it up," Crowell said. "The flavors are really subtle. When you don't cover them up and you keep them there, it definitely feels like a little bit more of an art than throwing an animal in the oven for five hours," Crowell said.
Yoho said it's a good thing she enjoys cooking because if not Thanksgiving would be much harder for her.
"I'd encourage anyone on the vegan path along with us to replace starches and rices and grains and bread with kale as your base," Crowell said. "With kale you immediately feel lighter and cleaner and a little bit closer to the source of things."
Crowell said there's an immediate positive return when you close this gap between producers and consumers.
"Buying rice, you're buying something that's probably been through five or six different large manufacturers hands but with kale it goes from a grower and to you and that's it," Crowell said.
According to Crowell you can replace most of the heavy, gunky starches with kale.
"It's all about the sides," Kas Barr, a freshman elementary education major, said.
Barr, who has been a vegan for three years, considers herself somewhat of a veteran at vegan Thanksgiving.
"Vegan mac and cheese is my favorite, hands down," Barr said. "You just substitute a ton of veggies and coconut milk and voila! That's your cheese. You can barely tell the difference."
Yoho said the same is true for vegan renditions of Thanksgiving staples, like green bean casserole and pumpkin pie.
Yoho said it is a misconception that eating vegan means cutting certain dishes out entirely when in reality it just means replacing a few ingredients.
"There are so many vegan alternatives out there. I can't eat the stuffings or the casseroles, but I can still have my mom's cranberry sauce and sweet potatoes," Yoho said. "I'm even going to bake a pie and leave it out for my family to show that I can still have stuff that seems fattening or unhealthy."
Yoho said the key to a vegan thanksgiving is being willing to try out new things.
"I have a recipe saved for green bean casserole that I'm excited to try because it's my favorite," Yoho said.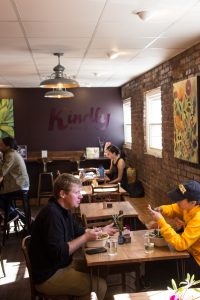 The recipe has only 10 vegan ingredients and takes around 30 minutes to make.
Barr said a vegan Thanksgiving does not have to be a hassle.
"Thanksgiving is about being happy with people that you care about," Barr said. "And if you can be healthy and conscious of what you're putting into your body while you do that, then Thanksgiving can be even more special."
Story by: Makaelah Walters, A&E Reporter