It has been a season characterized by career-highs and active leadership for App State senior forward Bria Carter. Carter has transformed herself into the player that the women's basketball team's coaches and teammates always knew she was: a steady and calm leader.
"She's one of those leaders that leads by example, she's not 'rah rah,' like a vocal leader," head coach Angel Elderkin said. "When she gets that and-one play, or that big defensive play, it really energizes our team, then it becomes contagious. She does a phenomenal job of leading our team in that way."
In addition to becoming a leader, Carter has set career highs in scoring at 7.4 points per game, rebounds at 6.1 and free throw percentage at 72 percent this season.
Already with two double-doubles, Carter looks to continue her historic year with numbers as steady as her leadership. The numbers so far have put Carter among the best in the Sun Belt conference, ranking third in field goal percentage and 11th in rebounding. These numbers have helped provide a spark for App State's team that ranks fifth in the Sun Belt in scoring offense.
"I've been put into more of an offensive leadership role, trying to get offensive boards, taking it to the basket, even just taking more jump shots in games," Carter said. "I've been working on that a little bit more, so I'm just trying to be more of an offensive threat."
Carter has either led or tied for the Mountaineer's leading rebounder in one-third of the Mountaineer's games this season with her ability to crash the boards that has become a theme for the team. Carter already has two double-digit rebound games, including a 14 and a 10 rebound game. The Mountaineers have rebounded 34 percent of their offensive misses this season.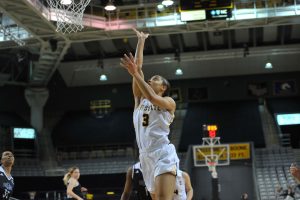 This year has not been solely offensive, as the defensive side of the court has also been a big part of Carter's game. Averaging 2.75 steals a game has been just one part of the effort shown on the defensive end, as blocks and holding opponents to scoreless possessions have also been on display.
The attention to the little things on defense has helped make App State the fourth ranked defense in field goal percentage, holding opponents to an average of 39 percent shooting.
In a year in which the Mountaineers have asked her to work hard, Carter has answered the call. Willing to do whatever it takes to help her team, she has used this year to show her versatility.
Filling up the stat box night in and night out, numbers don't tell the full story for Carter. She has proven she can do more than just score and rebound by lifting her team with leadership and bringing out their best by asking them to provide maximum effort.
She has used her leadership to better the team by "leading by example on the court, trying to take initiative and showing my teammates what I can do and hopefully they follow after," Carter said.
This has been the recipe for the senior, who has shown that she can do it all this season.
This leadership has come at the best time for the Apps, as teammates look to Carter to fulfill a bigger role that she fills by simply doing her job.
Allowing her work to speak for itself, Carter has ability to step into a vocal leadership role that the team has looked for.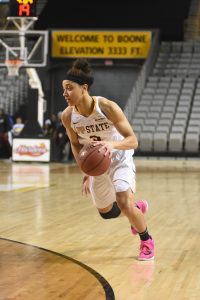 "On the court she's loud, and when she says stuff people listen because they're not used to hearing her talk," senior teammate Joi Jones said. "When she does talk it means a lot to the team."
Helping lead the Mountaineers to a respectable 8-10 record so far this season, it doesn't come as a surprise for Carter's teammates and coaches, who see this as everything coming together at the right time.
Carter has played as well this season as she has throughout her career.
"She's a testament of when you put the work in consistently, you're going to get the results," Elderkin said. "They may not come when you want them to come, but in my opinion, hers are coming right when they needed to in her senior year. You just see the evolution of her and it's a beautiful thing."
Story By: Jay Boyd, Sports Reporter