Stepping up for Junaluska
The energy in the Schaefer Center for Performing Arts was tense Saturday night, as people awaited entrance to the auditorium for National Panhellenic Council's Homecoming Step Show. The line of eager black students and members of Greek life, active and alumni alike, wrapped around the lobby twice. Doors for the show opened at 7 p.m.
Lights in the auditorium were dim as people waited for the show to begin. The music for the evening was brought by DJ Diesel from 102 JAMZ, a hip-hop station located in Greensboro. He played remixes of hip-hop songs both old and new as the audience was waiting.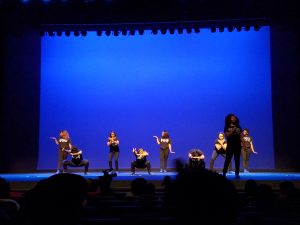 The audience danced along and eventually settled in time for the show to start.
The show began with a roll call in which the emcee for the evening, Jaelyn Felder, president of NPHC'S executive board, called out the name of a Greek organization and members responded with the call unique to their organization.
The sororities and fraternities represented in Saturday night's roll call included Alpha Kappa Alpha, Kappa Alpha Psi, Omega Psi Phi, Delta Sigma Theta, Phi Beta Sigma, Zeta Phi Beta, Sigma Gamma Rho, Iota Phi Beta, Chi Sigma and Chi Epsilon Sigma.
Only five of these organizations performed.
Three competing sororities and two fraternities competed for a grand prize of $1,000.
Zeta Phi Beta Sorority was the first sorority of three to take the stage in the competition. Although Appalachian State's chapter of the organization did not perform, sisters from North Carolina A&T University stepped in their place.
Their performance was followed by Phi Beta Sigma fraternity, the first of two fraternities competing that night. Phi Beta Sigma traveled to App State from Livingstone College in Salisbury, North Carolina to perform.
Sean Griffin, chapter president of Phi Beta Sigma at Livingstone College, said their performance was inspired by the Black Lives Matter movement.
"We felt like the theme of police brutality brought attention to something very important," Griffin said.
The three brothers who stepped in this performance were dressed in bright orange prison uniforms. In between each step routine there was a short sketch portraying instances of prison wardens harassing their inmates.
Phi Beta Sigma ended up placing first in the competition, winning $1,000 for their organization.
"Honestly, I was ecstatic that we won," Griffin said.
This is their second first place win. Phi Beta Sigma recently won a competition on their own campus in Salisbury.
The second sorority and third performance of the night was Delta Sigma Theta.
These sisters had a video that accompanied their performance. The video had a haunting theme featuring a creepy doll.
"Our show kind of stemmed from the theme of Chucky and Anabelle," Aubria Myers, junior sociology major and vice president of NPHC, said.
Myers said they wanted to keep the theme relevant to the season and Halloween.
"Being on stage was a rush and everyone backstage was pretty nervous," Myers said.
In between each performance there was a short intermission.
Trey Edgerton, graduate business administration major and chapter advisor for the Alpha Alpha Rho Chapter of Phi Beta Sigma, said this was his favorite part of the show.
"I really liked in between, when the DJ would play songs and people would dance and stroll," Edgerton said. "It unites everyone and makes the environment flow."
Kappa Alpha Psi fraternity was the last fraternity and fourth performance of the night.
Their routine featured their signature shimmy that got a response from the audience.
Shimmying and strolling are different from stepping, though the two are often combined in performances.
"Stepping involves precision and making your own music, but strolling is moving to existing music," Griffin said.
The final competing sorority that performed was Alpha Kappa Alpha sorority. Alexis Williams, junior communications and public relations major, said that she and her sisters started practicing a little over a month ago for their performance.
"We had practice every night for two hours at least and several dress rehearsals," Williams said.
Williams said they did this to get used to their costumes. Their attire in their performance included pink capes, tutus, and face masks.
"We wanted to do a theme that would be fun to watch and perform and we felt like it incorporated all of our personalities," Jae Amoah, senior marketing major and stepshow committee chair, said.
The sisters of Alpha Kappa Alpha took home the trophy for first place out of three sororities.
"I'm proud of the AKAs and their clean show, but in all honesty, I am happy it is over because I get to sleep again," Myers said.
Williams said to be able to win in front of so many Alpha Kappa Alpha alumnae and win was amazing.
"This was our first step show and the win was awesome," Williams said. "At the end of the day our goal was to get out there and have fun."
Half of the proceeds from NPHC's stepshow ticket sales went toward purchasing markers for the graves for Junaluska, Boone's historically black community.
Story by: Makaelah Walters, A&E Reporter