Story has been the story for women's basketball
Sophomore guard Madi Story has been a consistent player for the App State women's basketball team since the beginning of the season, but in the past few weeks Story has proved just how important she is to the team. She had the best game of her young career against the Texas State Bobcats on Jan. 9 and has continued to be a force to be reckoned with for the Mountaineers in the month of January.
Story scored a career-high 31 points to help the Mountaineers earn a 90-71 victory over Texas State — the first time someone on the women's team has scored 30 points at Holmes Convocation Center since Maryah Sydnor did so in 2014. Story also shot 11 for 15, a whopping 73.3 percent, from the floor, shot 8 of 13 from the charity stripe and was a lockdown defender on the opposite end of the floor.
"I thought it was a great performance for [Story]," head coach Angel Elderkin said. "She's the type of player that brings her best effort every single day to practice, so to see her have that on the court was really exciting for our team."
While the Mountaineers were unable to pick up a win in their games against Little Rock and Arkansas State, Story posted back-to-back double-digit scoring performances, shooting efficiently from the line and crashing the boards. In the Little Rock game, Story led the team with 12 points and shot 8 for 10 from the free throw line. Story was also one of the top scorers in the Arkansas State game as well, notching 10 points.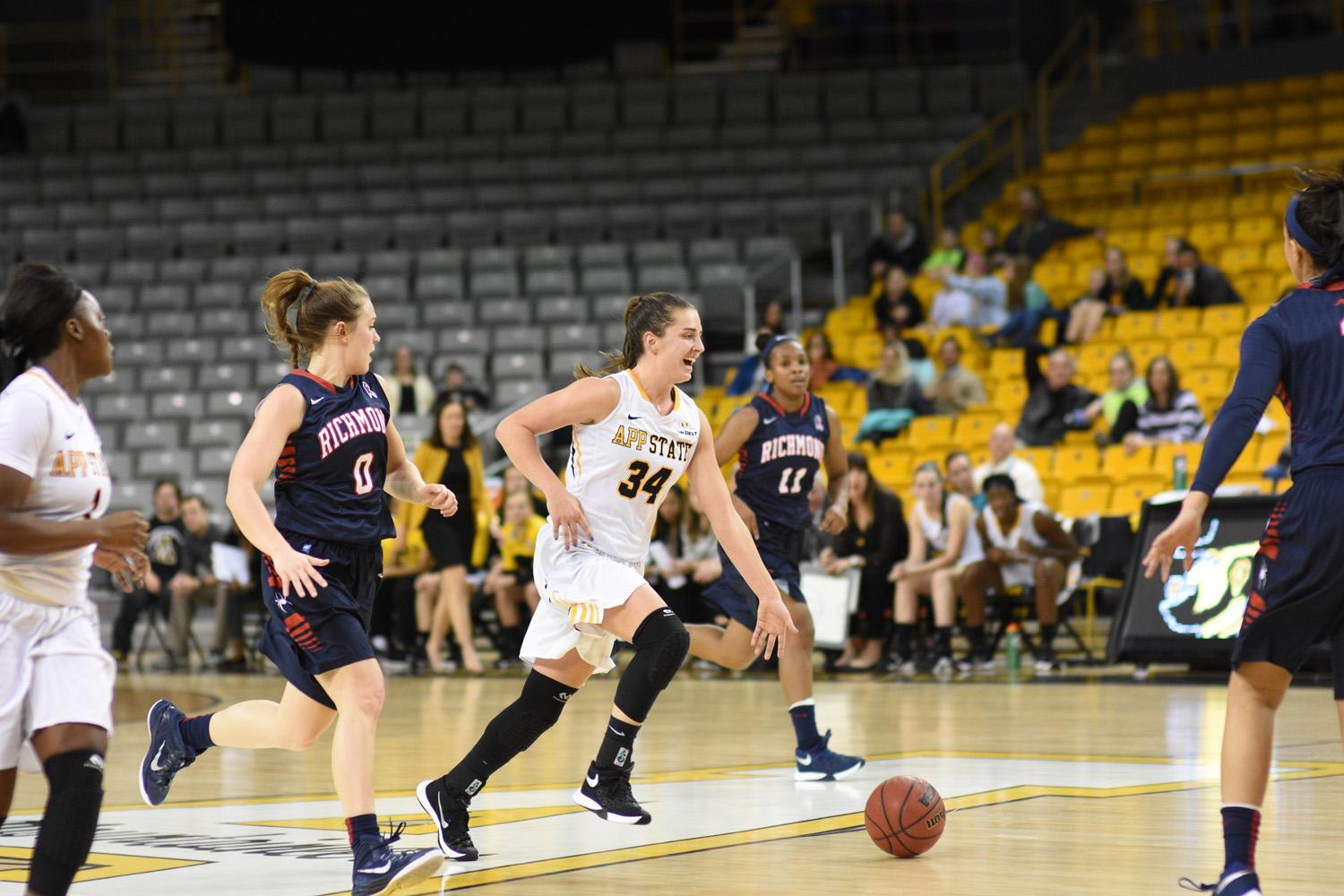 On Thursday, Story provided another double-digit scoring performance, tallying 16 points. She also broke another career best, pulling in eight rebounds — seven of which came on the offensive end. Oh, and she dished out a team-high four assists in the 80-75 loss.
In just her second season, Story said that she has taken it upon herself to step up and be a leader for the team this year as a sophomore.
"I started off being point guard last year," Story said. "I think since Maryah Sydnor was really our big leader last year, now we have to fill everything she gave us last year. So I need to step up."
With just one full season under her belt as a Mountaineer, Elderkin said she has seen Story grow tremendously as a player and teammate, something that has manifested itself in the past two weeks.
"[Story] has just made leaps and bounds," Elderkin said. "I think that she has become much more consistent for us, and she's become a scoring threat for us night in and night out. She's also really been a defensive stopper for us always assigned to the other team's best player. She just commits on every possession and gives it her best."
With notable performances in the Delaware State University, University of North Carolina at Chapel Hill and University of Richmond games, Story has been playing consistently all season long. She had a career high of 20 points in the Mountaineers' game against Furman University that took place on Dec. 20, 2015, and then broke that record against Texas State. She hopes that this positive momentum will help her continue to make her statement as a key player for the team.
"I just need to build off of that and keep moving forward and not take a step back," Story said.
According to Elderkin, with the intensity that Story is playing and practicing with now, she will play a key role in helping the Mountaineers fight their way through the rest of the Sun Belt schedule.
"We can just continue to see a better Madi Story every time she steps on the floor," Elderkin said. "She really is our hardest worker, and she's always looking at ways to improve her game. I hope that this will continue to give her confidence and that she'll be able to build off of that and have the confidence to battle through this tough Sun Belt schedule."
Story by: Monica Crawford, Sports Reporter 
Photos by: Justin Perry, Photo Editor