On April 13, 14 and 15, audiences in the Schaefer Center for the Performing Arts will experience the story of "Sweeney Todd: the Demon Barber of Fleet Street," presented by the Theatre and Dance and Music departments. The cast of the show features students from both departments, with 20 students making up the ensemble and 11 students in the main cast.
Joshua Hobbs, a junior music industry studies major, stars in the show as Sweeney Todd with Sidney Ginn, a senior music education major, as Mrs. Lovett and Richard Moore, a sophomore theatre performance major, as Judge Turbin.
"I got involved with the production when I went to see 'Much Ado About Nothing,'" Hobbs said. "I saw that they had done a lot of work. Shakespeare is hard to convey that you know what the lines mean, and the cast of that show clearly did, so I went to audition for Sweeney Todd."
Premiering on Broadway in 1979, Sweeney Todd is the story of a barber turned serial killer in 19th century London, during the English Industrial Revolution.
"At the time, London worked as a 'beehive,' where the rich were well off because of the poor," Ginn said. "Currently, the one percent are taking advantage of the working class. The show is relevant because it shows how capitalism defines people."
Capitalism is just one of the many elements the show represents, as well as the social hierarchy at the time. But most of all, the show addresses power, revenge and corruption.
"Sweeney Todd speaks about capitalism and the vicious cycle of the beehive where people take advantage of each other to move up the social ladder," Moore said. "When Sweeney gets his power, you see him change from a vengeance-seeking man to a serial killer. No character leaves clean, everyone is corrupted."
Written by Stephen Sondheim, the music of the show is drastically different than what is found in other Broadway shows, which has presented a challenge to the cast.
"Sondheim as a playwright always believes in making things difficult," Moore said. "In normal shows you'd have a few harmonies, but in this show you're doing aerobics with every note. The ensemble works hard the entire time. His writing style is a nightmare, but it's beautiful in the end."
Sophie Weiner, a sophomore theatre performance major who plays Johanna, said the challenge of the music has helped her technique.
"I've been in operas before, like 'The Magic Flute' and 'Selkie,'" Weiner said. "The singing to dialogue ratio is drastic. There is way more singing than speaking. We spent three weeks working only on the music before actually working on the dialogue. We have to continue acting through the music because it helps guide the story line."
For other cast members, the challenge may not lie within the music, but the characters themselves. Mackenzie Smith, a senior theatre performance major who plays the Beggar Woman, says that aspects of her character have challenged her.
"My character is very old, and she's weak because she's sick. When getting into character, I have to think about living in a body with a brain that has been ravaged, and muscles that are deteriorating because I'm starving," Smith said. "My character is weighed down by physical and mental illness, by age, and by emotional turmoil at the loss of her family. I have to figure out a way as a 22 year old with enough energy to power this whole school to condense it enough to keep an anxious, rat-like twitch."
Zoe Dean, a sophomore theatre arts major who plays 16-year-old orphan Tobias Ragg, faces a different challenge than the other members of the cast, due to the difference in gender between her and the character.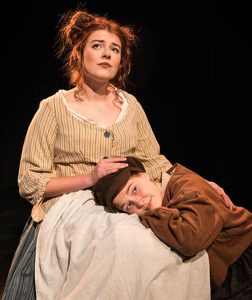 "It's been kinda crazy for me, a woman, to play a male character with this background," Dean said. "I can't relate to how low-class he is. I come from a middle-class family, but I've never dealt with poverty. Some of my acting notes are to think about how poor Tobias is, and how blessed I am to have all of the opportunities I do. Lowering myself to a different level has been a challenge for me, but it's been working."
The production includes many dark and mature plot lines, such as murder and assault. Devon Bucey, a sophomore theatre performance major who plays Antony Hope, said the dark themes of the show even affect the "innocent" characters.
"I play the 'lover boy' who is infatuated with Johanna," Bucey said. "Antony is more of an innocent character, but every character has a dark side and lighter side that you can relate to. Antony is more innocent than dark, but he ends up saying he would kill for Johanna if it would save her."
With so many twists, turns and surprises, it is expected by cast members for audiences to be appalled and even disturbed by the show. Some productions of Sweeney Todd do not include scenes and songs that push more boundaries.
"For everyone who has never seen Sweeney Todd and has no idea what they're getting into, it is safe to say that they will be stunned," Roy Dale Cox, a junior political science and theatre performance major who plays Adolfo Pirelli, said. "It will be disturbing in a different way. Think of the kids coming to the show; they'll be disturbed but they'll think it's kinda cool. It'll be different for everyone."
Even though the show will include many uncomfortable and disturbing scenes, cast members hope the audience will take away from the experience.
"Good theater makes you uncomfortable, and I hope to make audiences uncomfortable," Smith said. "Sweeney Todd is naturally uncomfortable because it's disturbing to watch someone be assaulted on stage. It's disturbing to watch someone get their throat slit on stage. It's uncomfortable to watch a man of great power hold that power over others. It's uncomfortable to hear people compare themselves to God."
Bucey said it is the job of an actor, even if it makes an audience uncomfortable, to do a character justice.
"As an actor you have to remember that everything you do, you do for the audience," Bucey said. "As long as you find true intent for what you're doing for the character to display their wants and needs, whatever the audience takes from that is what you should strive for."
Story by: Anna Muckenfuss, News Reporter
Photos courtesy of App State Theatre Department
Featured Photo Caption: Sophomore Richard Moore portraying Judge Turpin and Sophie Weiner portraying Johanna in the upcoming play "Sweeney Todd." The opening night is this Friday at 7 p.m. at the Schaefer Center.