Though the Hayes School of Music has a variety of ensembles, one that takes a different approach to a typical sit-down ensemble is Video Game Ensemble.
The Video Game Ensemble's repertoire is a bit different. All of the music is from video games. The group plays every kind of game music, from popular new games to the old classics.
So how did this group come about? It all started with junior music industry major Adam Campbell.
Campbell came to Appalachian State as a freshman and wanted to have an ensemble that was more accessible to students who weren't music majors.
"I've always been a huge fan of video games and music, and having individuals who aren't music majors playing music has always been a really big passion of mine," Campbell said. "I thought that combining those three ideas together would work really well."
At the time the process was intimidating, he said.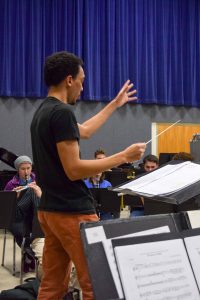 The ensemble was an automatic hit among music and non-music majors alike, and gathered a lot of interest.
After hanging up flyers, Campbell held an informational meeting about the group.
"I set up 30 chairs and I was just like 'I'm going to go leave and get some food and come back,'" Campbell said. "I came back and there was standing room only. There were about 50 people in the room."
Senior music education major Jacob Todd said the show was such a hit because of the childhood nostalgia the music brings on.
"This music, these are pieces that have memories associated with it," Todd said.
Campbell was astonished that there were so many students willing to put in the extra time. Many of them are music majors who take over 40 hours a week of classes.
"There is no reason why 50-plus students come to rehearsal every week getting no credit and listen to a fellow student and follow his conducting and play their music well," Campbell said. "They are here because they want to do it, which every day I still find amazing."
One of the ensemble's biggest appeals is that, since it's not an official school ensemble, it's more accessible to non music majors. This creates a more diverse group of musicians with different skill levels.
"As music majors we live and breathe music all the time," Todd said. "Sometimes it can lose it's magic. Having non majors is a good reminder that music should be fun."
Campbell felt this was an extremely important aspect of Video Game Ensemble when he originally created the group.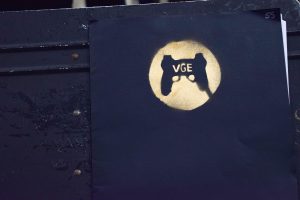 "I just think that even though you're not a god-like or crazy level player, playing music is so important because music is something that breaks down age, race and gender and it's everyone communicating towards a common goal," Campbell said.
It's not just popular with those in the ensemble itself. The Video Game Ensemble pulls over 600 attendees to its shows and holds its concerts in the Schaefer Center due to the large crowds.
"I feel like, specifically with Adam, since he's a student he knows the best way to get students involved," Todd said. "A lot of professors are like 'I want you to do this,' but they're a professor so they don't understand what it means to give up time since they are teachers."
Freshman music education major, Caroline Porter agrees.
"It's nice to see someone make mistakes," Porter said. "Someone who is the same as you, a couple years older, why they chose music ed and then you get to see what it would be like because they're running it and that could be you one day."
Because of it being student-run, Video Game Ensemble has seen lots of changes in the past couple years. The student run executive board is one of it's biggest changes.
"There are so many moving parts: reserving rooms to rehearse, getting sectionals running, keeping up with section leaders, sending emails, organizing the room, keeping up with the money and the bylaws," Campbell said.
One of the ensembles other big changes is the addition of vocals.
"This ensemble is very good in that it encourages the communication between people that play different instruments whether it's a singer or a wind player," Todd said.
Regardless of what originally appealed to members, they agree it is a lot of fun.
"That's what's great about this ensemble: it's basically just fun," Todd said. "It's also a good break for music majors because we're playing something that's fun, not just the same stuff we're always playing."
Porter agrees saying that it Video Game Ensemble is very reminiscent of the type of carefree and fun musical atmosphere provided by middle and high school bands.
Beside a performance at Nerd Con, Video Game Ensemble is holding a concert May 1 at 8 p.m. in the Schaefer Center. Music includes selections from "Dark Souls," "Pokemon Emerald," "Skyrim" and "Super Smash Brothers."
Story by: Mariah Reneau, A&E Reporter
Photos by: Lindsay Vaughn, Staff Photographer