Students create and fund film from the ground up
On a campus of over 18,000 students studying in many departments, the available opportunities for narrative filmmakers are limited. Two students at App State wanted to showcase that it's possible.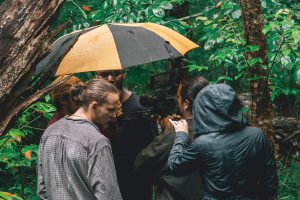 "We found some really great people, but we live in a town where not many people want to do film," senior commercial photography major Seth Grant said. "We don't have a film school. The most we have is TV production."
Grant and Logan Frazier, a senior English major, who have been friends since freshman year, ventured into the community to fill in spots for their film crew. Film is a platform of many mediums, so they searched for individuals with those mediums in mind. From makeup, to catering on set, to actors, all the positions were filled by the community, Grant said.  
"We found a wonderful special effects makeup artist, costume person and then we found two people who did want to do film, so we put them in logistic roles," Grant said. "Once those two roles were filled up we were freed up a lot on set, but beforehand it was pretty much all us."
Grant was co-producer and director of photography, while Frazier was editor, writer and co-producer of the project. Caroline Cearley was along side Frazier as co-director. 
The project has been on both Grant and Frazier's mind for about a year under the working title "Helen." The pair raised around $1,400 over the summer to produce the film, Grant said.
The concept of the film required creative restraints and took two scripts to craft the idea, Frazier said. Between the two scripts, Grant and Frazier began to find their creative process in the aesthetics.
"We did a photo series on it," Grant said. "I had a few classes where I was trying to find something to do for projects. We got together what images we wanted to do, and went out and shot it. It turned out really, really cool."
The duo have worked on only one prior project together before this one.
"We had done a short film called 'Sin Eater,' a year or a year and a half ago," Grant said. "We wanted to build off that aesthetic. We heard a lot of people say:'you made me feel this tone, this mood.'"
The mysterious nature of the densely packed woods that line the Boone landscape inspired the look of this film.
"We wanted to try to make this as good as possible and the best way to do that is to work off things you know," Grant said. "That's the aesthetic of the Appalachian woods. You're not really sure of what lives in that area."
Frazier wanted to capture an environment that is right in App State's backyard that few people knew about.
"I really love Appalachian folklore," Frazier said. "I have a particular passion for that sort of thing. If you go far enough outside this area, it's a different place."
Derek Davidson, an assistant professor in the Department of Theatre and Dance and co-owner of In/Visible Theatre, pointed the duo to the locations that would suit their style.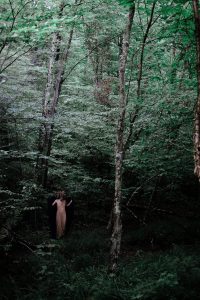 "I live up on Rich Mountain, only about 12 minutes away. So they just drove on up to film," Davidson said. "They had a murky pond surrounded by forest; they had a rocky cliff to play with, a mountain stream and a whole bunch of trees. Perfect for the kind of mood piece Logan and Seth were creating."
While the aesthetic of the film is defined, Frazier had trouble classifying this film as any particular genre; instead he detailed the importance of growing from the story as opposed to pleasing a genre. Films that draw out a mood or a feeling were drawn for inspiration; films like "The Witch," "The Gift" and "It," Frazier said.
"I think 'It' is just a kids movie, the way it's structured and the way you feel most of the time," Frazier said. "Genre films in general bother me when they're oriented around pleasing a particular genre."
At first the duo wanted every scene to be as cheap and approachable as possible for everyone involved. The first script was scrapped soon after, and the project took a clear shape after visualizing the environment around them, Frazier said.
"The second time I wrote the script we had done the photos that clarified for me what was interesting to me about the script, and part of that was subversion," Frazier said. "It's not going to scare you, it might theoretically horrify you."
The duo had funded the project primarily themselves, which helped in getting the majority of the preparation phase of filmmaking complete before shooting, Frazier said. The work on set also took on a more daring approach.
"We'd get there on set and get ready to shoot, and would be like: 'That is going to be difficult!' But then you're like: 'But we're going to do it,'" Frazier said.
One day on set, the duo had a scene to shoot where they planned to film the protagonist and the antagonist of the story in two different environments in one scene. They did not have the correct locations for the shots, so they adjusted so that the shot followed the antagonist into a pond, without moving.
"The thing we couldn't compromise on is that we had to get that mood. We were able to find another way of doing it that was better than we originally planned," Frazier said.
The whole experience was like attending a film school for the duo, an experience that is lacking around the community, Frazier said.
"It really let me know what it was like to direct, in a way I had not had access to before," Frazier said. "It's a lot more complex than other creative ventures I've been on."
Both Grant and Frazier's backgrounds in working in a kitchen prepared the duo to take on the sink or swim environment of filmmaking, Frazier said.  
"The film is kind of like the customer," Frazier said. "When people put in orders, the food is coming out. The food has to come out. If you're backed up, no one cares but you."
The duo hopes that this experience was not only beneficial for themselves but to others who have not had the opportunities afforded to other locations.
"There's not enough film opportunities in the Boone community. Not enough narrative film," Frazier said. "I think it's a cool opportunity for some people to get involved with us on set."
An incoming student or a community member of Boone who is interested in narrative film might have a production company to support their projects in the future. The duo is contemplating the decision but will think on it after they finish more projects, Frazier said.
The duo hopes to have the film finished soon and are working with I.G. Greer Hall and the Greenbriar Theater to have a showing on campus.
Story by: Alexander Hubbel, A&E Reporter
Photos courtesy of Josiah Clark & Taylor Steinmeyer
Featured Photo Caption: First-time director Logan Frazier and Director of Photography Seth Grant compose a scene for their film "Helen."