Sunshine state produces success for the Mountaineers
Throughout the years, Appalachian State has always prided itself on the concept that defense wins championships. With the absence of a premier linebacker such as John Law due to graduation, the coaching staff was forced to plug the hole this season with athletic speed.
The Mountaineer football inside linebacker corps, has effectively passed the torch off to junior Anthony Flory out of Fort Lauderdale, Florida this season.
Flory earned the opening role and it has showed with him being named the Sun Belt defensive player of the week in the matchup against Texas State. The first-year starter was credited for a career-high nine tackles, two sacks and two hurries in a game which ironically ended on a defensive stand that sealed the deal in the waning seconds.
Flory's previous high was six total tackles which came in his first career start against No. 15 Georgia. 
"To this point, he is playing really well," inside linebacker coach Dale Jones said. "The biggest thing that Flory gives us is his athleticism. Sometimes his athleticism gets him in trouble because it allows him to get to the spot quicker than he need to. It is my job to get him to the caliber where he needs to be."
Flory's task during his American Heritage High School career in Florida was to guard numerous wide receivers. The speed which he showed upon his highlight reels caught the eye of coaching staffs all across the country. Hence, Wyoming University was one of the components who heavily recruited him. He could have decided to join one of his high school teammates in Wyoming, but Flory chose to sign with Appalachian just before the 2015 official signing day.
"I came up here on my visit and fell in love with the place," Flory said. "I had never seen mountains like this before because we don't have them in Florida. Everyone here also made me feel comfortable, so I decided to come."
After being immersed in the Mountaineer defensive scheme for three years, Flory's only worry now has been the opposing tight ends and running backs. With him being the official backup for Law in the recent years, Flory has had the opportunity to learn the perspectives of an outstanding defensive player.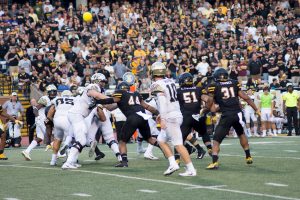 "I have learned to never settle and always watch film to prepare for the upcoming game," Flory said. "Some people would have gotten angry when they are not getting enough playing time, but I was willing to wait my turn for my time. Thankfully, I was able to get a few game reps early within my career that has helped my overall in game experience."
Although the current record of the season proclaims an overall 2-2 record, the Mountaineers possess one of the best statistical defenses in the country. The App State defense is ranked third in the nation in regard to forcing three and outs; 51.1 percent of the time the defense has produced a punt. Michigan and Georgia Tech are the only two defensive squads that lead the Mountaineers in the category.
"I have made simple mistakes that I need to polish up on in practice," Flory said. "I just go out and try to play a perfect game for my teammates. I don't want to be known as somebody's replacement. I want to known as my own player with my own identity that plays a certain way."
Being able to take charge of the defense as a whole is an aspect that Flory wishes to improve on with himself. He strives to know what the person next to him, as well as the person behind him is going to do so that he can accomplish his own job.
The heartbreaking loss to ACC opponent Wake Forest two weeks ago has taught the players and coaches much about their team. Appalachian State dominated much of game but inevitably lost 20-19 on a blocked game winning field goal attempt by Michael Rubino.
"Wake Forest was a good football team who was eventually going to make some plays," Jones said. "For the most part it was a good day as we stopped them 12 times on three-and-outs. Of course we could have played better but it was not one particular spot. We all made mistakes and they end up capitalizing on them."
The all-time sellout crowd of 35,126 at Kidd Brewer Stadium literally rocked "The Rock" against Wake Forest. This kind of electric atmosphere is more than any player could ask for. Throughout the game, the defense thrived off of the crowd's presence.
"One of the main reasons I came to this school was the presence of a passionate fan base," Flory said. "It was the best feeling in the world to see all those people everywhere, even in the grass showing us love when we made a big play."
Flory later expressed his feelings in regard to the Wake Forest loss on Twitter. He tweeted: "Losing is a part of the game. If you never lose, you are never truly tested and never forced to grow."
Flory lines up beside senior inside linebacker Eric Boggs who has actually played alongside John Law. Boggs has been instrumental in showing Flory the ways of the defensive scheme. It is one thing to understand the scheme looking on from the sidelines and another to implement it into a live game situation.
"I try to teach him the roots of our defense just like the guys before me have done for me," Boggs said. "I have also have learned some things from Flory. He is quicker than me with a different style of play. We constantly try to pick up some things from each other to be better players."
From an off-field perspective, Mountaineer fans are only able witness the players in their game mode. Many often forget that the players are also human beings with their own personality and lifestyle outside the game.
"Flory is a goofy kid off the field but all business on the field," Boggs said. "We do a lot of film study together. It's good to have someone that you can be buddies with on and off the field."
Flory is now ranked second on the team behind Boggs in regard to total tackles with 23. Both linebackers must continue their dominance on the defensive side of the ball in order to propel the Mountaineers to back-to-back Sun Belt titles.
Story By: Shane Harvell, Sports Reporter
Photos By: Lindsay Vaughn, Senior Staff Photographer