Sustainability just got spooky
The basement of East Hall is rumored to be spooky. Most of these rumors revolve around the residence hall and home of the Office of Sustainability being haunted by ghosts of former students.
On Thursday, East Hall will try to live up to the rumors when the Office of Sustainability converts the residence hall into the Sustainable Spooks Haunted House.
Eleven student interns with the Office of Sustainability were tasked with creating a fun, interactive way to get other students interested in sustainability.
"Sustainability is in every part of our lives, so why not make it part of a holiday?" freshman intern Steffey Guigou said.
Samantha Smyth, an intern and sophomore hospitality and tourism management student, said Sustainable Spooks is a fun awareness raiser and team bonding opportunity. The interns and the Office of Sustainability wanted to raise awareness for various universal sustainability concerns and resources that the office provides on campus. Each room will have a different sustainable issue like deforestation or global warming as its theme, and will be like "a big art installation," Smyth said.
The room themes are not the only sustainable aspect of the haunted house. Each room's decorations were constructed from unused Halloween items, recycled materials from East Hall, all of the interns' personal recyclables, natural materials and thrift store finds.
"We thought of materials we can get a lot of that we can combine in a spooky way," Smyth said.
The interns created the room theme ideas, provided the materials and assembled all of the decorations. But the interns are even more excited to start a dialogue about sustainability, Bettina Roden, an Office of Sustainability outreach fellow, said.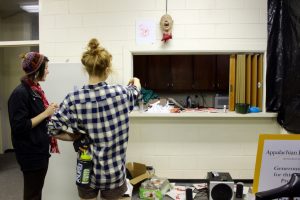 "A lot of the times you talk about sustainability, it ends up being kind of serious, and a lot of times people don't want to hear it," Roden said.
Roden said the haunted house would give students, faculty and community members a chance to learn about sustainability in a way that would not activate defense mechanisms because the goal is to bring awareness to the sustainable issues.
Because Halloween tends to catch attention for people, combining sustainability with Halloween would allow for creativity and an open dialogue about sustainable issues, Roden said.
"I think I could say for all of them it's probably an amazing experience to take something that is so serious and turn it into a fun and exciting event," Roden said.
The Office of Sustainability and the team of interns are not trying to force people to think a certain way, but they want to "create awareness and a community connection" through the haunted house, Roden said.
Melissa Needham, a senior sustainable development student and outreach intern for the Office of Sustainability, said community connection is a vital part of encouraging sustainability.
Needham wants students and community members to stop by the office to ask about any events or programs going on throughout the year, which is why there will be free food and drinks after the haunted house. The interns are given a lot of freedom in what they determine as outreach, so having an interactive way to educate others about sustainability is exciting, Needham said.
Halloween is especially an important time for people to be aware of sustainability, Needham said.
"There's a lot of waste that's accumulated around Halloween with new costumes and trash," Needham said. "I think there's a lot of potential in reducing our waste."
Besides creating awareness for sustainable issues, the interns put a sustainable spin on a classic Halloween activity to scare people, freshman intern and nutrition and foods major Gaia Lawing said.
"We hope we scare the crap out of them," Lawing said.
Sustainable Spooks will be in the Office of Sustainability, the basement of East Hall, on Oct. 27 from 8-10 p.m.
Instead of monetary admittance to Sustainable Spooks, the Office of Sustainability asked attendees to bring canned goods or miscellaneous items to donate to the free sale. The free sale contains leftover goods from the Big Sale in the fall, canned food and new and used household items.
There are food pantries and a food bank located on campus that Smyth hopes more students will learn about and donate to after the haunted house. The office also has a compost pile at the Living Learning Center and gives out trash and recycling bags to everyone who tailgates for football games.
The Office of Sustainability also receives shipments of gently used books from Anne Belk Library. The library cannot throw away or get rid of the books since they are state property, so the Office of Sustainability is selling the books for one penny as a donation to the office.
The office interns will collect food for the food drive on Oct. 26 at the campus farmer's market from 10 a.m. until 2 p.m.
Story by: Sydney Wolford, A&E Reporter