At most universities across the country, students and alumni will tell you that there is something special about the game day atmosphere. Here in Boone, we are no different. Appalachian State students and alumni will all say that in addition to the normal hubbub on game day, there is some sort of intangible feeling that nobody can quite describe in detail. There is something here, 3,000 feet up into the mountains of North Carolina, that makes game day in Boone an experience that cannot be replicated anywhere else.
On any given fall football Saturday, a quick walk through campus will reveal fans tailgating on every patch of grass or asphalt big enough to fit a black and yellow tent, some folding chairs and a cooler. People of all ages can be seen, from children running around with Yosef stickers on their cheeks to long-time App fans coming out to see yet another season of what has been constant in Boone for as long as anyone can remember.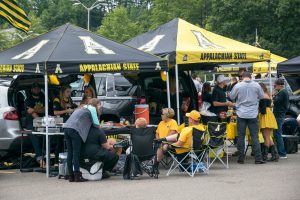 Tailgates of all sizes can be seen too, from fans sitting on the bed of a pickup truck to enormous black and gold modified buses. Charlie Pilkenton and Steven Pennell, former Appalachian State students, have been tailgating since 1999, and have been the owners of a large school bus used solely for Appalachian tailgating since 2010.
"We had been doing just your average tailgate for a while, but then we decided we wanted to do something really cool," Pennell said.
The fans got an old school bus, decorated it with Appalachian logos and other paraphernalia, and loaded it up with TVs, surround sound and everything else they thought they might need.
The group, known as the "Gold Squad," can be seen tailgating in the stadium lot every football Saturday. The group has won several different "Tailgate of the Game" awards and makes an effort to be a part of what they believe is a community on game days.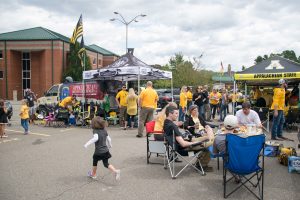 "I think [the culture] is awesome here, I think all the tailgates are very giving and everybody gets along," Pilkenton said. "Everyone is out here supporting the team and supporting the school."
The duo drives the bus up from the Hickory area because they believe that being in the stadium lot is one of the best places to be on game day.
"It's really an awesome setup here. Everyone comes up and talks to us, and people ask about the bus," Pilkenton said.
The Gold Squad invites visitors, students and team members alike to come inside the bus and look around. The ceiling on the inside is covered with thousands of signatures of devoted App State fans and players from over the years.
Alumni, however, are not the only ones who come out and contribute to Boone's unique tailgate culture. Barry Critcher, father of three sons who have played football for Appalachian, and his friend Judd Huffman, lead one of the largest tailgates on campus.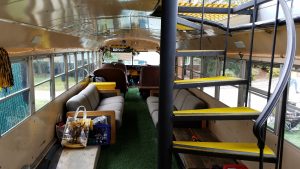 "Pretty much our whole family has graduated from here," Critcher said. "Kenlee played a few years ago, Bentlee just graduated and Rylee is currently playing."
The group owns a 40-foot-long school bus to which they have added a full top deck. There is a spiral staircase leading from a spacious seating area up to the covered top deck which has several large speakers. The bus is so enormous that the group has to spend the night before the game parking it and levelling it while there are no other fans around.
"We're such a small town, it's like everyone is a family here. I know the guys at all the tailgates around here," Huffman said. "One of the starting players came by and told us that the tailgate atmosphere in the stadium lot was one of the reasons he decided to commit to Appalachian."
Being a part of a close-knit family is what the group loves about game day at Appalachian.
"That's what this whole thing is, it's family. That's why we all feel so tight," Critcher said. "We're not in competition with anyone else here, it's just something that everyone does to have fun. Every once in awhile we compete to see whose music is the loudest, but we try not to because we love everybody here."
Both men are Boone natives, and Huffman is the owner of a local tire company.
"I own Alray Tire and this bus is what we do for advertising," Huffman said. "We have our name and 'proud supporters of ASU' down the side, because we're into football and soccer and baseball and every other sport Appalachian has. We wanted to show that we're tied to ASU, that the whole Boone community is tied to ASU."
What makes any college football atmosphere great is its fanbase. Loyal students and alumni coming out and supporting their team is nothing new; it happens every Saturday across the nation. But what gives Appalachian State's game day that intangible quality, that Boone feel, is the knowledge that the school and the team are backed by the love and support of the entire High Country.
Story By: Steven Caughran, A&E Reporter
Photos By: Steven Caughran, A&E Reporter, and Lindsay Vaughn, Senior Photographer