Boone's food truck scene gives a new meaning to the phrase "dining out." With local vendors selling a variety of cuisine, from tacos to seafood, veterans and newcomers of the mobile fare have a variety of new favorite places to check out.  
For those who love authentic Mexican food, one would have to make the decision between Taco King Taqueria and El Tacorriendo.
Miriam Hernandez, the owner of Taco King, started operating her truck two years ago. Since 2016, Hernandez has built her standard on clean, fresh ingredients and takes pride in making most of her food from scratch.
"Everything is fresh, we grind the meat ourselves, our tortillas are all handmade," Hernandez said. "People really love our food because everything is made fresh everyday. That's why people come back."
Located outside of Peabody's Wine and Beer, during the summer, patrons have the option to sit down at a picnic table and have some tacos and maybe a glass of wine. On any day, Hernandez suggests the gorditas, which are fried, thick tortillas stuffed with the works.
"They're basically stuffed, fried pita bread," Hernandez said.
Rachel Lisi, a student at Appalachian State University, goes to Taco King for the authenticity of the cuisine and to pay homage to her childhood.
"I actually grew up with Mexican neighbors so I always had authentic Mexican food," Lise said. "I like going to this truck because [Mexican] restaurants seem to be a little more Americanized."
Visitors can expect to get their taco fix year round. Hernandez is located outside of Peabody's and is open every Thursday through Monday from 10 a.m. to 11 p.m.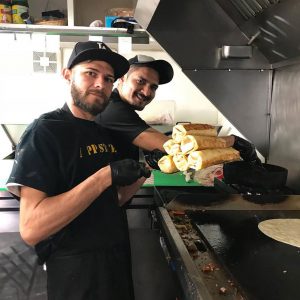 On the other side of Boone, El Tacorriendo sits between Espresso News and Footsloggers. Alejandro Leon and Ashley Leon, the married couple who own the food truck, started their business in Lenoir two years ago.
Ashley Leon said they were attracted to Boone because of its untapped potential for local food trucks.
"When we were in Lenoir, we would come down to Boone every single weekend and would notice that there weren't many food trucks in the area," Ashley Leon said. "So my husband wondered if we could find a place up here."
The choice to serve tacos was easy on account of Alejandro Leon's Mexican heritage. Critiquing the Americanization of Mexican food served in restaurants, Alejandro Leon said that he does not consider it to be real Mexican food. Alejandro Leon was dedicated to cooking food that represented his roots.
"In Lenoir, it has taken a while for us to build our business because people are a little hesitant about eating from a food truck, or maybe this Mexican food is different from what they're used to at the restaurants," Ashley Leon said. "But here, the students seem to be willing to try lots of different new foods and have new experiences."
The ACP wrap is one of the most ordered items on the food truck's menu, but Ashley Leon suggests the taco meal, which comes with three tacos and a glass bottle soda.
In the future, Ashley Leon also mentioned that they will be expanding their business by opening a restaurant. By opening a new permanent location, fans of the food truck will be able to enjoy authentic Mexican cuisine that they cannot necessarily get at the truck's location.
For those who do not prefer Mexican food, Captain Jim's Seafood truck offers the true New England experience, according to its owners, James Sbrizzi and Jerry Sbrizzi.
"The food cooked in the northern states, or in New England, is so much different than here in Boone. People really like the freshness, the seasonings," Jerry Sbrizzi said.
The married couple made their way from Connecticut to Boone in 2003 and brought their food truck with them. After buying the Hilltop Drive-In, located on 2530 U.S. Highway 21, the food truck had a commissary that it could operate out of.
Although Captain Jim's Seafood Truck primarily operates in the spring, the drive-in restaurant offers many of the on-the-go dishes that would be served on the mobile restaurant, such as fish and chips, clam chowder, and the iconic lobster roll, in addition to traditional diner eats.
Captain Jim's prides itself on its fast service, but never compensates its quality, Jerry Sbrizzi said.
"All the burgers are hand pattied every morning, the fish is always hand breaded, and we have our homemade clam chowder and slaw," James Sbrizzi said.
At the restaurant, Jerry Sbrizzi said regulars are often treated like family.
"Everyone comes in and they bring their kids. If it's someone's birthday, we make a big deal out of it," James Sbrizzi said.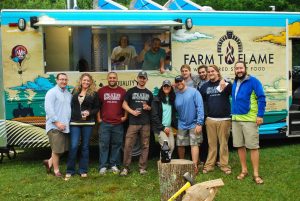 Last on the food truck tour is Farm to Flame, located around the corner from Taco King Taqueria, outside of Appalachian Mountain Brewery. The truck serves their beer-based sauces, pizzas, tacos, sandwiches and wood-fired eats, such as their vegetarian Veg Out"pizza and Buffalo Soldier pizza.
The owner, Danny Wilcox, founded the food truck in order for people to become more in touch with their communities by sourcing most of their ingredients from local vendors.
"We want to make a living for farmers and us, so we help the community in the ways that we can," Ian Hunt, an employee said. "We'll go to the farmers market every summer and buy fresh greens, we go to Lily Patch Farm for some of our spices and even go up to Virginia to get some of our sauces."
Farm to Flame is now partnering with Appalachia Cookie Company to sell their cookies and also hopes to reach out to a company in Hickory that sells gluten-free potato chips.
"We just tested it, and it's amazing," Hunt said.
Farm to Flame is also committed to a high standard of sustainability. Their truck runs off biodiesel from High Country Biofuels. They utilize solar panels, recycle anything that they can and cut down on water waste with the use of a water tank. Even their utensils and containers decompose within fifty days.
"The more we can get in touch with our community, the more we can offer people food that they normally wouldn't get," Hunt said.
Story by: Savannah Nguyen, A&E Reporter
Photos courtesy of Ashley Leon and Danny Wilcox
Featured Photo Caption: El Tacorriendo, located between Espresso News and Footsloggers. The food truck, known for their Mexican food, just celebrated their one year anniversary in February.