Team Sunergy, Appalachian's solar vehicle team, competed in two major solar car races this summer.
On July 28, the team placed third overall in the Formula Sun Grand Prix, a track race held at the Pittsburgh International Race Complex in Wampum, Pennsylvania. A few days later it headed to Brecksville, Ohio to begin the American Solar Challenge: an open road, eight day race in which teams are tasked with traveling through seven states and traversing almost 2,000 miles to reach the finish line in Hot Springs, South Dakota.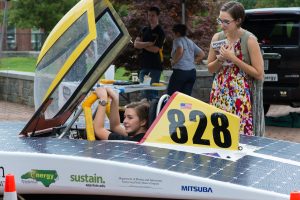 Team Sunergy was founded by project director Dan Blakeley, a graduate student double majoring in sustainable technology and engineering physics, in the fall of 2013. Blakeley said the idea struck him while he was brainstorming projects for one of his courses.
He attended a solar car conference where Matt Goode, project director of Iowa State University's Solar Car Team, offered to donate the hull and body of their old solar car to Appalachian. This became the shell of App State's own "Apperion."
Apperion has three wheels, weighs about 400 pounds and can go as fast as 70 mph.
Team Sunergy worked on getting the solar vehicle ready to race for about two years, right up until the 2016 Formula Grand Prix.
"We really went down to the wire," Lindsay Rudisill, a senior music industry studies major and one of Team Sunergy's drivers, said. "Us drivers only had about 20 minutes to test out the car before the Grand Prix."
Final scoring was based on the aggregate of all three days, so while Team Sunergy placed first on the final day, they still ended up placing third overall.
Team members said that their third place ranking was encouraging and a sign that their hard work was paying off.
"Throughout the year there were times when we were up until 3 or 4 in the morning just working on the car," Jake Barnes, a junior physics major on Team Sunergy's electrical subteam, said. "Seeing all our hard work come to fruition, being that this was our first year in competition competing against major engineering colleges, it really showed us that what we were doing was working."
Barnes said the American Solar Challenge was a completely different animal. While the Grand Prix is a three day race held at a track, the ASC is an eight day open road race.
The preparation for the ASC was much different than the preparation for the Grand Prix. Team members had to work out logistical aspects that weren't in play for the Grand Prix. Rudisill said they planned a route with possible hotel accommodations based on the locations and prices, even looking at which places offered free breakfast, she said.
Rudisill said the team prepared by practicing safety scenarios, performing drills to prepare for any unexpected complications.
Drivers obtained HAM radio certifications prior to the ASC so they could communicate with the rest of the team while driving.
The team faced a steep learning curve because the ASC was so unlike anything they'd ever experienced. Because the vehicles were racing on the "real road," they had to adapt to traffic regulations, unpredictable weather and not having a garage for repairs and maintenance.
Although the solar vehicle made it through the ASC with no major breakdowns, Team Sunergy faced some unexpected challenges.
James Furr, a junior physics major on the electrical subteam, said that the telemetry system was not functioning for the first four days of the ASC. The telemetry system provides crucial information on things like state of charge, battery voltage and wattage being used by each system.
"Racing without telemetry is like trying to coach a team while not being able to see anything except the final score of the game," Blakeley said.
On the second to last day of the ASC, Team Sunergy decided they had to take a major time penalty in order to charge Apperion. Rudisill said that the team was bummed. But on the last day of the race the team redeemed itself. The weather was bad and Team Sunergy was one of only three teams who completed the final stage of the race on solar energy alone.
"Things got hectic, but we were really good at keeping ourselves in check enough to make it through well with camaraderie," Barnes said.
Bailey Winecoff, a senior sustainable technology major on the business subteam, said the team received the Abraham Poot Teamwork Award
Rudisill, Barnes and Winecoff all said Team Sunergy's small size makes teamwork a necessity.
"We're really like a family," Rudisill said.
The team placed sixth in the ASC despite their malfunctioning systems.
"We proved ourselves in that moment," Rudisill said. "Our success became real to us. We were just doing the best we could- we didn't expect to pull sixth place."
Team members said that all of the hard work they put in was worth it.
"I can honestly say I've never been so exhausted, worn down, sleep deprived and dehydrated, but to me, it was nothing," Rudisill said. "It was so worth it because I felt like I was part of the future."
Appalachian was one of two schools without an engineering program who sent a team to the ASC. Apperion is the first solar car from North Carolina to compete in the ASC.
Blakeley and Barnes said that Team Sunergy is working on designing a new solar vehicle. They aren't starting completely from scratch but are optimizing some of their existing systems that worked for Apperion.
Duvey Rudow, assistant project director, said the next car will most likely have four wheels and space for a passenger, whereas Apperion has three wheels and a single seat.
"Our hope is that the end result is a car people could see themselves driving," Blakeley said.