Linebackers
#88 John Law (Sr.) – Undisputed defensive leader John Law was second on the team in tackles last season with 72, adding four sacks and two interceptions to fill out the stat sheet. Because of those numbers and the potential on and off the field, Law was named preseason Sun Belt Defensive Player of the Year. Law has the most tackles of any active Sun Belt player. Before the season started his 236 career tackles had him at 20th in the country among active student athletes. Also, Law, who suffered from a nagging on-again-off-again lower-body injury has fully recovered.
#45 Eric Boggs (Jr.) – Opposite of Law is junior Eric Boggs, who led the team in tackles in 2015 with 104. He also led the team in tackles against Tennessee in the opener this season with 12 total. Boggs has played in all 25 games of his career at App State and is an All-America and All-Conference candidate. Last year, he was named second team All-Sun Belt Conference honoree. The Mountaineers look for heavy contribution from Boggs, as well as Law, to remain consistent on the defensive side of the ball.
#28 Devan Stringer (Jr.) – Stringer is a speedster off the edge. He has started the last 20 games for the Mountaineers, adding more consistency to the lineup at linebacker. Stringer was honorable mention All-Sun Belt and tallied 63 total tackles, 7.5 tackles for loss and 2.5 sacks last season, as well as returning a fumble 77 yards for a touchdown.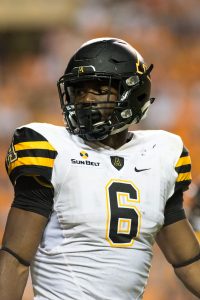 #6 Kennan Gilchrist (Sr.) – Gilchrist, whose tackle and forced fumble of senior Tennessee quarterback Joshua Dobbs might have gone down as one of the biggest plays in school history had Appalachian State been able to secure the recovery, starts at the other outside linebacker position. The fourth and final ingredient to the experienced, talented linebacker corps, Gilchrist had 61 tackles a year ago, along with three tackles for loss and a sack.
Cornerbacks
#4 Mondo Williams (Sr.) – Williams has already picked up this season where he left off the last one. After a clutch interception helped Appalachian State stun Ohio in the Camellia Bowl last season, Williams had another interception against Tennessee. With 32 tackles, two interceptions and six passes defended in a smaller role last season, the senior corner looks to shut down opposing Sun Belt opponents and add a couple more interceptions to his collection.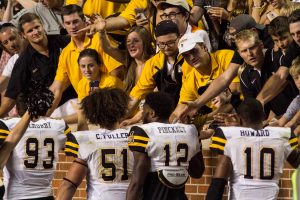 #22 Clifton Duck (Fr.) – All eyes were on freshman Clifton Duck in the season opener, and he did not disappoint. Despite giving up the one long throw that went for a Tennessee touchdown, even though he was in great coverage, Duck awed the crowd at Neyland Stadium with his coverage against the SEC receivers. While only credited with two passes defended in the game, viewers could see the potential of the young corner. He also notched seven tackles, and expectations will continue to grow for the true freshman.
Safety
#3 Alex Gray (Sr.) – Gray continues the trend of consistent, healthy Mountaineer defenders. He has played in all 37 games since coming to Appalachian and takes over as the leader among the defensive backs, with former standout Doug Middleton moving on to the NFL. Gray had 53 total tackles in 2015. He also picked off two passes and had 1.5 tackles for loss. Other defensive backs, like Williams, have admitted that the group looks up to Gray's maturity and leadership on and off the field.
The Defensive Line
After the departure of Ronald Blair, who led the team a year ago with 19 tackles for loss and 7.5 sacks and was drafted in the fourth round of the 2016 NFL Draft, all eyes are on the Mountaineer front to see who will be the next to step up. Senior Nate Norwood, junior Caleb Fuller and sophomore Myquon Stout all look to have an impact up front this season. In the first matchup against Tennessee, the three linemen combined for 11 total tackles, 3.5 of those for a loss. Fuller, who finished last season with 21 total tackles and 2.5 sacks, also added a sack that pushed the Volunteers back 11 yards. Another name to watch for is senior Antonious Sims. Sims has shown some promise and had the Mountaineers' only other sack against Tennessee.
Story By: Colin Tate, Sports Reporter
Photos By: Halle Keighton and Dallas Linger, Photo Editor