The patience of Capel
Jaquil Capel had to exercise a lot of patience to get to where he is today.
Capel, a senior wide receiver for the Mountaineers, hasn't had the career he expected to when he left high school to play at a higher level.
A four-year starting quarterback for the West Montgomery Warriors in Mount Gilead, North Carolina, Capel went to UNC Charlotte where he awaited the kickoff of the school's new football program. However, he soon became jaded with the endless grind of practice with no pay-off.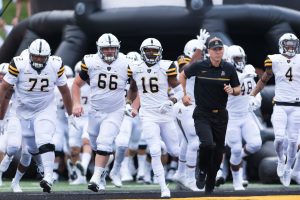 "Football-wise it was weird because we would just practice all year. On Saturdays we would have a scrimmage, a mock-game kind of," Capel said. "It wasn't the college football atmosphere that I was looking for. I wanted to face teams like Miami, traveling to Tennessee and Georgia. Just things like that."
Capel, hoping to play at a higher level program, decided to transfer to Appalachian State to find the football atmosphere he had been searching for.
Due to NCAA transfer rules, he was forced to sit out for a year which once again tested his patience. Despite the year long break from football, Capel is better off for it as a player according to Mountaineers receiving coach Justin Watts.
"He's been able to see. When you sit out and you watch practice, a lot of times you hear coaches yelling, 'Guys work hard, do this, do that'" Watts said. "When you're able to sit out and see it with your own eyes, he can kind of tell whose working and who's not, and he can see with a coach's eye."
Capel ended up tearing his groin during training camp in 2015. Coming back from injury, Capel was relegated to a role on special teams, something he has embraced in an effort to help the team any way he can.
"I wanted to be on special teams so bad early on in my career and I want to be on it now. There's no need for me to say, 'I don't want to be on special teams,'" Capel said. "My thing is, I'll do whatever I have to do for the team. So if it's special teams, it's special teams. If it's catching passes, it's catching passes. So as far as being a team guy, it is something I feel like I should do."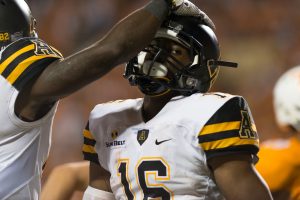 When the 2015 season started, Capel found success on special teams and eventually worked his way into the passing game as well. His patience was once again tested during the game against Old Dominion when he broke his leg, ending his 2015 season.
Watts says that Capel's injury wasn't a total loss, as it added perspective for his teammates in regards to the way they value their career.
"I think it gives some of the other guy's perspective and it lets those other guys look at him and say, 'Hey, I can't take my career for granted, I've only got two or three years left,'" wide receivers coach Justin Watts said. "Well, he's already missed two years purely off of injury, so I think it put some perspective for the other guys."
Capel, back on the field for the 2016 season, has found success with the Mountaineers. He's currently third on the team in receiving yards with 119 through the first five games.
Along with his contributions on the field, Capel has become a leader in the locker room, mentoring younger players on and off the field.
Sophomore wide receiver Brad Absher has known Capel since they were kids and played in high school together, has seen Capel's patience first hand.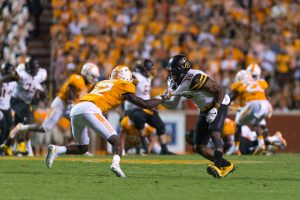 "Something he's taught me the most, especially being here at App, is trust the process," Absher said. "He's been through more adversity than anybody here by transferring schools, sitting out a year, injuries and things like that. He tells me, control what you can control, trust the process, when you get your opportunity make the most of it. I think that's something he's done really well this year."
While Capel might not have had the career he expected to, his time as a Mountaineer has allowed him to contribute in ways that he never thought he would. Too often the focus is on a player's stats and everything else they bring gets lost in the conversation. When Capel leaves App State, his contributions on the field may be forgotten, but the impact he has had on his teammates will continue on.
Story By: Ian Taylor, Sports Reporter
Photos By: Dallas Linger, Photo Editor