Aaron Aiken (vocals and guitar), Chris Peroni (guitar), Stephen Sigmon (drums) and Ethan Sermersheim (bass) are the four members of the band The Remarks.
The band first started at The Cottages apartment complex in Boone. Band members Aiken and Peroni started jam sessions in their living room. Later on, Sermersheim and Sigmon were added to the band.
"Chris and I became random roommates at The Cottages while attending App State and we started jamming in the living room for a couple months until a friend of ours offered us a gig," Aiken said. "We accepted the gig without being a band yet and within the week we wrote some songs. Chris knew Ethan and Steve from previous years and we became a band last minute."
The members of the band are now spread out across the state, however. Aiken is in Brevard, North Carolina; Peroni is in Charlotte, North Carolina; Sigmon is in Taylorsville, North Carolina, but is finishing up school at Appalachian State; and Sermersheim is still in Boone. The band's biggest struggle right now is the long distance because of the limitation of practice and song writing time. The band has to get creative in order to get this done. This includes practicing on their own and writing songs before shows.
"We never really practice anymore. If we have a show, we will have an hour before the show to write a song and practice for the performance," Peroni said. "We play shows on the weekend. Our plan is to do this full time in June. Right now our songs are written in small times before the show."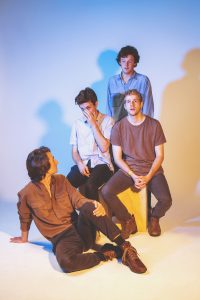 Sigmon is the only band member left at Appalachian State, currently enrolled part-time. He is finishing his last semester and plans on graduating in December as a geographic information systems major.
The band agreed that when they were in school, it was easier to get together and practice. They would get together in between and after classes to rehearse. Now, their biggest challenge is the long distance.
"Since we are all in different cities, it's been hard to practice as a band. Looking back, even with being undergrad students we've been used to playing shows and cramming time to practice," Sigmon said.
The band members all are doing separate things now, but have hopes to finish those and go full-time as The Remarks. They are currently working and saving up money to prepare for next June.
"It was easier for me because I would be able to get through my classes by telling myself we have a show over the weekend, it was something positive to look forward to," Sermersheim said. "It was more helpful than stressful."
The band's most recent album, "If Better Read in Photographs," came out on Oct. 19. That night, they had a release party at Legends. Shirley, the opening band, also released a new album that day.
"I like playing in Boone more now than before because when you are a student band in Boone you have your friends coming out to support you, but now that we all live in different cities and come back, we are no longer a student band," Peroni said. "We have different crowds coming out and not just our friends. It's good to see people we don't recognize and are here to see us as a band."
The band recorded their most recent album by themselves. To do this, they purchased the necessary gear and recorded at Aiken's house. The end result was more of their own sound than their first album, the band said. Many of the songs include characters and were based on a dream.
"The album in general came together when we had a big enough chunk of songs and a place to record. This one was tough because of the fact we wanted to do this one on our own," Aiken said. "Our first one was recorded in a studio and we felt pressured to knock it out in two days. We were happy with it but were stressed with the lack of time and the lack of ability to be hands on with it."
Aiken and Peroni work full time and are trying to save up money. Their plan is to move in together and release new music early next year. The Remarks are planning to soon be recording again and said they are looking forward to being a full-time band.
Story by: Georgia Walker, A&E Reporter
Photos courtesy of Kendall Atwater
Featured image: The band poses for the promoting of their newest album, "If Better Read In Photographs."