Three setbacks, one big comeback
In mid-November, the App State women's basketball team was finishing up their final practice before hosting East Tennessee State University in their second home match of the season. Players made sure to shoot their free throws at the end of practice before huddling together for some final statements prior to heading home.
Once everyone left, one player remained in the gym. Redshirt sophomore Kaila Craven stood at the charity-stripe in front of the basket shooting free throw after free throw, and 3-pointer after 3-pointer.
Missing 18 months due to a hip labral tear, an ACL tear and a meniscus tear, Craven could have easily hung up her basketball shoes and called it quits. She kept fighting and was finally cleared to return in October, nearly two years after her freshman season ended.
"I really enjoy the game, there is nothing special about me," Craven said. "I just enjoy playing basketball and enjoy being a part of something bigger than myself. I wasn't going to stop playing because of a setback or two."
Arriving at Appalachian State in the fall of 2015 from Asheboro, North Carolina, Craven graduated from Southwest Randolph High School as the all-time leading scorer and was named to the North Carolina Preps list three times.
Watching her teammate and childhood best friend Katelyn Doub commit to App State the year before, Craven took that into consideration and saw App State as the school for her.
"I knew I was going to come here. After visiting other schools, this place was just so pretty. Being from Asheboro, my family could come to games, and Katelyn was another aspect," Craven said. "Mainly just the school in general. I didn't pick it for the basketball program. Obviously it is the program I wanted to join, but I enjoyed the school, and school comes first."
Many freshmen don't experience a lot of playing time right out of the gate in college, but Craven quickly found herself as the first player off the bench during her freshman season.
"Every freshman comes in not expecting to play, and I was the first one off the bench so it was an adjustment and the game was a lot faster," Craven recalled. "I didn't fear playing at all. If I was good enough to be there, I am good enough to compete with the others."
Craven played in all 30 games off the bench and averaged 9.2 points per game, which was third on the team, and became the first App State freshman since 2007-2008 to lead the team in 3-pointers as she put up 41.
One thing most people didn't know is that while having a resilient freshman season, Craven was diagnosed with a torn hip labral prior to the season. Craven wanted to play through it despite the pain.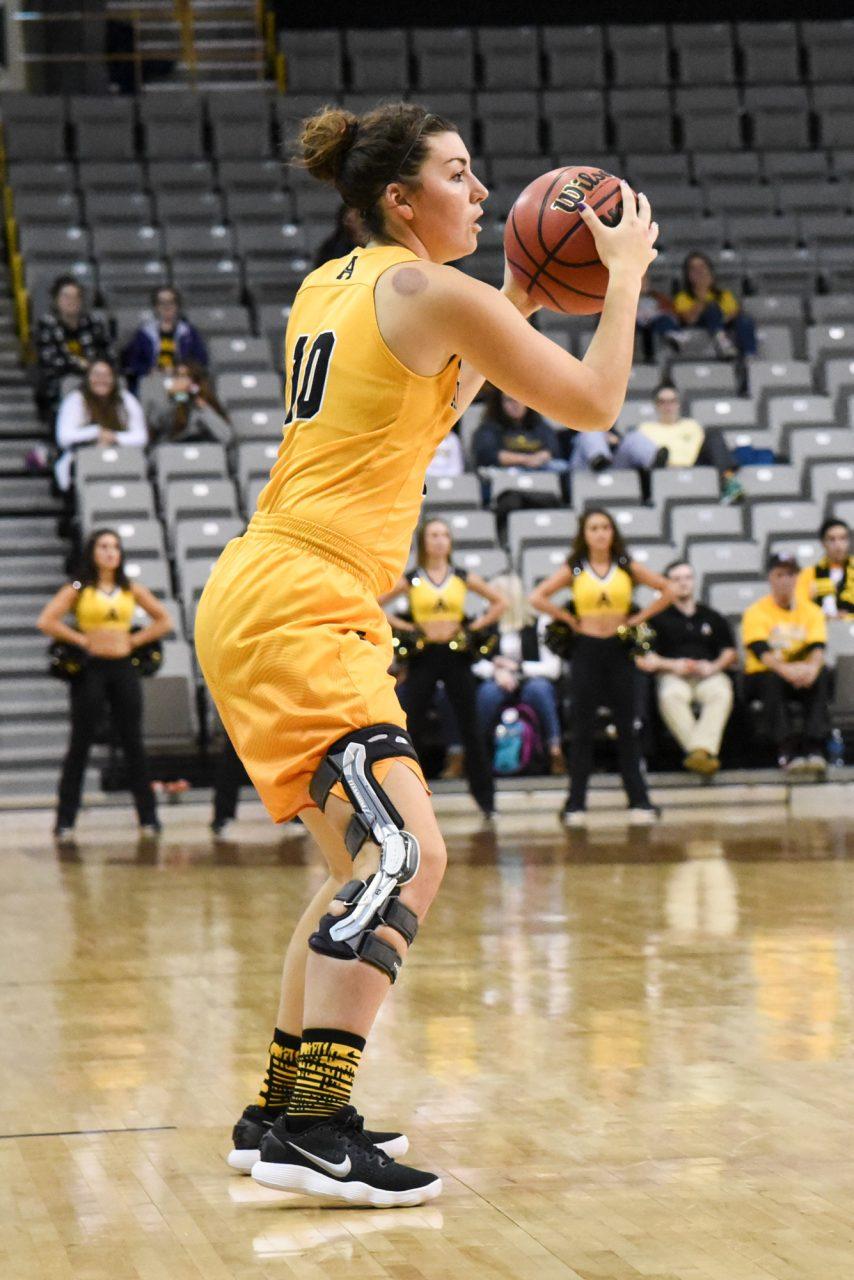 When the season came to an end, Craven had surgery, and went through a seven-month recovery before being cleared for her sophomore season.
Just as things looked promising to begin her second year at App State as a key contributor, Craven tore her right ACL and meniscus during the team's first week of practice.
"I was pretty upset, but it was God's plan and I had to roll with it," Craven said.
Having to miss her entire sophomore season, Craven had a setback with her meniscus three months later and had to undergo surgery for the second time, setting her recovery back about two months.
"I turned to God and my faith grew a lot in the process," Craven said. "Friends stepped up. I am close with my basketball team and also the women's soccer team, and that helped having a team outside a team. A support system was huge throughout the whole process. If I was having a bad day I would hang out with them and they would pick me up."
Throughout Craven's recovery, a lot of personnel changed on the Mountaineers basketball team. A handful of players transferred during the 2016-2017 season and there were a few graduates, leading to new players being signed.
Even as players came and left, Craven continued to rehabilitate, watch film and make sure she returned to the court come fall 2017.
"It's different for her because I have seen kids who have had two major surgeries like that and just shut it down," first year assistant coach Sam Pierce said. "After those setbacks they just couldn't do it anymore. These injuries had her out almost two years and I can't say enough about how much she battles."
Being so close with the women's soccer team, Craven received a lot of feedback and support from many players on team who had also torn their ACLs.
"You can tell when someone is having a bad day," Craven said. "It's rough, but you have to pick each other up and send each other encouragements. Just being there for one another is the main part of it."
Just a few days before the start of the 2017-2018 season, Craven was officially cleared to return to the court.
In the first exhibition game of the season, leading scorer and close friend of Craven's, senior guard Madi Story tore her ACL. Doub is also out for the foreseeable future with a lower body injury, leaving Craven as the only player on the roster that played when she was a freshman.
"It is different, coming in with a new team. I wasn't there all preseason, and in the weight room I am doing my other stuff. When I step on the court you have to gain your respect," Craven said. "Under Katelyn and Madi, I have to be their wing woman and try to pick it up vocally. I am adjusting to that for sure now with Katelyn and Madi being out. Just lead by example and hopefully it'll follow on."
With injuries being such a big part of sports, Craven is still working to be 100 percent herself, but she has also made sure to step up more vocally and help the new teammates out as much as she can.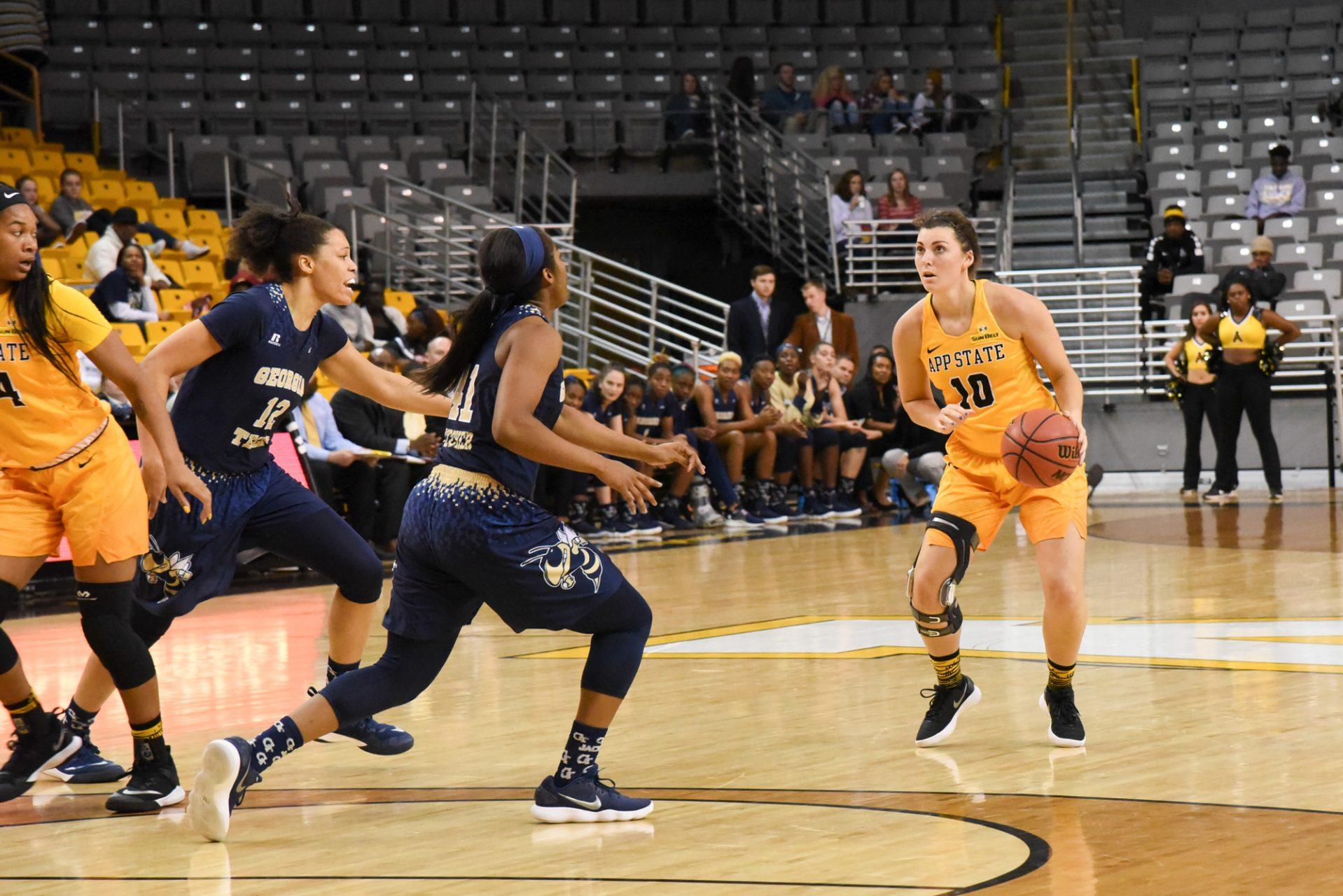 "I think it is inspiring for the other kids because she had a no-quit attitude. With her injuries we have to have her take her time. It is consistent that way. I know it's been frustrating for her," Pierce said. "This is a kid that will be a future coach and truly is passionate for the game and that feeds into what the other kids see in the game."
Easing her way back into things, Craven played no more than 12 minutes in her first two games. Craven started to show some light with 19 minutes played against ETSU before having a breakout game against Davidson on Nov. 19.
Craven played a season-high 23 minutes, and scored 15 points on 4/8 shooting and attempted seven free throws.
A few nights later, Craven followed up that performance with 14 points on 5/11 shooting with four 3-pointers made.
"What people forget is Kaila went months without playing. Now when she is in there she is like one of our freshmen. She is starting to get comfortable," head coach Angel Elderkin said. "She loves basketball and has an unbelievable passion. She is starting to get a lot of confidence. She doesn't practice all the time. You take a kid who has been out for months and then is limited in practice and see what she can do on the floor. She is a special kid and a special player and she is leaving everything on the court."
Still being eased back into regular minutes and trying to have consistent games, Craven believes she has a lot more to prove. But from the outside looking in, many could say she has already become an inspiration through the three setbacks she has conquered.
"Just stick with the process. As clique as it sounds, you have to, and keep going each day and keep pushing yourself," Craven said. "You can't play scared out there even if it is on your mind."
Story By: Jason Huber, Sports Editor
Photos By: Halle Keighton, Photo Editor