Town of Boone celebrates first Earth Awareness Day
Boone celebrated the earth a little earlier than most towns this past Friday. The Town of Boone Sustainability, Economics and Environment Committee hosted the very first Earth Awareness Day at the Jones House Community and Cultural Center in downtown Boone.
The event consisted of educational programs, music from the local group The King Bees, refreshments and a cake cutting by Mayor Rennie Brantz.
"(We) just wanted something to celebrate sustainability in our community because it's really important to all the citizenry of Boone," Christy Turner, primary coordinator for the event, said.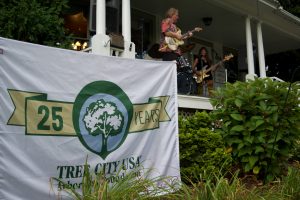 The Town of Boone also celebrated being recognized as a Tree City USA designation, as well as a Bee City USA designation. This is the first year for the town to receive the Bee City USA designation, and it is 1 of 73 cities across the country to meet the standards.
This year marks the 25th anniversary of Boone being recognized as a Tree City USA designation, Turner said. Tree City USA is a nationwide program that assists and motivates towns to maintain and grow more trees in their area. Boone, along with 13 other cities across the U.S., was also recognized as a community that goes above and beyond in caring for their plant life.
Pilar Fotta, manager of the Jones House and director of cultural resources, said she thinks highly of sustainability and how the town manages to practice it.
"I think it's essential. This house is a perfect example of why you build things sustainably," Fotta said. "This house is still here 110 years after it was built and it's able to be used and reused by the community for years and years."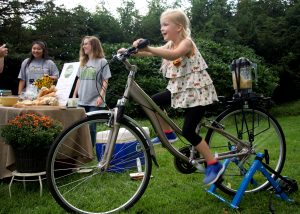 Students from the sustainability department at App State also joined in on the celebration.
"I am currently in the business school and I was looking for ways to bridge the gap between sustainable development and business," Samantha Smyth, senior hospitality and tourism major, said. "I was looking to get more involved with the zero waste efforts on campus."
Bonnie Allen, a sophomore sustainable development major at App State and member of the sustainability department, shared thoughts on what it truly means to be eco-friendly.
"(It's) sustaining the present generation without compromising the future generations," Allen said.
Before The King Bees took the stage to play their blues and rock, lead singer Penny Zamagni aka "The Queen Bee," said sustainability is about honoring and maintaining resources; it should bring the community together and inspire people to look after the environment.
After Boone's recognition of Tree City USA and Bee City USA were announced, Brantz took to the stage to thank the community and to kick off the concert.
"Let me just say thank you to all those involved in this, staff, the community. This makes Boone more of a progressive, caring and environmentally sensitive community," Brantz said. "I want to congratulate all those involved for achieving these awards and recognition."
Story by Emily Broyles 
Photos by Nate Fordyce 
Featured photo caption: Members of App State's Sustainability program pose at Boone's Earth Awareness Festival on Friday.