The Appalachian State women's track and field team brought back the school's first ever Sun Belt conference title last February when the Mountaineers won the Sun Belt Indoor Championships with a score of 101.5, a very close two points higher than second-place Texas State.
In the final field event, the triple jump, the Black and Gold scored 11 points to move to first place and secure the title.
In November, the Mountaineer's women's cross country team followed the same path and took home their first ever Sun Belt title with 43 team points over Coastal Carolina and last year's champions South Alabama.
As the indoor season has officially begun, Appalachian is looking to take the motivation from their two titles back onto the track this season.
"We actually saw the results in that championship," cross country and distance runner Tristin Van Ord said. "That proves that the more hard work you put in, the better the results are going to be and that's motivating for this season."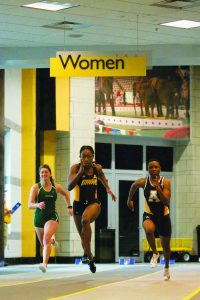 Van Ord has consistently been at the top of the pack in the Sun Belt and is only looking to improve. She was crowned the 3,000 meter (9:43.54) and 5,000 meter (16:47.37) champ at the Sun Belt Championship last year but still isn't satisfied.
Van Ord is looking to her last season to accomplish the 5,000 meter in 16:20 or less. The only factor that stands in her way is her personal mindset throughout different meets. She says that going from the top 10 in every Sun Belt race to only the middle of the pack in overall NCAA meets really messes with her confidence.
"I need to go in being more confident in myself and not expecting to win but putting myself up there and competing better," Van Ord said.
Another athlete with higher physical expectations of herself is pole vaulter Taylor Drummonds. Her sole goal going into last season was to jump 13 feet but only managed to clear 12 feet 6 inches.  This year her heights are set a little bit different.
"Instead of setting myself up for a specific bar I'm just working on improving in other realms as far as different parts of my jump," Drummonds said. "This year I want to jump even higher than that."
Although she didn't reach the height she wanted, Drummonds said she stayed consistent throughout the year which is crucial in her event. She said that in order to perform at her best she has to be able to calm herself down and not overstimulate the situation.
"So much of this sport is mental," Drummonds said. "I do the best when I'm calm so I try to make my other teammates feel that as well."
Drummonds described her definition of calm as a little different than what one would expect. Singing, dancing and keeping the energy alive without putting too much pressure on herself is what not only keeps her going but her teammates as well.
"It's supposed to be a good time. It flies by," Drummonds said. "I'm a senior and I've got to remember to smile every once in awhile."
Another player that knows the benefit of not putting too much pressure on herself is sprinter and jumper Darlene Girardeau. Girardeau is currently second all time in Appalachian State history in the long jump at 19-6.25 (5.95m). Success like that is what pushed her to take up more of a leadership position amongst the squad even as a transfer last season.
"I try not to show my frustration. I try to bring it up with the younger ones, like you're not going to PR [personal record] every meet, [so] don't expect that," Girardeau said. "There's always going to be some downs that go along with the ups."
Her goals for this season are more team-oriented than personal. This year there are more newcomers to the team, motivating Girardeau to reach out and encourage everyone to help continue the program's success.
"The biggest focus is to make sure they develop themselves as a team so they can carry on," Girardeau said.
All of these aspects of leadership from each one of these Mountaineers is what is pushing the team to new heights this year.
On Saturday, Drummonds was able to accomplish her goal and broke the Holmes Center record of 13-0.25 set by Kristen Lee of Virginia Tech in 2013. She now sits at second all-time in Mountaineer history with 13-1.50 (4.00m) and has the best jump ever recorded at the Holmes Center. She soared past 12-8.25 set by Cassie Crawford in 2014.
Girardeau finished first in the 55-meter dash in 7.15, sprinter Catherine Crawford finished first in the 300 meters in 39.89 and jumper Chelsey Hargrave finished first but also set a personal record in the long jump at 19-5.25 (5.92m).
The Mountaineers rounded out the top 10 in multiple events and look incredibly promising in only their third meet of the season.
Appalachian will travel to Huntington, West Virginia to compete in the Marshall Invitation from Jan. 27- 28 as they continue to try and capture another championship season.
Story By: Noah Gerringer, Sports Reporter