What began as a small project between senior industrial design major Luke Giduz and his friend Jeel Storelli is now Boone's own DIY, five-piece hardcore, doom metal-influenced band, Trudge.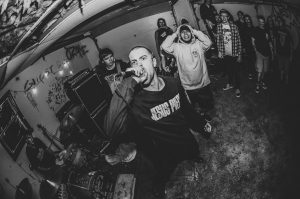 Trudge is vocalist Nicholas Presson; bassist and electronic media broadcasting major, James Owens; drummer Luke Giduz; and two guitarists, Jeel Storelli and AJ Taylor.
Deciding they wanted a space to play heavy music, they all began to play together over a year ago.
"Jeel and I recorded some really crappy little demos and showed them to a few people who were like, 'This is sick. You guys should actually try to be a real band,'" Giduz said.
Presson said he contacted Giduz because he wanted to play music, and Giduz followed up by asking him what he wanted to play.
"He asked me drums or guitar, and I said neither. I want to do vocals," Presson said.
Giduz said the band members were not good friends before they formed, but he knew Storelli, and they connected later online.
Owens said he had just started school at App when he joined the band.
"I had seen a few of Luke's other bands before joining," he said.
After a post Giduz made on Facebook, they picked up Owens.
Presson said it was just the four of them for a while, but Taylor was picked up recently to add more guitar to the recordings.
Trudge officially came together in September 2015, though they didn't take it very seriously. Giduz said that personally, Trudge started out as a joke.
"We didn't go into it with a mission or anything. At first I was just goofing off," he said.
When the band thought Storelli might move, they worried about the future of Trudge.
"We didn't know where it was going because we all had feet in different projects, and that felt like it wasn't going to go anywhere," Presson said.
When things got challenging is exactly when Trudge reigned in their creative focus. Together they were able to create work that's more mature both musically and lyrically than work they've done in the past.
"In the very beginning, from a lyrical standpoint, it wasn't anything but just pure ignorant, pissed off music," Presson said.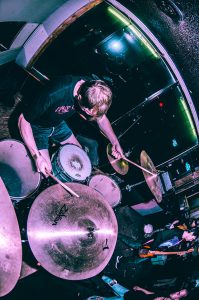 Presson doesn't have much of a hand in the writing but said he is proud of Storelli and Giduz, who do most of the writing, for how much they've improved and matured for Trudge's upcoming release.
"It's definitely next level and way more thought out," Owens said.
Giduz said part of the process for writing new music was often just recording snippets on his phone and working with Storelli until they were the best they could be.
Though Trudge had to tighten up on their creative process, they insist on only two things when it comes to their shows: having fun and not hurting anyone.
"Hardcore shows can get a little rowdy but we've never been about any of that," Presson said. "Our whole scene's pretty tight."
Giduz said that when they play, the energy is always high, and said that the way the audience "gets rowdy" is an inspiring sight.
"All of our fans are just our friends who bring their friends," he said.
Because of this, Trudge has watched their local following grow.
"It's really crazy that such a heavy band could come out of a place like Boone, but it's also super cool," freshman English major Parker Smith said.
Presson said they have a local following in Boone, and are often connected to what he called their "father band," Junior in His Prime.
Giduz said the intersection of hardcore and DIY makes for a pretty cool community.
"Some bands contact you, you make a Facebook event page, people show up and pay a little bit of money at the door, then they get to watch these bands play in a basement or a garage or whatever and everybody has a good time," Giduz said. "It's all do it yourself."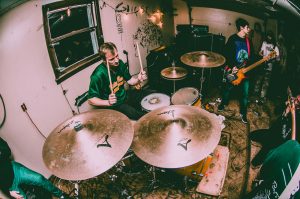 DIY also means that Trudge is not backed by a record label so they are left to book and promote their own shows, print their own merch and even pay recording and travel expenses out of pocket.
Presson said the band is not out to make money and has made a lot of friends at their shows.
"There are a lot of places we go where people just say 'here's my living room, have some fun,' and when a group of people are of that mindset a lot of people show respect."
Tucked away behind a salvage lot on Westview Heights Drive is Boone's own DIY spot known as Westview House.
Presson said the house has been a blessing, and that performing new music is the most vulnerable you can make yourself.
"It's a cool thing that everyone gathers at a random address that somebody gave out and wants to watch that," he said.
Trudge's new EP, "Left to Rot," is set to come out within the next month or two.
"This new release was a long time coming," Giduz said. "For a while I felt like we were playing shows that were higher caliber than the music we had online, so it's cool to have new songs that we want to play live, and these are the songs we want to be known for."
Trudge plans to premiere the first single from this EP with a music video recorded by Errick Easterday.
"He's very talented and we are so lucky to have worked with him," Presson said.
This summer, Trudge will embark on a small tour up the East Coast with Promise Breaker, another DIY hardcore band from Pennsylvania.
"We have a very small but loyal fan base and it's cool to see people care about what we do so we want to give them music that makes them keep caring about what we do," Giduz said.
Trudge's music can be found on Bandcamp and until the release of "Left to Rot," people can enjoy two previously released demos.
Story by: Makaelah Walters, A&E Reporter
Courtesy photos