Last Friday at 2 p.m. the Turchin Center celebrated the art of comics as part of the center's monthly Exhibition Celebration. Comics are celebrated at the Turchin this month with two exhibits, "At the Junction of Words & Pictures: The Tenth Anniversary of The Center for Cartoon Studies," curated by Craig Fischer, and "Back to Boone: Editorial Cartoons by Andrew David Cox." Both opened on Oct. 2.
The night began with a film screening of the documentary "Cartoon College" and a subsequent panel. The Turchin Center will honor the power and beauty of comics by focusing on works from the Center for Cartoon Studies. This school, located in White River Junction, Vermont, opened its doors 10 years ago to the nation's top aspiring literary cartoonists and graphic novelists. "At the Junction of Words & Pictures" features works from CCS faculty, fellows, alumni and collaborators.
Fischer, a film professor at Appalachian State University and guest curator, established a relationship with the school by inviting several members of the CCS staff to speak in the English department's Visiting Writers Program including Jason Lutes in 2003, James Sturm in 2006 and Steve Bissette in 2013.
Sturm, who will be returning to Appalachian in the spring semester, is one of the co-founders of The Center for Cartoon Studies and has produced a large bibliography of comics, including an award-winning "Fantastic Four" limited series. He has written in the past for Slate and has worked with many prestigious publishers, including Marvel and Hyperion.
Lutes and Bissette, who are both instructors at CCS, have also experienced commercial success, working with various publishers including Dark Horse Comics and DC Comics. Bissette is now retired from the comic industry but has collaborated in the past with Alan Moore of "Watchmen" and "V for Vendetta" fame. He most recently came to Appalachian in 2013, inspiring Fischer to curate this exhibit.
"During his visit, [Bissette] mentioned that the 10th anniversary of CCS was coming up in 2015, and he hoped some events would commemorate the occasion. Steve's comment gave me the idea for an exhibit, so I submitted a proposal for a CCS show to the Turchin Center, and it was accepted," Fischer said. "This was the first art show I've ever curated. It was a lot more work than I expected, but a lot of fun too. I'd do it again if I could work with the great crew at the Turchin another time."
Fischer's passion for comics began when he was 5 years old with the purchase of a "Fantastic Four" comic book. Though his tastes have changed, his enthusiasm for the medium is "undiminished." This exhibition was a perfect opportunity for him to share some of his favorite works, he said. Fischer spoke about his particular favorites in the exhibition: two color pieces from artist Ariel Bordeaux.
"I've been a fan of Bordeaux even since she self-published the riot grrrl comic 'Deep Girl' in the mid-1990s. In the last decade or so, however, I stopped seeing her work in print. While at CCS in March 2015, I discovered that Bordeaux had enrolled as a student from 2010-12, and for her thesis project did a longform comic, titled 'Clutter,' about losing her artistic mojo and feeling overwhelmed by daily responsibilities, particularly her duties as a mother."
This exhibition marked "Clutter's" first public appearance, and Fischer believes her return from the recent hiatus will be a successful one.
"I thought 'Clutter' was lovely and powerful, so I contacted Bordeaux to ask her to contribute original art for the show, and after some cajoling, she did. These are the first pages of 'Clutter' to be seen by the public at-large, and to my eye, Bordeaux's a better artist than she's ever been. I can't wait for her comeback," Fischer said.
Regarding the screening of "Cartoon College," Fischer expressed an excitement for the public to see a small piece of what the students experience on their journey to artistic success.
"I hope they have fun. The documentary, 'Cartoon College' by Josh Melrod and Tara Wray, is tremendously informational about the school, but it's also a sharp, lively movie that tracks several students in CCS's Class of 2010. Spectators really come to know these loveable, nerdy, would-be artists," Fischer said.
Two of these "loveable" artists, Jen Vaughn and Alec Longstreth, spoke after the film screening, describing their time at CCS and their subsequent careers.
"Both are hard-working artists and outstanding public speakers," Fischer said. "I predict we'll hear lots of insider stories about CCS and about cartooning as a whole from Alec and Jen."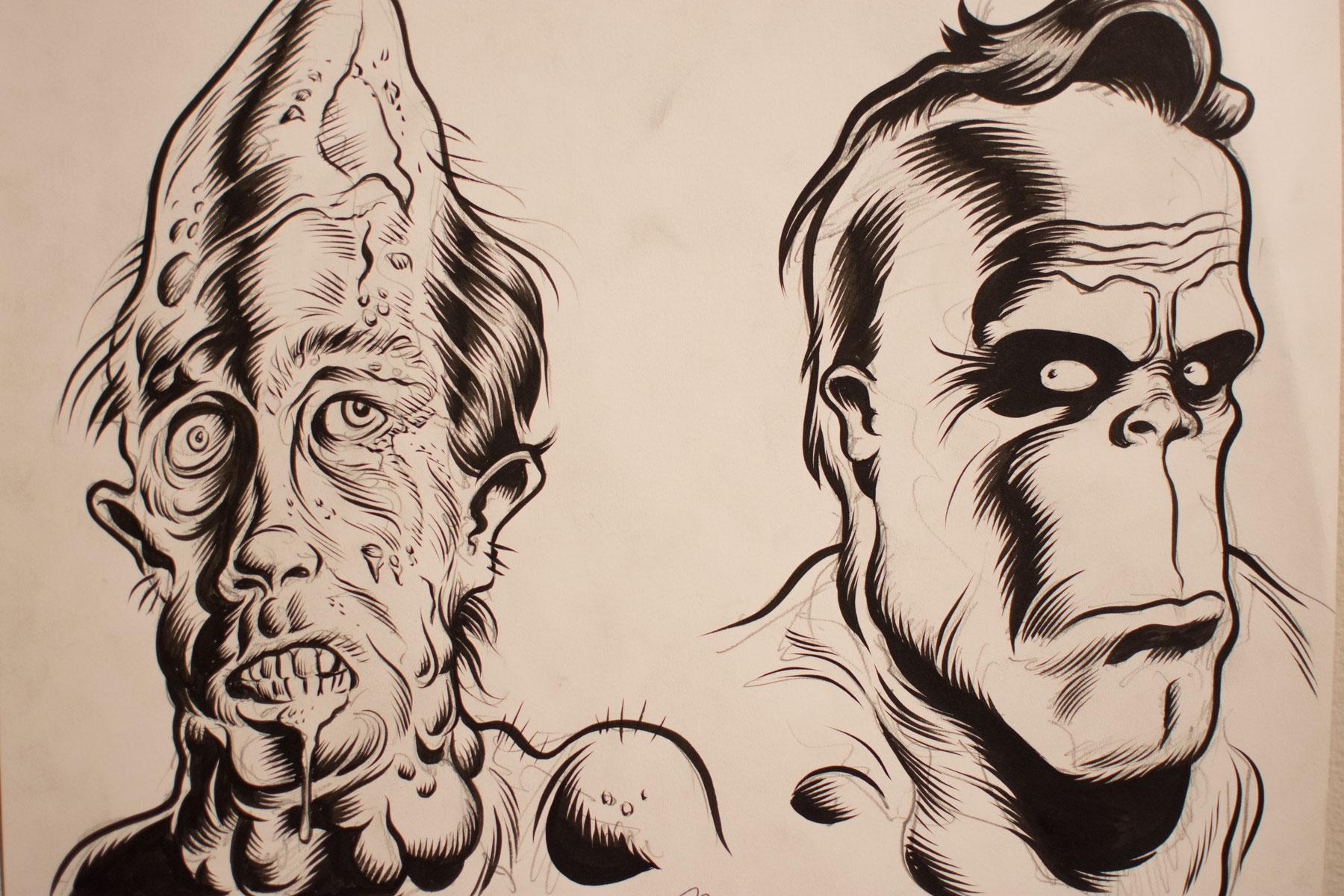 Fischer also noted with great appreciation the helpfulness and generosity of both the Turchin staff and various groups here at Appalachian State University.
"The whole staff, especially curator Mary Anne Redding and development officer LaTanya Afolayan, has been incredibly patient with an art museum novice like me. I should also note that several units around campus — Academic Affairs, the art department, the College of Arts and Sciences, Belk Library and Information Commons, and my home department of English — have generously given us the support to bring CCS-associated artists and speakers to ASU," Fischer said.
Colleen Frakes, a graduate of the inaugural CCS class, is one of the artists featured in "At the Junction of Words & Pictures." In 2007, the same year of her graduation, she was awarded a Xeric Grant to publish her book "Tragic Relief." Two years later, her second graphic novel, "Woman King," won the Ignatz Award for Promising New Talent. Frakes spoke about her work and inspirations, including her unusual childhood home and her musical tastes.
"I grew up on McNeil Island, home to the last prison island in the U.S. that's only accessible by air or sea, and then I drew a book about it," she said. "My favorite cartoonists are Lynda Barry, who is featured in the film, Linda Medley and Mike Mignola, and my own comics tend to be based in world folklore, gender, sexuality and childhood. But sometimes they're about none of those things, and I just end up drawing comics about my love for Ruth Bader Ginsburg or '90s Seattle bands."
Frakes has excerpts on display from her work "Spookum" at the exhibition. She champions the uncertainty in art and offered advice to aspiring artists.
"It's okay to not know what you're doing. None of us do. Just keep making work for as long as it makes you happy," Frakes said.
Also featured in the Exhibition Celebration was Andrew David Cox, Appalachian State University Class of 2014 alumnus, whose work is displayed in the related "Back to Boone" exhibition. Cox spoke about what visitors can expect of his art, which was prominently featured in The Appalachian and in the Looking Glass Gallery during his time as a student.
"I enjoy anything that really gets my blood boiling. It's not that I enjoy being angry. I'm on a bit of a hiatus from editorial cartooning that is overtly political and haven't minded the break from the vitriol of politics. However, any topic or news that really gets a rise out of me emotionally means that it'll likely produce good work. It's the topics where an opinion isn't forced or artificial," Cox said.
Because of his interest in the provocative, Cox issued a disclaimer about his featured work, recognizing the potential of his exhibition to shock some spectators.
"I suspect the most controversial cartoons in my current exhibition would be the ones that address the topics of race, homosexuality and guns. I certainly think my cartoon on 'American Sniper' would not sit well with conservatives and staunch supporters of the military," Cox said. "My work tends to lean left — sometimes pretty heavily — but I don't hesitate to criticize liberals or Democrats."
Taking into account the criticism that his divisive and provocative work produces, Cox is genuinely pleased with any and all reactions to his art, he said.
"I suspect some people will passionately disagree with most of my work but still appreciate it objectively. Others may really enjoy all or most of it. Others will probably absolutely despise it. Some might think I suck at drawing," Cox said. "I consider my job successful if I make someone think, feel challenged, or want to care more about the world around them — whether they agree with my perspective or not."
Using a variety of media to create his art, Cox works regularly with weekly cartoons appearing in the Central Penn Business Journal. A member of The Association of American Editorial Cartoonists, he previously appeared in the Winston-Salem Journal, The News & Observer, the Camel City Dispatch, the High Country Press and The Moravian.
The film screening of "Cartoon College" began at 2 p.m. and was immediately followed by the panel discussion. Following the dialogue, the Exhibition Celebration began at 6 p.m. and gave the public a special after-hours look at the two featured exhibitions.
For those interested in learning more about comics and the CCS, there will be another event on Nov. 9 that features both an artist and an art critic. On Jan. 27, CCS cofounder James Sturm will return to speak to students.
The art of The Center for Cartoon Studies, as well as Cox's work, will be on display until Feb. 6 in the Turchin Center.
Story by: Jordan Parkhurst, A&E Reporter