Turchin offers students weekly classes
The Turchin Center for the Visual Arts is providing free opportunities to Appalachian State students this semester by offering a collection of workshops that rotate each week. Students can participate in open studio sessions, tai chi and yoga classes, and specialized workshops in alcohol inks and moon journals.
The classes are offered every week, with the exception of alcohol ink classes, which happen biweekly. On Mondays and Fridays the special classes called "Mandalas and Moon Journals" and "Inkalicious Fridays" are held. Tuesdays and Saturdays offer tai chi and yoga instruction in Turchin's art galleries, and Wednesdays and Thursdays offer open studio opportunities in which students can take advantage of the free art space and materials.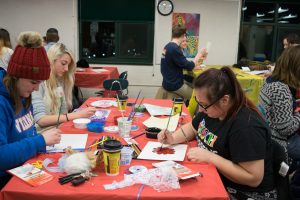 Creative Wednesdays and Aha! Thursdays are different from the other workshops in that they don't provide typical artistic instruction. Called open studio sessions, these opportunities are unstructured periods in which students can come and go, using the free art materials available to work in a free space. The workshops are led by facilitators Shauna Caldwell and Wanda Ortiz.
Caldwell is a senior at Appalachian State who is double majoring in studio art and art education. Ortiz graduated from Appalachian with a master's degree in clinical health counseling and has received a certificate in expressive arts. Ortiz describes herself and Caldwell as "facilitators, hosts, entertainers and a part of the crowd."
In the open studios, Caldwell and Ortiz welcome students to take the time to explore and create art, whether alone or with others. They provide students with space, music and tools, but also make themselves available to students who need help or have questions. Above all, both facilitators expressed the importance of allowing students the space and materials they need to experiment and create.
"It's nice to have this space to come to and be able to work freely without having an assignment or having to think about anything," Caldwell said. "It's a good way to decompress."
Caldwell and Ortiz emphasized the importance of creativity and art in de-stressing and self-care, describing the opportunity to create freely as therapeutic and beneficial.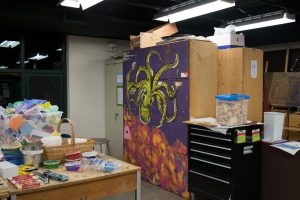 The space provides free materials such as paper, collage materials, pastels, pencils and paints such as acrylic and watercolor. Beyond the free space and tools, the facilitators are trying to foster an opportunity for free creativity. Ortiz relishes the ability to use the space for self-growth and self-care as well as development within a community of fellow creators, she said.
"When you become tuned in with everybody and you sit and do art, the symphony and silence of everybody doing their art is so fulfilling," Ortiz said. "The energy that surrounds you and how you create with them, without actually creating with them, is amazing."
Pegge Laine, outreach coordinator at the Turchin Center, agreed about the importance of the workshops.
"Students have told me that this is the cheapest therapy they've ever had," Laine said.
Laine is a major creative force behind the programs and workshops the Turchin Center offers, and is very excited about the opportunities Turchin is unfolding this semester. She feels that people, especially students, benefit emotionally and mentally from the concept of free play,  or allowing oneself to experiment with art and creativity without the obligation to produce anything.
"If you think of yourself as creative, you know that whatever problem or challenge you face, there is a solution," Laine said. "Art gives you the opportunity to re-frame what your thoughts are and to see your mistakes as opportunities."
The Turchin Center also offers classes with more classical instruction. Monday nights feature workshop "Mandalas and Moon Journals," led by instructor Katrina Plato, and "Inkalicious Fridays: Alcohol Inks" seminars are held every  other Friday morning.
"Mandalas and Moon Journals" is instructed by Katrina Plato, who teaches at App State for the Human Development and Psychological Counseling Department. After honing an interest in astrology for upwards of two decades, Plato has decided to offer a weekly seminar to help students create moon journals exploring their emotional development over time.
The moon journals encourage students to create art daily; each piece is captured within a mandala, the Sanskrit word for circle. Plato explained that art within the mandala is symbolic, illustrating where the artist is in the present moment. The moon, she continued, is a natural example of a mandala, circular and ever-changing.
In astrology, the moon is considered to change human emotion as it does the tides. Plato ties this into her class as well, encouraging students to relate the phases of the moon to their emotional changes through the month. Plato said the idea is an adaptation of an elementary school science project, a moon journal that correlates weather patterns and moon phases, now combined with art, emotion and spirituality.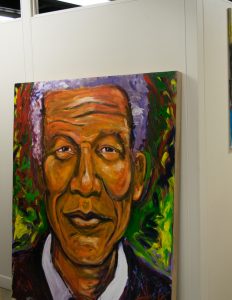 "I feel like mandalas are a really beautiful language," Plato said. "They're a container, and a lot of us find it helpful to have a structure to put our emotions into. The circle represents wholeness or unity; to put our whole selves within a circle in the present moment, whatever we're feeling in that moment, is an invitation to map our emotional selves."
Plato encourages students to attend one or more workshops to experience the cathartic benefits of creating a mandala or a moon journal.
"I see a journal like this as an opportunity to reflect on what your emotional needs are at a particular time," Plato said. "What is it that we need to nurture  in ourselves?"
"Inkalicious: Alcohol Inks," the other art instruction workshop running this semester, is held every other Friday morning and is instructed by coordinator Pegge Laine.
Alcohol inks create vibrant and brightly-colored art, often similar in appearance to watercolor. The ink comes in small bottles similar to food coloring bottles, and are available in a variety of colors as well as metallic shades. The ink is dropped onto a nonporous surface, in this case, yupo paper before being handled and moved with any number of tools.
In Laine's class, the tools are mostly items found around the house. In her class, Laine teaches students to use toothbrushes, credit cards, straws and other household items to move the ink across the page, creating varied textures and patterns with each new tool and swipe. She even encourages students to use Sharpies against the ink, as a chemical reaction between the ink and Sharpie dye makes for an even more unique visual effect.
As Laine teaches it, alcohol inks are a very malleable subject. They are meant to be experimented with and explored.
"You let them dictate what's there, what you want to see and how you want to add to it," Laine said. "There's just a lot of happy accidents that happen."
The arts taught in the Turchin Center's workshops, however go beyond visual. Turchin is also offering tai chi classes on Tuesday nights and yoga on Saturday mornings, led by Ted Winecoff and Angela Forest. The sessions are held in Turchin's own art galleries to show the relationship between the visual and physical arts.
"Art is about a connection between mind, body and spirit," Laine said. "Movement is the part that frees you up, that allows you to express yourself and your thoughts."
As with visual art, Laine stressed that movement with intention can be healing. "We believe that the arts heal and movement heals, it releases a lot of physical attention and it calms you," she said.
The workshops include the space, materials and instruction and are completely free to Appalachian State students. They can be utilized by non-students as well for a nominal fee. These opportunities will run regularly through the end of April.
Story and photos by: Ashley Goodman, A&E Reporter