Unequal representation
SGA votes down bill to give individual Greek councils a seat in the senate
The Student Government Association voted down a bill proposed Tuesday night that would have broken Greek Life seats down by individual council in a 19-15 vote, a decision that left many in attendance in tears.
The Greek Life Equal Representation Act, or Senate Bill 048-009, proposed that there be three seats on the senate allotted for Greek Life – one for the Interfraternity Council, one for the PanHellenic Council and one for the National PanHellenic Council, or the historically black Greek letter organization.
Currently, SGA has three seats designated to Greek Life, though they are general seats and not broken down by council. NPHC does not currently hold a seat.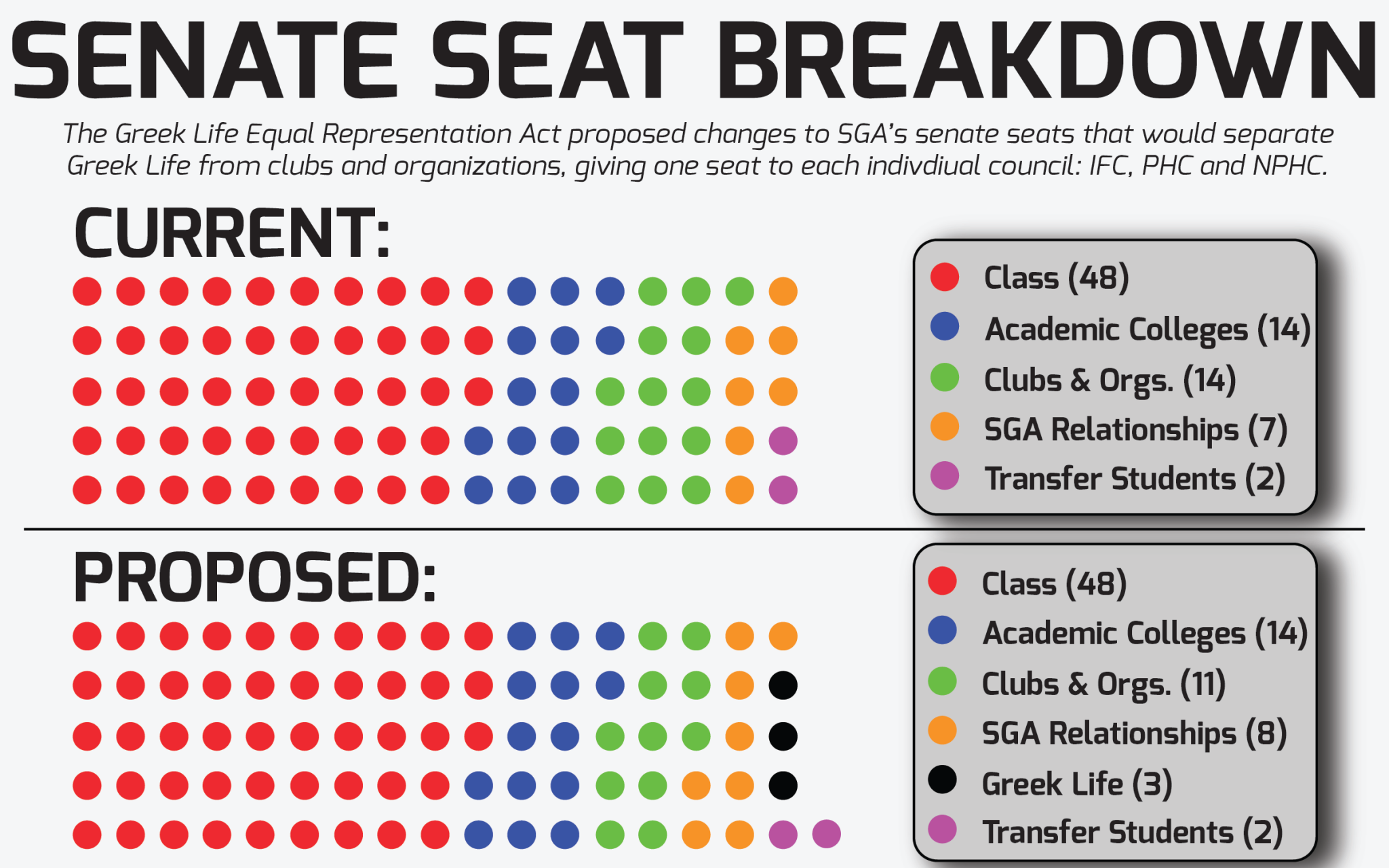 At the end of fall 2014, Appalachian's Greek Life as a whole had 1,841 members, with only 25 belonging to NPHC. Currently, five fraternities and sororities are part of NPHC at Appalachian.
The bill was sponsored by Becky Cooke, assistant director of fraternity and sorority life,  PanHellenic President Carson Lamb, NPHC President Reginald Gravely and Interfraternity Council President Alex Lipe, along with presidents from several Greek chapters in the different councils.
The rules committee, made up of 11 senators, heard the bill last Thursday when it received a vote of unfavorable, with only one member of the committee voting in favor of the bill. However, the rules evaluation was suspended in hopes of shortening the bill's timeline, meaning that senators were not allowed a chance to read the bill before voting on it.
Gravely was one of 17 NPHC members present at SGA's meeting, though he said SGA's attendance was poor and senators who were present were disrespectful – rolling their eyes, making side chatter and looking at their phones.
Gravely said this is not the first instance where racial bias has been an issue in the senate. A bill was first proposed about two years ago to allow a representative from the Multicultural Center a seat on the senate, he said, but the motion only recently just passed.
"Many multicultural students feel that SGA is not a proper representation of us," Gravely said. "They're racist – there's no way to sugarcoat it."
While IFC and PHC are known for hosting mixers, formals and socials that usually involve alcohol, NPHC does not allow alcohol at their events and focuses primarily on service, rather than social interaction, Gravely said, setting them apart from the rest of Greek Life due to differing goals.
The current senators for Greek Life are affiliated with IFC and PHC and recently presented a constituency report to SGA, which Gravely said NPHC was never asked for input on.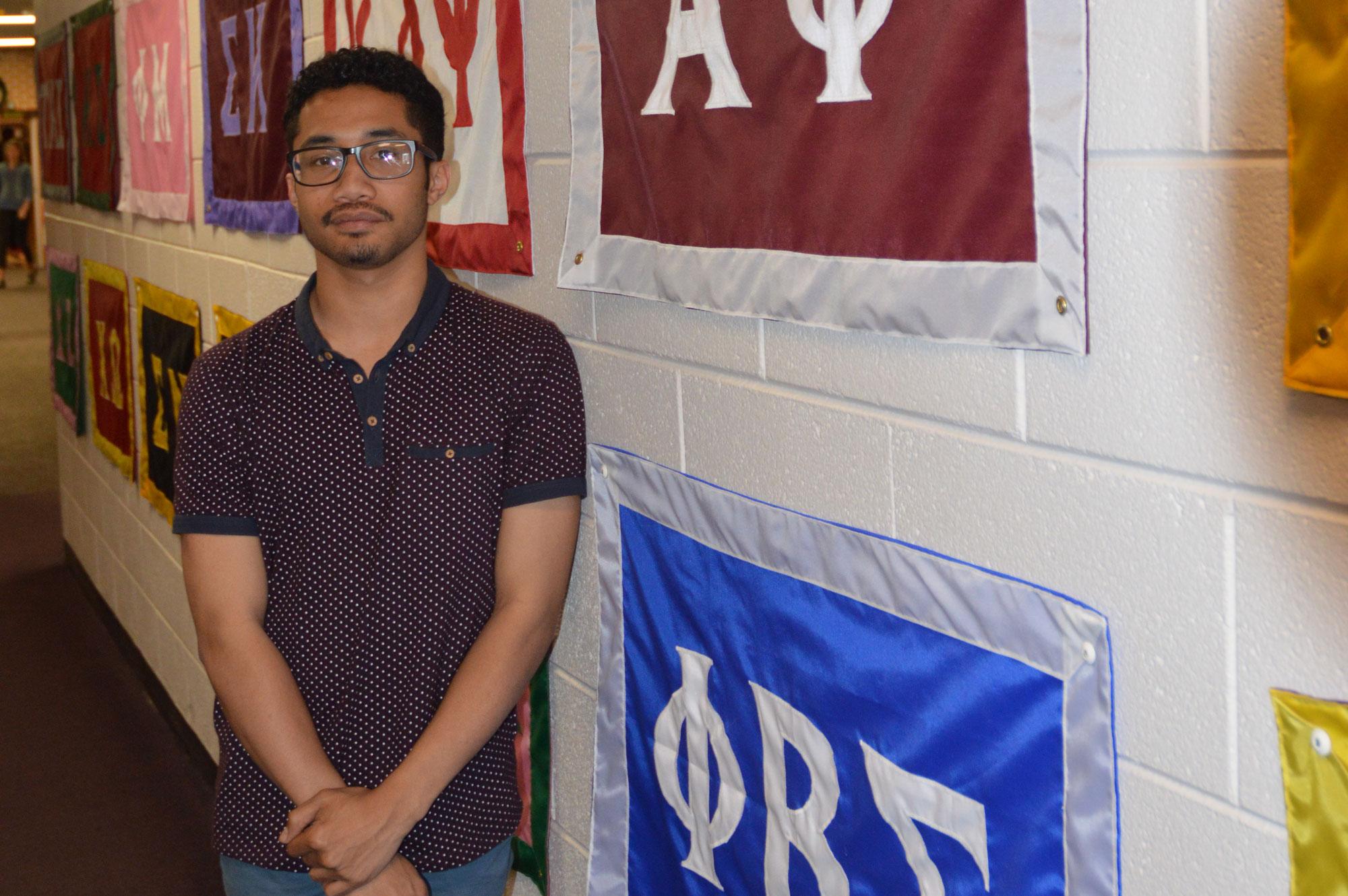 "Our voice has not been heard at all," Gravely said. "I knew there were three Greek seats, but as NPHC president, I never met them [prior to the presentation of the constituency report]." 
The bill will be revised and resubmitted by NPHC, then will be reheard on the Senate floor on April 14 after passing the rules committee. Gravely said he foresees the bill passing now that senators have heard comments from NPHC and senators will be given a chance to read the bill in full.
"We're not asking for your help, we're asking for equality," Gravely said. "We're asking for equal representation across the board. We're not just fighting for people of color, we're fighting for students in other marginalized groups."
Gravely said it is important to note that despite popular belief, one of NPHC's members already has a seat on senate next year as a Greek Life representative. The other two seats are designated to members of PHC, with no one from IFC being represented.
"This is not the NPHC bill," he said. "This is the Greek Life Equal Representation Bill."
Walt Grayson, freshman class senator and rules committee member assigned to the bill, voted against it but listed other reasons for the bill not passing.
The main problems with the bill, Grayson said, were that it did not have a date set for implementation and did not include normal policies for Greek Life senators such as acquiring 50 signatures to become a senator and requiring all senators to register through Student Development Records.
"I can definitely understand why people might think that [race was a factor] but we all voted no for those three reasons," Grayson said. "I'm positive that it will pass and hopefully that will prove racial bias is not a factor."
Connor Strand, representing the Appalachian and the Community Together office and the sole member of the rules committee who voted favorable, said the committee's chair is not supposed to allow subjective questions, but the discussion went far beyond its purpose.
"I think it was definitely based on race, although it wasn't explicit," Strand said. "We were only supposed to talk about research, grammar and formatting. Everyone else on the committee asked very opinionated questions."
Strand now plans on resigning from student government, a decision he says was not wholly influenced by the bill, but it was what drove him to the edge.
"There are definitely individuals in SGA that aren't educated enough on racial issues to a point where they should be allowed to have any input on racial conversations," he said.
Senator Virginia Reed, representative for APPS, said that though she thinks constitutional changes to seats and minor aspects of the bill may have played a part in the decision, she was not surprised by the outcome of the vote.
"There obviously are a lot of racial tensions and microaggressions on this campus that I don't think everyone is willing to recognize or admit to," Reed said. "I don't think that anyone wants to think that they're a racist, but there definitely are microaggressions that privileged people have that you can either address and move past and stop using them, or you can continue to ignore and continue contributing to the problem."
Reed was one of many senators to express her feelings about the decision on social media Tuesday night. As of press time, Reed's Facebook post had received over 80 shares.
"I feel like all year, every isolated incident that has come up has just been like a flash in the pan where people talk about it and then nothing happens," Reed said. "I don't want this to be another one of those things."
Reed said she hope conversation surrounding the issue will continue and that people will hold SGA accountable to representing their constituents.
"I think this is coming at the end of a very long and very trying year for Appalachian," she said. "I want this to kind of fuel people's fire and passions to do something now that they've seen what's happened in their own student government."
Story & Photo: Laney Ruckstuhl, News Editor
Infographic: Malik Rahili, Visual Managing Editor