Unthinkable upset yields unthinkable impact 10 years after App-Michigan
The beginning of September is a celebration for college football fans across the country. After months of anxiously waiting, players, coaches and fans count down the final days, hours and minutes before each team's opening kickoff.
For fans in the High Country, the excitement and thrill of opening the 2017 season against SEC powerhouse Georgia is coupled with a game 10 years ago that not only changed Appalachian State football, but Appalachian State University, forever.
Opening the 2007 season in "The Big House" against the Michigan Wolverines, App State was a longshot to take down college football's winningest program. The Mountaineers, Michigan's first ever FCS opponent, were not even given a betting line in Las Vegas.
Yet, waking up as an App State fan on Sept. 1, 2007, there were many positives to look forward to that season. The Mountaineers had won back-to-back FCS National Championships and returned many starters, including future NFL Draft selections: quarterback Armanti Edwards, wide receiver Dexter Jackson and safety Corey Lynch.
Months leading up to the game, Fox Sports sent a broadcasting crew to Boone to film and recount the long hours of preparation for App's showdown in Ann Arbor. What started as a lighthearted, 30-minute documentary, quickly transformed into an hour-long piece recounting a 34-32 Mountaineer victory and one of college football's greatest upsets of all-time.
"We didn't really look into it as an FCS team beating a ranked FBS team," App State kicker Julian Rauch said. "We were able to get a little confidence in that game and make it competitive and that's just what we wanted to do."
When Corey Lynch blocked Michigan kicker Jason Gingell's potential game-winning field goal, the relatively small amount of media attention on the Mountaineer football program exploded into becoming the story of the 2007 college football season. Almost immediately after the game, phone calls and press inquires flooded App State's athletic communications department.
Following the game, former Assistant Athletics Director for football communications Mike Flynn walked down the tunnel to App's locker room. Looking down at his phone, an icon indicated that his voicemail box had already been completely filled.
Finally leaving the stadium, more pandemonium ensued on the tarmac right as the team's charter flight was preparing to fly back to North Carolina. Because Flynn was answering phone calls non-stop, his phone died before the plane even took off, prompting the pilot to allow Flynn to charge his phone in the cockpit as the plane was in the air.
"My phone died so I'm grabbing other people's phones doing whatever we can," Flynn said. "The pilot asked me if my phone was dead and I told him 'yeah it is.' He asked me if I had the cord for it, and I said 'yes,' so he said 'give it to me, I'll charge it in the cockpit so it'll be charged for you when you get back.' I remember saying to somebody, 'I don't think he would've done that if we had lost that game.'"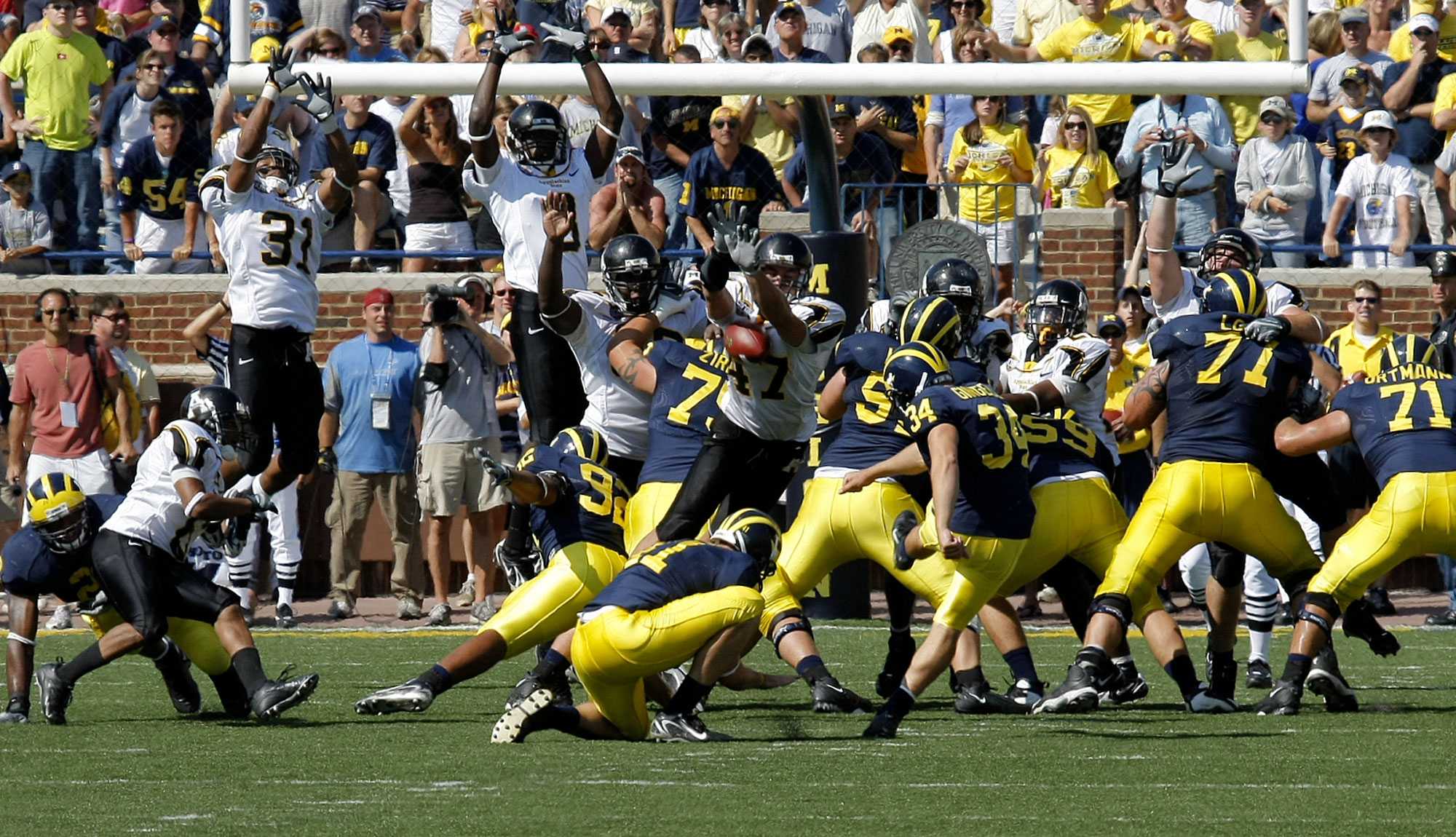 As Flynn was bombarded with loads of interview requests, the scene in Boone turned to total fanfare. Some students began jumping into Duck Pond in front of Trivette Dining Hall, while others tore down the goalposts in Kidd Brewer Stadium and then carried them to front lawn of the chancellor's estate.
Arriving back in North Carolina, the team still had to take a short bus ride from the airport to campus. Because of all the people lining the streets, the usual short bus ride became much longer, causing Flynn's assistant back on campus to be placed in a difficult situation.
Honoring those lost in the infamous Virginia Tech shootings, ESPN's College Gameday was at Virginia Tech on the opening weekend. Seeing the Mountaineers knock off Michigan, the College Gameday bus then made a beeline for Boone following their coverage in Blacksburg, Virginia.
Wanting to film Boone for a live 11 p.m. Sportscenter spot, ESPN producers began to grow restless when the team bus faced delays. When Flynn finally arrived back to his office, his assistant told him that ESPN decided to move their live Sportscenter coverage to Boston, tuning into Red Sox pitcher Clay Buchholz's postgame interview after his no-hitter against the Baltimore Orioles.
Losing out on the opportunity for a live Sportscenter spot, App State's media limelight was far from over. Just the next morning, select members of the App State team participated in live Sportscenter interviews.
Later in the day, ESPNews carried a live press conference. As for the College Gameday truck, it stayed until the middle of the next week, interviewing different players and coaches each of its days on the App State campus.
Racking up the interviews from media outlets across the country, Appalachian was gaining exposure like it had never seen before. Even though the interview requests continued to pour in, head football coach Jerry Moore made it a priority for his players and staff to soak up all the possible publicity.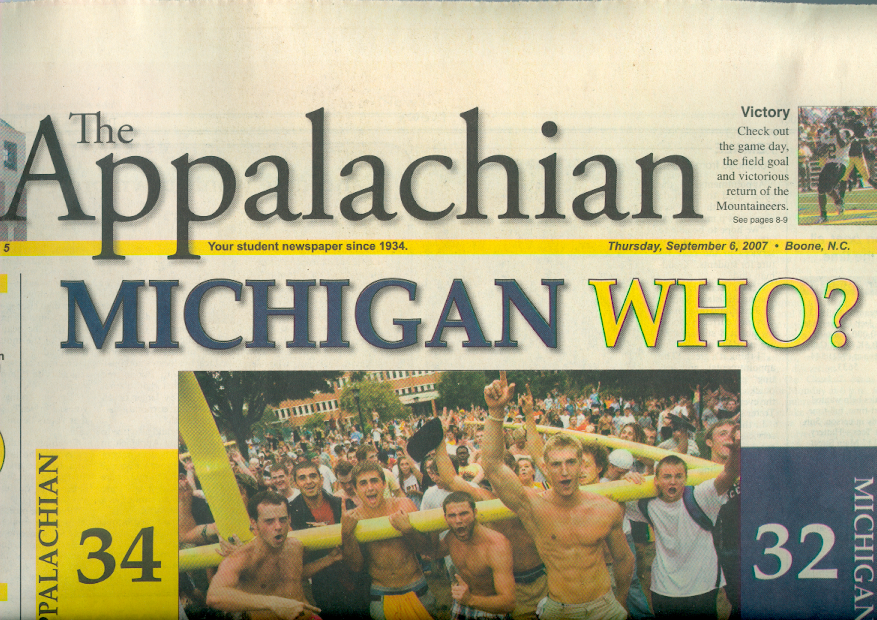 "Coach Moore pulled me aside on Sunday and I told him that we had to draw the line somewhere on all of this stuff because we don't have enough hours in the day to do all this," Flynn said. "Coach Moore said, 'Mike, you're gonna do every single interview that we are asked to do, every single one. This is a once-in-a-lifetime type thing and we'll make time to do every single interview.'"
Sticking true to his words, Flynn granted every interview request that came his way. Because of the overload, he had to bring out his assistants with cell phones after each practice to conduct interviews over the phone.
In the middle of the media circus, the football team and App State Athletics had to prepare for a home game the next weekend against Lenoir-Rhyne.
The media exposure for that game exceeded all expectations, but there was one problem for App State Athletics, they had just torn down the old football press box to make room for the one that currently resides at Kidd Brewer Stadium.
Flying in from major news markets across America, journalists made their way to Boone to cover the game in the tiny, makeshift press box.
"We had a temporary press box and in the first game of the temporary press box we had Sports Illustrated, USA Today, The New York Times, The Washington Post and the Chicago Tribune all there and we had to tell them that we didn't have a press box," Flynn said. "It was a crazy time. I didn't get a lot of sleep that week."
Defeating Lenoir-Rhyne 48-7, the Mountaineers kept rolling through their 2007 campaign, falling twice in conference play yet still able to clinch their third-straight Southern Conference Championship. Later that season, the Apps beat Delaware 49-21 to become the first FCS team to win three-straight national titles.
App State's football success acquired national notoriety, so much so that people waited in hotel lobbies on road trips just to get pictures taken with players.
Adding to the distractions, the university police occasionally had to get involved. On multiple occasions, people from outside of Boone came to campus, bought App State gear in town and then tried to go outside of the football fieldhouse to collect autographs from players to then sell on the internet.
"Here we are, it's 2007 and we are a I-AA [FCS] team," former Associate Athletics Director Jay Sutton said. "It changed the way we had to do some things within the fieldhouse. There were a lot of distractions, it was a different world."
Making an immediate impact on campus, App State's name recognition in college football benefitted more than just the football program. According to a study from USA Today, ticket sales across all sports jumped over 26 percent from 2007 to 2008.
Also in that same report, total revenue for App State Athletics has grown from $7.63 million in 2005 to $31.7 million in 2016.
Certainly, the jump to the FBS in 2014 is a major contributor to the athletic program's increase in revenue, but the accomplishments of the Mountaineer football team from 2005-2007 helped put Appalachian in position to make the jump to college football's highest level.
Alongside the growth of App State Athletics, the university grew too. Between 2007 and 2008, applications to Appalachian increased 15 percent and on average has increased three percent annually from 2006 to 2015.
"The old saying is that a rising tide raises all ships, and that's absolutely the case," Flynn said. "Just look how much applications to the school went up and how the admissions standards went up."
Between the fall semesters of 2007 and 2016, total enrollment rose over 15 percent from 15,871 students in 2007 to 18,295 in 2016.
Since 2007, the football program has won six conference championships, five SoCon and one Sun Belt, their first two bowl games at the FBS level and has had 10 players drafted in the NFL Draft.
Looking back to what the 2007 Mountaineer football team accomplished, they all helped set up App State football and Appalachian State University for a bright future.
"I am in awe watching these guys go out every Saturday," former App State linebacker and current App State broadcaster and Director of Student-Athlete Development Pierre Banks said. "I won seven championships total and beat one FBS team. These guys go out and beat FBS teams every week. Our time was our time, but they have taken it and ran with it."
Check out our first story on the App-Michigan game relived by Jason Huber: 
https://theappalachianonline.com/2017/08/31/app-state-michigan-10-years-relived
Story By: Tyler Hotz, In-Depth Editor
Photos Courtesy of App State Athletics