Veterans Day marks grand opening of Student Veteran Resource Center
Appalachian State's yearly Veterans Day ceremony had a bit more to celebrate last Friday in the grand opening of the Major General Edward M. Reeder Jr. Student Veteran Resource Center on the second floor of the student union.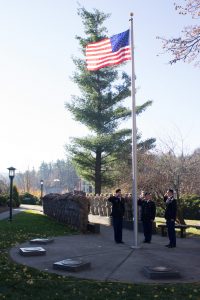 "There are so many aspects to VA benefits that having a designated place to get help with questions cannot be understated," Dan Pegram, president of the Student Veterans Association, said. "Also, it sends a strong message that the school supports us. We can often feel like we don't have a place in college due to our unique experience, having families to tend to, and our age. So the center lets us know we do belong here."
Before the center's construction student veterans didn't have a space of their own, which Pegram said made coordination more difficult.
Eric Gormly, coordinator of Student Veteran Services, said planning for the SVRC has been going on for more than three years.
"Some students just need some familiar faces to see, and they can get that here," Gormly said. "Military members have that camaraderie instilled in them throughout their service, and it is something that can be found as soon as they walk in the door of the resource center."
Gormly described the space as being one to accommodate studying, social engagement and relaxation among students with computers for students to use.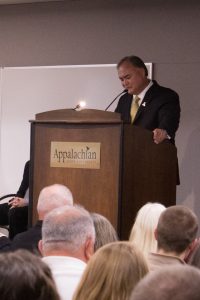 Gormly said the space will also be used to hold meetings and plan events and the Student Veteran Association is already planning tutoring and career development workshops. The center will also employ student veterans through the Veteran Association work-study program.
Nathalia Ruiz, a senior psychology major and student veteran, said veterans needs on campus have not received enough attention.
Gormly said Appalachian previously did not have anyone devoted exclusively to assisting student veterans.
"A lot of the big issues with us veteran students is readjusting to civilian life and this is a great way to have a gateway to have that," Gormly said. "[Before the SVRC] I would just talk to other student veterans. My transition wasn't as bad as other people's, so I think I was privileged in that sense."
The commemoration falling on Veterans Day only makes the opening of the SVRC even more pertinent.
"What better way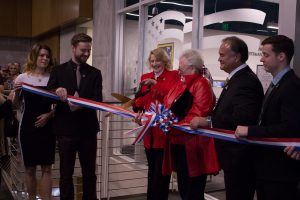 to honor those serving and that have served than the opening of the center?" Pegram said. "To have a such a tangible display of respect and honor dedicated to veterans is extremely special."
The SVRC will be open Monday to Friday from 8 a.m. to 6 p.m.
Story by: Angela McLinton, News Reporter