Volleyball looks toward bounce back season
After a rather disappointing 2016 (4-25) campaign, the App State volleyball team is looking for a bounce back season. So far, the start of 2017 season is looking bright. With the return of key players along with some new additions to the squad, the Apps will try and return to one of the top contenders in the Sun Belt.
"This is a great class for App State volleyball and we're excited to get them in the gym," head coach Matt Ginipro said in a press release. "All four will fill some holes that we had this year and work to help us get back on track towards a conference championship."
For a team that has historically been known for their winning ways, this past offseason proved to be great for the Mountaineers after a "rebuilding" year.
Adding to this team full of young talent are five freshmen that include libero Emma Reilly, middle blockers Kara Spicer and Jenna Pitzer and outside hitters Lexi Kohut and Grace Morrison.
The team has a total of nine underclassmen out of their 15-player roster, and this may lead one to think that the team lacks leadership or experience. But they believe otherwise.
"All through the summer we've been working on our relationships and bonding," sophomore Emma Longley said, who was also named to all-Sun Belt preseason team after a stellar freshman campaign. "We are a team now and that is how we have been operating since the beginning."
Team chemistry will not be a problem either, as they have been working together almost all summer. Just this past week, the Mountaineers took a trip down to Lake Norman in Cornelius, North Carolina to build an already strong relationship they had with each other.
"We've already built great relationships off the court," redshirt sophomore Melissa McMath said. "So, when we came out tonight you can really see that the chemistry followed us on the court."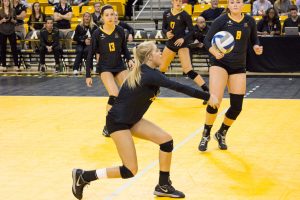 Another way this team will start to come together is the addition of an exhibition game before each season, something entirely new to women's college volleyball. App had a chance to showcase their skills in front of the home crowd in the Holmes Convocation Center Aug. 18 against the South Carolina Gamecocks (18-12, 6-12 SEC last year), a game they fought back and tied 2-2.
"I thought today was great," Ginipro said. "Getting the chance to play an exhibition match is a huge addition to women's volleyball. Overall, we did some nice things, need to lessen our errors and everyone got a chance to get on the court to get some experience. It's a good starting off point for App State volleyball."
App had three players post double-digit kills including freshmen Kara Spicer and Grace Morrison, as well as sophomore Emma Longley. Senior Ashlyn Brown led the game with 35 assists and redshirt junior Olivia Loeffler had a game-high of 20 digs.
Last year over half of the Mountaineers games went to a fifth set (13) and they ended up losing all of them. This prompted Ginipro to stress the importance of "finishing in the redzone," something the players will not forget and will improve this season.
"Matt would say we have trouble in the redzone," McMath said. "Right then we pushed through two really tight sets and that is the chemistry coming through and knowing each other's strengths and weaknesses."
Ultimately, this was a great showcase of the team before their season opener Aug. 25 against Missouri State. The Mountaineers aim to return to the glory they had found in 2015 blazing through the Sun Belt that year, only this year, a conference championship is in their sights.
Story By: Taylor Story, Sports Reporter
Photos By: Halle Keighton, Photo Editor