For App State pitcher Tristan Helms, becoming a Division I college baseball player was always the dream. It was his path getting there that was different from most.
"In high school, I wanted to play Division I baseball but I didn't throw hard enough," Helms said.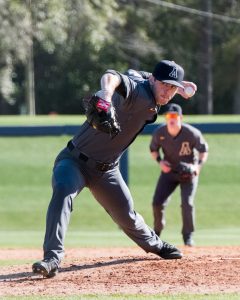 According to gobigrecruiting.com, Division I coaches are looking for players who can throw around 85-90 mph consistently. But while recruiting was sour, Helms refused to give up on his dream.
"I came in as a regular student. I wanted to go to a school [that] I really wanted to go to, that I would enjoy if I didn't end up playing baseball," Helms said. "I came here and found out the tryout date and went from there."
While his playing time was limited as a freshman, he made the most of it. Making appearances in five games, he held opposition scoreless three times and allowed only seven hits, keeping opponents at only one hit per appearance four times.
Helms was invited back to the team as a sophomore but was cut from the roster early in the year. For a time, it seemed like his baseball career was over, until he decided to make a change.
"That's when [pitching] coach Aspegren said 'You can either learn how to throw from down under or your baseball career will basically be over,'" Helms said.
Submarine pitching is when a pitcher drops his arm and releases the ball underhand, just above the dirt, rather than the conventional overhand windup. It is a style that many slower-throwing pitchers have been successful using, most famously former Major League Baseball player Chad Bradford.
"It was a last-ditch effort to lengthen his baseball career," Aspegren said. "He was willing to swallow his pride and do everything that he needed to do to be able to continue."
The challenges continued to pile on. Helms also had no one to coach him, knowing nobody who had experience with submarine pitching. It was a painstaking process of trial and error through self-education.
"I spent the next three months practicing by myself, showing coach [Aspegren] video and he would critique what I was doing," Helms said. "It was slow work but I got better and better at it."
Aspegren, who has done some work with sidearm pitchers, helped in any way he could but admits submarining isn't in his wheelhouse.
"I actually couldn't coach him during that period of time, so he's having to make the transition from something he's done for 12 or 15 years of his life, to something he's never done before," Aspegren said. "The transformation was very self-guided."
Hard work and education paid off, just before the spring semester started in 2016, when he received a text message saying he had earned his roster spot back.
Since making the switch to submarine style, Helms has gone from cut former walk-on to left-handed specialist.
"My job on the team is to get lefties out. From dropping down low, my ball comes from behind the hitter a little bit so it's tough for them to see," Helms said.  "A lot of times I either jam them or [the ball] starts on the outside corner and lands in."
For Helms, it is very a different experience transitioning away from traditional pitching. But with every day that goes by, he feels more and more confident.
"Every time I throw in a practice, the guys I face say 'God, this is hard to hit,'" Helms said with a laugh.
Story By: Brooks Maynard, Sports Reporter 
Photos By: Appalachian State Athletics, Cliff Lavelle and Chris Lang