Watauga Democrats celebrate Labor Day and the volunteer impact
Volunteers, staffers, community members, candidates and a massive "blue wave" cake crammed into the Watauga County Democratic Party headquarters on Labor Day.
The barbecue was held to applaud the impact that party volunteers have brought throughout the start of this election cycle.
Previous Labor Day celebrations were branded as an opportunity for the public to visit the office. However, now that the King Street headquarters is open weekly, party officers repurposed the gathering to highlight volunteer victories.
"We are in the top 10 of voter outreach, and that, by the way, is a total of 8,823," Pam Williamson, political director for the party, said. "That doesn't count registration, that's direct voter contact."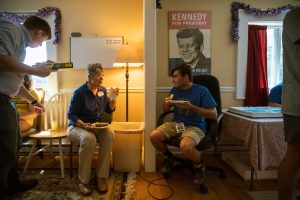 Candidates and party officers addressed the room, each reaffirming the vitality of volunteers.
"The thing that's going to make the difference for Democrats in November is the huge volunteer base that we have and the grassroots efforts that we have of knocking on doors and getting people to the polls," Ray Russell, running for State House and App State computer science professor, said.
Russell said he understands the impact direct contact can offer, as he has knocked on over 700 doors himself since May.  
"There's a story on every doorstep. Our mission in this campaign has been to talk to those and listen," Russell said.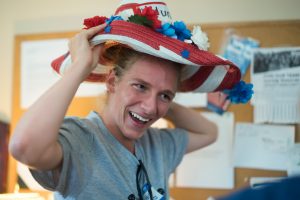 Wes Luther, junior sustainable technology major and candidate for state Senate, thanked the party and the volunteers for allowing him to run. His campaign began abruptly in August when the party asked him to fill in after another candidate dropped out.  
Barbara Pido, volunteer director, and a team of App State students were recognized for engaging with thousands of voters.
Williamson shared with the group that students Lee Franklin, a junior political science major, and Amanda Lago, a junior anthropology major, registered 1,500 people to vote. Another pair including Dalton George, a sophomore economics major, and Emma Strange, a sophomore anthropology major, hosted the largest canvassing kickoff since 2004. Their role with the party no longer qualifies as volunteering, they're considered staff.
However, the greatest honor was bestowed upon junior history major Matt Streets as he received the first "volunteer of the year" award for his time spent registering voters.
"That's what we're about, that's what this event is about, to celebrate our volunteers. They're the heart and soul of what's going to make this a blue wave November," Russell said.
Story by Hayley Canal
Photos by Hayley Canal 
Featured photo caption: County commissioner candidate and Food Services manager Charlie Wallin with his daughter, who appointed herself campaign education coordinator. Wallin grilled for the Labor Day party as usual, despite having caught on fire while doing so years ago.