Webster's personal success not enough
App State senior tennis star Scott Webster has consistently been stacking up hardware since he made the journey all the way from from Perth, Australia to Boone.
The most recent addition to his collection, and possibly his most impressive so far, was Webster's invitation to the prestigious Oracle ITA Masters in Malibu, California from Sept. 21-24.
Just one player from each of the 32 conferences across the NCAA is selected to compete for their conference, and Webster was selected as the Sun Belt's representative.
After dropping a tough three-set match to Dennis Upsensky of host school Pepperdine in the first round of the tournament, Webster kicked it into another gear, winning each of his next four matches and claiming the consolation bracket crown over some highly ranked opponents.
"That first match, the guy was nasty good. He's got a good reputation of being a good player and I played him tough so I wasn't too disheartened by it," Webster said. "The next match I just went back at it, did my thing, and kept going."
After beating Marist's Javier Restrepo in the first round of the consolation bracket, Webster knocked off then-33rd ranked player in the nation Eduardo Mena out of Tennessee Tech in the second round.
In the semifinals, Webster took down Northern Arizona's Tim Handel in straight sets to draw a matchup with Simon Freud of UC Santa Barbara in the championship. Webster dropped the first set 6-7 before battling back to take the second set 6-1 and the tightly contested decisive third set 7-6 in a tiebreak.
With his victory, Webster was able to bring some national attention and exposure to the App State tennis program, which will look for a third straight winning season when they start team competition in the spring.
"I've been with Scott three years now, so I've been able to see him progress over the several years," junior Alex Brea said. "When he came in he was playing at the four or five seed for us and now he's the best player in the conference. It's just been really cool to see."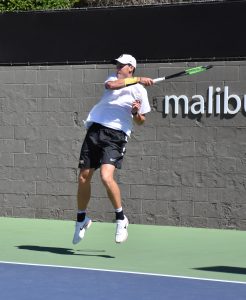 On Friday, Webster was one of four Mountaineers to take part in the ITA Carolinas Regionals in Cary and was seeded at No. 14 in the 128-player field. He turned in another strong showing, knocking off three opponents before falling to No. 25 Simon Baudry out of Clemson in the Round of 16. Webster defeated Coastal Carolina's Juan Castellanos, East Carolina's Will Bissett and UNC Wilmington's Andres Torres before falling to Baudry.
Webster has put together a great singles career, highlighted by all of his success in various tournaments and his Sun Belt conference accolades. In 2015, he became App's second conference Freshman of the Year award winner (Matt Lucas, 1988) in school history after compiling an 18-4 record.
In 2016, Webster was named second-team All-Sun Belt and in 2017 he was named to the first-team. But Webster is not only a great individual player, he has found success both in doubles and in team matches.
"Playing team tennis has always been way more rewarding for me than playing individual tennis," Webster said. "Doing well as an individual is only so good, you want to be winning as a team too."
In both 2015 and 2016, Webster and his doubles partners were named second-team all Sun Belt, and in 2017, Webster and his partners earned a first-team selection.
Before Webster's arrival in 2015, the Mountaineers had back-to-back losing seasons and had a third straight losing season when Webster was a freshman, but thanks in no small part to his own efforts, his sophomore and junior campaigns were both winning seasons for App State.
"He's a good leader, he's a senior now and just his presence at matches and in practice fires up the team, so it's been great to have a guy like that around," Brea said. "He pushes everyone to be a little better, he makes everyone work harder."
Like so many great players, Webster has realized his talent. But what separates him from those select few is that he knows he always has room to get better.
"He works harder than anybody else on the team. That's not normally the case with the best player," coach Lake said. "He sets the tone with how hard he works and everybody else has gotta try to come along. It's nice to have somebody like Scott." 
Although they have had back-to-back winning seasons, the Mountaineers aren't satisfied with what they've been able to accomplish as a team.
"My first three years we haven't had quite as much team success as we've wanted, so I think if we could win the conference that would be a huge accomplishment for this program," Webster said.
Story by: Silas Albright, Sports Reporter
Courtesy Photos by: Andy Hogue